Biggest Online Slot Streamer Wins of April 2022
Published Date · May 29, 2022
· Last Updated · Dec. 14, 2022
·
Read Time · 4 mins
When people mention Twitch, you'd be forgiven for thinking they were talking about a video game stream. But online casino streaming has been rising in popularity on multiple platforms, including Twitch and YouTube. There's been a rise in the gambling influencer, as people stream themselves playing online slot machines and other casino games. However, casino influencers and slot streamers don't just make money from their wins. They also earn cash from affiliate links, direct sponsorships, and fan donations.
People watch slot streams for the excitement of gambling with none of the risk, as they're not playing with their own real money. These streamers also provide an active online community for people to gather in. Users could chat, share the excitement, and watch a gambling influencer win big. It also allows viewers to learn a bit about slot mechanics. It also gives viewers an idea of which slots should be avoided and, more importantly, which ones they could get a huge win on! Now, let's look at the biggest wins in online casino streaming in April 2022.
FilthyGambler Bets Small and Wins Big
FilthyGambler is a moderate American Twitch streamer with 15400 followers on the popular streaming platform. He regularly uploads streams of himself playing online slot machines. He's very active on Twitter and has built up a loyal gambling community with his platform. Early in April 2022, he made a small bet when playing Born Wild, a popular slot game created by Hacksaw Gaming. He bet $0.80 and took home a huge payout of $3248. It seems small in the grand scheme of things, but it's a huge payout for such a small bet.
Casino Land Bets 0.20EUR and Takes Home 6115.38EUR
Viktar, a 33-year-old online casino streamer from Belarus, regularly plays online slot machines and streams himself. He says he does this every day - on top of running a Belarusian website on online casinos. He has a small following of 478 followers on Twitch and also posts his videos on YouTube, where he has 334 subscribers. In April 2022, he was playing the online slot game Mental and only bet a small 0.20EUR (the equivalent of $0.21), but in just a couple of spins, he was taking home 30577 times as much. He turned less than a euro into 6115.38EUR ($6534.13). Hopefully, this big win will allow Viktar to expand his Twitch and YouTube channels.
Jamjarboy Wins Big Playing Dazzle Me Megaways
Jamjarboy streams on Twitch twice a day, every day. So people can watch him play slot games at online casinos every day of the week. He uploads the videos of his big wins to YouTube. Jamjarboy is a moderate streamer with almost 12,000 followers on Twitch and a further 1.34k subscribers on YouTube. He's been streaming since 2019. This year in April, he won big playing Dazzle Me Megaways at SimpleBonus.com, which is the online casino he has a partnership with. He took home a payout of 23,408EUR, which is roughly $25000.
Small Streamer realDonzii Wins Massive Payout on Money Train 2
We've seen some small wins, but now it's time to get into the big money. The money that can completely change your life forever if you win. Some streamers in April 2022 won huge amounts of money on online slot games.  A small Norwegian streamer known as realDonzii on Twitch won a massive payout on Money Train 2 in early April 2022. He only has 413 subscribers on YouTube and around 3.7k subscribers on Twitch, but that didn't stop him from taking home the mega jackpot. Donzii plays in Norwegian kroner, where his win was 180,890,00KR. That's an insane $1,879,139. The life-changing amount of money will probably go into future videos, as Donzii establishes himself as a popular gambling personality or influencer. The video with his Money Train 2 win is his most popular video on YouTube and his biggest win ever. Donzii has only been streaming for about two years, and his videos are slowly gaining in popularity now.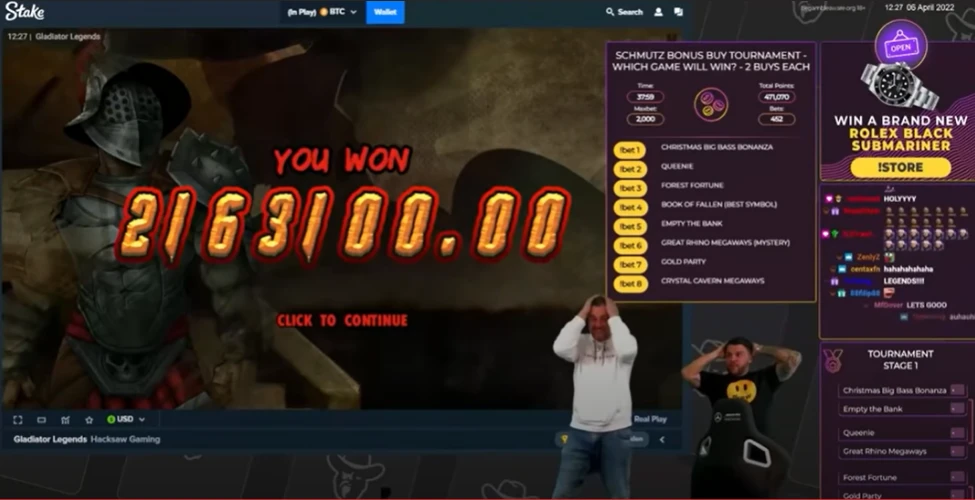 Georgi & Jonte of ClassyBeef Bag a Huge $2million Win on Gladiator Legends
Classy Beef is a popular Twitch streaming channel that started in 2019. It's made up of a team of streamers who create popular online casino slots videos. Their first stream only got 11 views, but now they are up to around 242,000 followers. They are gambling influencers, posting various streams of their online slot wins to Twitch and YouTube. They upload regular videos to their YouTube channel and stream on Twitch to let players see their big wins.  ClassyBeef is made up of a team of gambling influencers, which means they regularly change the people in their videos. This allows them to put out more content as they're not relying on a single person's schedule or funds to produce gambling streams. In April 2022, Georgi and Jonte played a lucky game of Gladiator Legends and won a completely life-altering amount of money. They took home a whopping $2,163,100, which definitely makes them eligible for this list of massive slot wins.
Are online slot streamers worth watching?
Absolutely! Watching streamers get so energetic and enthusiastic about their wins is part of the fun when you're watching a gambling stream. There's always some big cash out there to be won, and we saw some massive payouts in April 2022.  There are so many slot games out there with big cash prizes! Watching slot streamers can give you entertainment, help you learn about slots, and have fun with a community with similar interests. Plus, the occasional and sometimes infamous streamer rage moments are fun too! Of course, there's only so much watching other people having fun you can do. So, if you want to play some of the most fun slots or try to replicate some of these streamers' wins, make sure to check out our recommended online casinos to play slots!