What Is an Online Scratch Card?
Written by Phoebe
Published date · Oct. 8, 2019 | Last Updated · Aug. 3, 2022 | Read Time: 3 mins

An online scratch card is a digital version of scratch cards which rewards lucky players with various cash prizes. The main principle is the same – you get a certain number of "fields" that you need to scratch, and, if you match several symbols, you will win an award.
People who want to test their luck and scratch online can find these on numerous online gambling platforms. There are dozens of titles you can choose from, and all of them have some additional and unique features that make them more entertaining. The best part about these is that you get an instant win!
Where to Find Online Scratch Cards?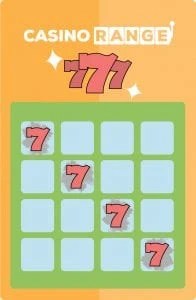 To find online scratch card games, you must register on an online gaming platform that offers this type of game. These are mostly online casinos, bingo sites, sports betting platforms, and more.
After you choose a platform, you need to make sure that it is licensed and regulated by a gambling commission. That way, you will know that you are safe and secure and that you will not be a subject to a scam.
There are various valid commissions in the United Kingdom, including the ones that are not geographically present on the Island. Many gaming sites are Malta-based companies that have valid remote gaming license numbers and must undergo all the gaming regulations.
Regardless of the online casino platform you choose, you need to know that T&Cs apply for all of them, so make sure to read it before you buy your online scratch card.
How to Scratch an Online Card?
Once you are sure that you are legally covered and that you are a member of a legitimate gaming site, you need to choose a card. All you have to do is navigate to a "Scratch Card" section of the site and select one.
Once the result is revealed, and you matched a certain number of symbols, the site will automatically scan the result and increase your account balance by the amount you won. 
Here's an easy step-by-step explanation of how to scratch:
Register at an online platform which offers scratch cards
Deposit money if you want to play for real money
Go to the scratch card section on the site and select a game you want to play
Set the bet amount before the scratching round begins
Scratch away!
Can You Play Scratch Cards Online on Mobile?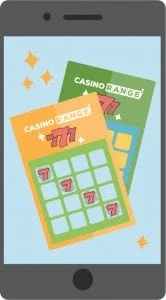 Most games of this type can also be considered mobile scratch cards. The majority of them are made with the cutting-edge HTML5 technology, meaning they are available for several platforms, including Android and iOS mobile devices.
Depending on the casino you use, you can either access these cards via mobile browsers or download a dedicated up made by the casino.
What are the Differences Between Online and Traditional Scratch Cards?
Essentially, the main difference between these two types of scratch cards is the cost. Traditional cards have a fixed price which you have to pay in order to buy it and test your luck. On the other hand, you get to set the amount you want to bet in online scratch card games, which makes them more flexible budget-wise.
Free Plays
You can play free scratch cards online. That is to say, and many casino game developers allow players to test games in a demo mode, which means using fake credits. These free instant win scratch cards will not give you any real prizes if you are lucky, but you will have fun testing all the options. The chances of winning remain a lottery but it is good to develop an understanding of the scratchcard.
In contrast, you cannot scratch lotto cards for free. You must pay at least some money in order to buy and scratch them.