Gonzo's Treasure Hunt Goes Live!
Written by Phoebe
Published date · June 9, 2021 | Last Updated · Jan. 27, 2023 | Read Time: 2 mins
Most online casino enthusiasts are familiar with the much loved classic slot, Gonzo's Quest™, right? Gonzo's Treasure Hunt™, a groundbreaking online live game show and the world's first live casino game to combine live and slots-style action, as well as the first with the ability to play in VR (Virtual Reality) mode, was launched by Evolution Gaming.
What Is Gonzo's Quest?
Inspired by the famous Gonzo character and intellectual property (IP) from NetEnt's popular Gonzo's Quest™ online slots title, the all-new Gonzo's Treasure Hunt™ is the latest addition to Evolution's live game shows portfolio. If you're unfamiliar with Gonzo's Quest, the Spanish explorer Gonzo takes you on a quest to search for the lost golden city of El Dorado and the treasures within. The online slot has been praised for its incredible graphics, smooth animations, and exciting features has all helped Gonzo's Quest slot become one of the world's favourite online slots. Evolution Gaming has successfully blended the worlds of live and slots and represents "a whole new direction". The new Gonzo live game show is the first Evolution game to use NetEnt IP following Evolution's acquisition of NetEnt at the end of last year.
Gonzo's Quest Hidden Treasures
The search for hidden treasures in a gigantic wall of 70 stones is the key feature of Gonzo's Treasure Hunt™. The world-famous explorer "comes alive" as an augmented reality virtual figure and joins the live show hosts and players in the quest, which is a standout element in this latest iteration of Gonzo's travels. Another first for the live casino industry is the ability to play and gamble on Gonzo's Treasure Hunt™ in VR mode using a Virtual Reality headset and controller, further enhancing the immersive gaming experience.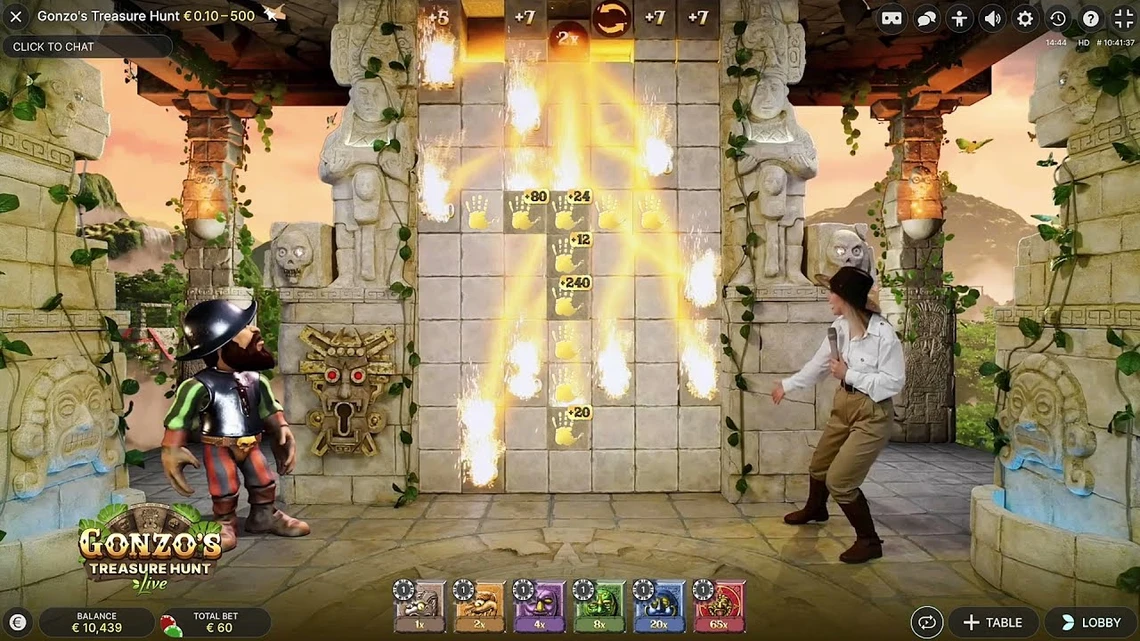 Evolution Gaming and NetEnt Collaboration
Todd Haushalter, Chief Product Officer at Evolution, said: "This is our first product that combines the best of NetEnt with Evolution. I've been excited to work with the amazing NetEnt intellectual property since the acquisition was announced and we are starting by taking the most famous character in slots and bringing him to live casino."
Haushalter continued: "This is also the first live game ever where players have such a high degree of control over their game strategy and the potential outcome. Unlike other games where the result is the result and there is nothing you can do about it, in Gonzo's Treasure Hunt™ players take control as they go hunting for their prizes. This is a whole new direction for our game shows as we want to widen the definition of what a game show is – giving the player this level of control will attract a new audience to Evolution. We are continuing to evolve what the gambling experience can be, and this is an incredibly exciting landmark launch."