Must Fall Jackpots at LeoVegas Casino
Published Date · April 12, 2023
· Last Updated · April 26, 2023
·
Read Time · 3 mins
Join the LeoVegas casino today and explore their amazing collection of mega jackpot slots. You have the opportunity to win rewards worth up to millions of pounds thanks to collaborations with some of the top online slot developers in the UK!
With progressive jackpot slots, like Mega Moolah or Mega Fortune Dreams, you have the potential to reach record-breaking payouts! However, the specific 'Must Fall Jackpots' are the star of the show here, but what are they? Find out what LeoVegas has to offer with Must Fall Jackpots now!
What are Must Fall Jackpots?
The introduction of Must Fall Jackpots has made playing jackpot games much more enjoyable, but what are they?
Red Tiger Gaming's Must Fall Jackpots, also known as Daily Jackpots, are an excellent addition to LeoVegas' site. In a typical Progressive Jackpot slot game, the top payout rises with each spin of the reels until the jackpot is hit.
Must Fall Jackpots have a jackpot sum with a time restriction. Someone wins said jackpot before the cutoff point, after which the game will restart. This occurs every day, with one lucky player receiving their reward before the scheduled time each day - adding to the anticipation because it must be won eventually.
Depending on the game you're playing, the time limit could change. When it comes to the jackpots themselves, the amount that may be won is always prominently shown in the game itself, allowing you to visualise your goal as you play.
What Must Fall Jackpot Slots Can You Play at LeoVegas?
Red Tiger Gaming is the source of the bulk of LeoVegas' Daily Drop Jackpots.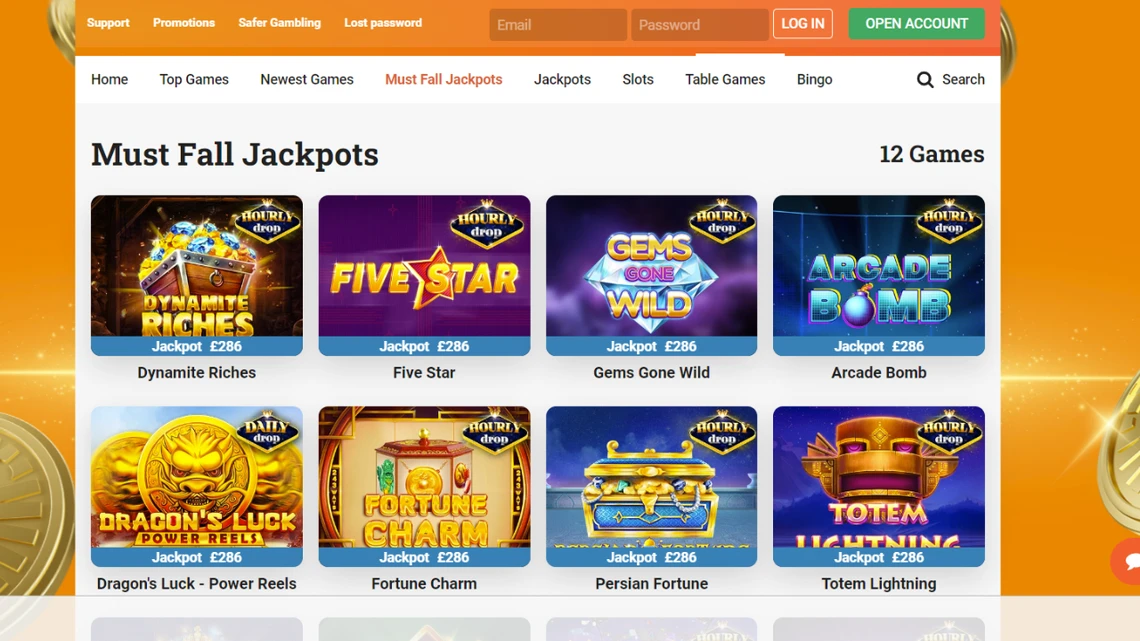 This features the wonderful Dynamite Riches, which, in addition to the Daily Jackpot and Mini Jackpot totals, has an enticing Mega Jackpot sum that may be won. Not only that, but you might also spin the bonus wheel to win incredible payouts of over 5,000x your stake and free spins!
Another one of our top recommendations for the Must Fall Jackpot is Regal Streak - a classic slot game with a contemporary twist where you can win over 9,500x! In this thrilling spin on an old-school theme, every win that includes the Multiplier Symbol advances the Multiplier Bar, increasing the potential for enormous winnings.
How To Play Must Fall Jackpot Games
When playing these games, you'll frequently need to keep an eye out for a specific quantity of jackpot symbols to show up on the reels. The various jackpot tiers can then be spun on a jackpot wheel.
Some Things To Remember
Keep in mind that the jackpot is randomly triggered; these are not skill games. Every jackpot on these games is promised to be paid out before a specific date and hour. The odds of winning increase as the prize pool gets closer to the indicated latest payment time.
If you want to play the Must Fall Jackpot games, simply create an account at LeoVegas by clicking the "Open Account" button. By enrolling with the casino, you will be able to take advantage of one of their fantastic casino welcome offers, such as a Free Spins No Deposit offer on the Book of Dead game. Then you make your initial deposit, select your preferred game, and play!