Cash Drop Promotion at Buffalo Spins
Written by Matt
Published date · Aug. 10, 2021 | Last Updated · Dec. 14, 2022 | Read Time: 3 mins
Buffalo Spins have introduced a new promotion for their players. Their new Cash Drop game gives players the chance to win real cash prizes every day. This is just one of the many promotions available at Buffalo Spins for players to take advantage of. 
Those players on the hunt for a fantastic casino to spin at should consider heading to Buffalo Spins. They have games from all of the best providers – from NetEnt to Pragmatic Play and more – and plenty of games to dive into! On top of this, the team is always thinking up some fantastic deals to offer to their players. So let's take a closer look at Cash Drop and what players can pick up here.
Cash Drop at Buffalo Spins
The Cash Drop promotion gives their players the chance to pick up real cash prizes every day! This is a fantastic game as if you win; you get real funds added to your account that you can withdraw immediately if you choose. 
There are no wagering requirements or additional terms added to this. That's right – no wagering requirements at all! If you land a prize, it is yours!
Of course, there are still a few requirements that you need to bear in mind to be able to claim your game of Cash Drop. First, though the game itself is free to play, you need to deposit to be eligible to play. The minimum deposit threshold at Buffalo Spins is £10 (though you will have to deposit £20 if you are aiming for another promotion that unlocks a spin of the Mega Reel). 
Your game of Cash Drop will then be available to play the next day. You must head to your "My Account" page to claim your free game of Cash Drop. If you do not claim your game the day after your deposit, it will be gone. You must claim it between 00:00 and 23:59 on the day after your deposit. If you miss out, you won't be re-awarded with another go.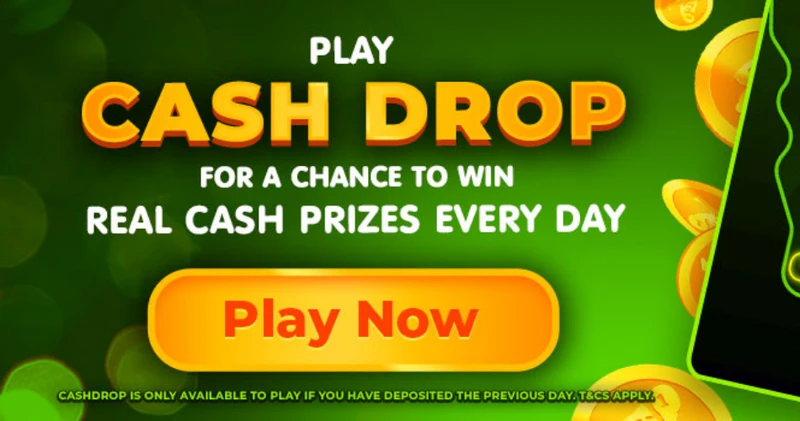 How to Play Cash Drop
If you have a game of Cash Drop to claim, you will find a fun and innovative game waiting for you to play! It can be loaded from your "My Account" page and is simple to manage. This is a simple Pachinko-style game.
Pachinko is a mechanical arcade game from Japan, where you drop a token and attempt to land it in a slot for a prize. This format makes it a great option for casino promotions. Just as we see wheel promotions like Buffalo Spins own Mega Reel, so might we begin to see more pachinko-style games like Cash Drop. 
You just need to select where you want to drop your coin. It will bounce off a number of pegs and then land in a pocket and give you a reward. Of course, you can try to aim for the highest-valued pocket, but there is no guarantee that you will be able to land it there, thanks to the pegs!
This is an innovative promotion very different to what we usually see from casinos. Though it would be great to get more games than just one per deposit, it does not stop it from being a fantastic chance to pick up a win! The opportunities to pick up real cash wins with no wagering requirements can be thin on the ground, so this is a chance for players to claim a great treat. 
This is just one of the many fantastic promotions available at Buffalo Spins. So whether you are collecting free spins for the Game of the Month or stopping by for Happy Hour, you will find lots on offer here!