Sports Betting USA Legalities
Written by Phoebe
Published date · Dec. 2, 2021 | Last Updated · Dec. 14, 2022 | Read Time: 5 mins
Sports Betting USA Legalities
Betting on sports in the United States has seen many restrictions in the past. The Professional and Amateur Sports Protection Act (PASPA) was approved by Congress in 1992, making sports betting illegal in virtually every state in the United States. Until the Supreme Court overturned it in May 2018, this legislation effectively barred sports betting in all but a few states. The Supreme Court's decision to enable each state in the United States to authorize sports betting was a game-changer, but how has it impacted each state? In the last few years, many states have begun governing their own laws concerning sports betting. However, due to many of these recent changes and more online options becoming more available, sports fans may be left feeling confused about what they can and can't do in their state. Read on to find out more!
Restrictions on Sports Betting
Multiple US states have legalized online sports betting, and the list is continually increasing as each state's legislation changes. Over twenty states have authorized sports betting, with many more states proposing motions in the future. The following states presently have legitimate online and mobile betting systems, where you can wager on sports: Colorado, Delaware, Illinois, Indiana, Iowa, Nevada, New Hampshire, New Jersey, Oregon, Pennsylvania, Rhode Island, and West Virginia. However, as stated previously, each state has its own rules and regulations. As of 2021, Virginia and Maryland have suggested they intend to pass online sports betting bills to their respective states. Alabama, Arizona, Florida, Georgia, Idaho, Nebraska, South Dakota, Texas, Wisconsin, and Wyoming are among the states that have legislative restrictions. However, they are expected to pass sports betting laws at some point, so watch this space! California, Iowa, Kansas, Kentucky., Louisiana, Massachusetts, Michigan, Minnesota, Missouri, Montana, Oklahoma, South Carolina, and Ohio have expressed interest in passing online sports betting laws. However, Utah, Hawaii, and Alaska have expressed no interest in legalizing sports betting. In addition, you have to be 21 years of age or older to participate in any form of gambling or betting in the United States.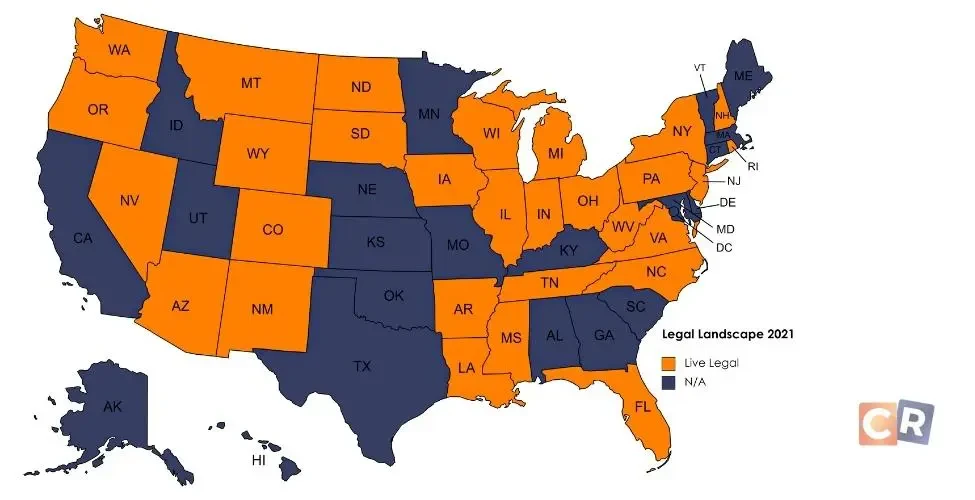 New Jersey
Due to its positive approach to gambling legislation, New Jersey is one of the best states to bet on sports. The state of New Jersey's gambling regulations underwent a significant change in 2018. The US Supreme Court ruled that all states are free to enact their own sports betting regulations. The ban on sports betting was eventually removed, following a dispute between Garden State and the NCAA. Commercial casinos, mobile sports betting, sportsbooks, racetracks, and online operators now provide legal sports betting in New Jersey. In the state of New Jersey, some bets are prohibited, such as in-state collegiate teams or high school sports. Online sports betting is permitted, but the platforms must have a land-based sports betting location.
Michigan
After the Lawful Sports Betting Act was approved in 2019, Michigan permitted sports betting, with the first in-person bets being placed in 2020. Even though sports betting is allowed in Michigan, there are still a lot of restrictions. The Michigan Gaming Control Board, for example, continues to serve as a regulator and must authorize internet operations before betting may begin. As of 2021, physical and internet sportsbooks and betting on all collegiate sports are legal in Michigan. In addition, commercial and native casinos and online operators are authorized under Michigan law.
Ohio
Despite the fact that its neighboring states have allowed sports betting, Ohio still prohibits its residents from doing so. However, since the sports gambling bill (Senate Bill 176) was proposed in 2020, many people have been optimistic that the laws will change. Several of its neighboring states encouraged this by establishing sports betting markets and profiting from regulated sports betting income.

Virginia
As of 2020, Virginia made betting legal, and in 2021 they passed a bill to allow online sports betting for anyone 21+. Virginia is generally regarded as a more conservative state. As a result, amending these regulations was frequently met with resistance. There are presently no casinos in Virginia, although many are hoping to open as soon as 2022. Several limitations apply to collegiate betting and tournaments. Betting on Virginia college teams or any collegiate sports that take place in Virginia is currently forbidden. Daily Fantasy Sports have been permitted in Virginia since 2016, making it the first state in the US to do so.
Pennsylvania
Following the momentous US Supreme Court ruling in 2018, Pennsylvania became the seventh state to implement legalized sports betting. Although, sports betting and commercial casinos are currently permitted in Pennsylvania, many physical sportsbooks are implementing mobile applications to allow bettors to wager online. 2019 saw Pennsylvania's first online sportsbook, SugarHouse. However, it is one of the most expensive states when it comes to sports betting tax. If you wanted to run a sportsbook, it could cost you around $10,000,000 for a licensing fee, and your earnings could be taxed up to 36%. Bets can be made on college, and professional sporting events legally in Pennsylvania.
Illinois
Historically, Illinois has had a relaxed approach to betting, with horseracing being legal in the 1920s and state lotteries being introduced in the early 1970s. After PASPA introduced blanket restrictions in 1992, it became difficult for states to implement their own betting rules. Sports betting was officially made legal in Illinois after a series of proposed measures regarding in-person betting were submitted in 2018. Online sports betting became legal shortly after, where mobile betting and online sportsbooks are also allowed. Daily Fantasy Sports has not technically been authorized for residents to bet on in Illinois, and the rules surrounding them are relatively ambiguous. Many sportsbooks still accept bets from Illinois citizens.

Connecticut
Connecticut has allowed sports betting since 2017, and online betting on sports has been permitted since 2021. Some sportsbooks are in partnership with the state, including SugarHouse, DraftKings, and FanDuel. Even though sports betting was never formally authorized, two native casinos had offered alternatives such as sportsbooks and CT Lottery before PASPA was overturned. Dog racing and horse racing are also legal in Connecticut, but not for off-track betting. Online operators are authorized within the state. However, in-state collegiate teams are currently restricted.
Indiana
Indiana legalized sports betting in late 2018 after citizens voted on a measure. Before Indiana authorized sports betting, many of its residents would travel to wager, namely East Chicago. Indiana currently allows betting on racetrack sports, arena sports, commercial casinos, and online sportsbooks. There are currently limitations concerning bettors registering for online sportsbooks accounts. Sportsbooks can only be operated in Indiana if they have a physical institution and are not simply conducted online. As a result, all offshore sportsbooks are illegal and unable to manage business within the state. According to Indiana legislation, you may gamble on nearly all sports, with the only notable exception being athletic events involving minors.
Iowa
Sports betting has been legal in Iowa since 2019 and is governed by the Iowa Racing and Gaming Commission. In Iowa, you can bet on most sports, fantasy sports betting, physical casinos, racetracks, and mobile sports betting. A notable law in Iowa is that each county can decide whether or not to allow casinos to operate in their jurisdictions. Sportsbooks used to have more restrictions; however, as of January 2021, users of online sportsbooks did not have to register their sportsbook accounts in person anymore and would be able to do so online. Collegiate sports are allowed in Iowa; however, prop betting is illegal on collegiate games and teams.

It is important to note that regulations are subject to change. So it is imperative to check with your state's guidelines on what you are able to wager on in your respective location.