Top 5 Haunted Casinos in the US
Written by Phoebe
Published date · Oct. 26, 2022 |
Last Updated · Dec. 14, 2022 | Read Time: 4 mins
The witching hour is upon us, and Halloween is a couple of days away! Spooky stories fill US history with tales of haunted houses and paranormal activity. But we wondered whether there were haunted spots and scary attractions at creepy casinos across the US.
So, grab your flashlight and your bucket of Halloween candy – it's time to go casino trick or treating and explore the top five alleged haunted casinos in the US.
1. The Flamingo
Let's kick things off in the casino capital, Las Vegas. We'll start at a Miami Beach-inspired hotel that was once included on a list, compiled by the Wall Street Journal, of the most haunted spots in America. This art deco accommodation's resident ghost is Benjamin "Bugsy" Siegel – an integral part of the creation of the Las Vegas strip; he is sometimes known as the man who invented Las Vegas.
A founding member of the Murder, Inc. organized crime syndicate, this mobster is so intrinsically tied to the desert paradise that, even though he was shot and killed in Hollywood, it is believed his ghost stalks the corridors of The Flamingo. Unlike his life, his taste has not left him as the specter is often spotted around the presidential suite, even forcing one lady to quit her job after an encounter with Bugsy!
2. Tropicana Las Vegas
It is only natural that many of the venues on this list can be found at the center of staking in Amerca, Las Vegas. At the entrance, there used to be a giant tiki mask standing guard. This was thought to host a trapped spirit, and any guest who touched the mask developed a severe purple rash.
Reportedly, photos of people posing in front of the mask are obscured by a purple haze that appears to emanate from the mask itself. The mask has since been removed, but this has not quelled rumors and instead fired up more rumors that it is occupied by a spirit.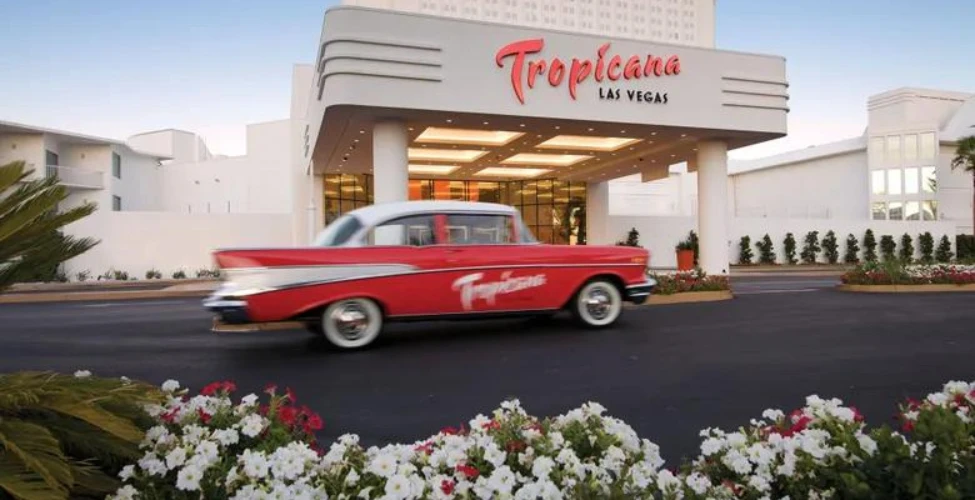 3. Bally's Resort and Casino
Still not ready to leave the strip? This casino has a backstory pulled straight from ghost story classics. It was built on the site of a terrible disaster that saw 87 people lose their lives. It's not quite an ancient Indian burial ground, but it's not a risk we would take. The MGM Grand fire of 1980 is one of the worst high-rise fires in American history. The tower that was engulfed by the fire still makes up part of the resort today.
The victims of the tragedy are said to haunt this building, and guests claim to see shadowy figures in the hallways, hear strange noises, and have even noticed furniture mysteriously moving in the rooms. If you are an avid ghost hunter, apparently ghostly activity is particularly strong in rooms on higher floors. When the site was eventually reopened in 1981, after facilities were rebuilt for $50 million, no grand opening or festivities were held. A spokesman at the time said that it would seem inappropriate.
4. Resorts Casino Hotel
There are many more casinos, thought to be haunted, along the famous strip, but for now, let's head to another city strongly associated with betting, Atlantic City. Here we're looking at the Resorts Casino Hotel. It is the first casino hotel in the area and the first one outside of Las Vegas in America; the success of Resorts services now sees them host an online casino.
The current resort is made up of three former hotels. It was originally formed from the Chalfonte Hotel, built in 1868. At the beginning of the 20th Century, it was formed with another three-story quaker-built structure, and the pair became the Chalfonte Haddon. It was around this time that people began to complain of unexplained and sudden bouts of cold.
In 1944, the buildings were merged with a third. An adjacent hotel, Traymore Hotel, helped form an impromptu hospital named the England General Hospital. It opened its doors in April of that year and served as a clinic until the final patient was discharged on August 1, 1946. Although spooky reports predate this, it is believed patients who passed away during their treatment still stalk the corridors of the casino, which now sits on the site. If it wasn't haunted before, it most certainly is now.
5. Canfield Casino
Upstate New York is home to lots of tourist attractions and, apparently, this haunted casino in Saratoga Springs. The building housing the casino is a beautiful redbrick federal-style building. Inside is a dining hall with a gorgeous barrel ceiling with octagonal coffers, each with its own unique stained glass window decoration. This gem of the town is also home to some strange occurrences.
Staff have reported things moving overnight in rooms that have been completely closed for the night. Other unexplained occurrences that have been reported are reminiscent of the powers you might find in the show Ghosts on CBS. These include the smell of cigar smoke when no one is smoking, sudden cold temperatures, and an uncanny presence of hostile energy.
Are They Really Haunted?
Who knows if we will ever find out the truth about these spooky spots? If you were forced to walk this Earth for eternity after leaving your corporal form, where would you go? To your favorite betting spot? It might not be such a crazy idea there are plenty of attractions, and there is always something to do at a casino. If you ever find yourselves at one of these allegedly haunted spots, be sure to keep your eye out for any mysterious occurrences!