What is the Dress Code for Going to a Casino in the UK?
Published Date · March 14, 2022
· Last Updated · Nov. 14, 2023
·
Read Time · 4 mins
London has a varied casino scene. From the glitz and glam of Les Ambassadeurs through to the more laid-back approach of the Grosvenor Casino, there is more than enough variety to pique the interest of bettors. Fashion has gone hand-in-hand with the casino scene, especially in Hollywood's depiction of the Vegas strip, and UK casinos are certainly no different. Whether you're going to a London casino for an evening out or are planning a trip to Las Vegas, the dress code has to be a consideration before you head out for a night on the town.
If you aren't sure where to begin when it comes to casino attire, this article is for you. We've picked out a selection of popular casinos in London with casual and formal dress codes to help you get started. Alternatively, if you don't like the idea of dusting off your finest threads, check out some of the best live casinos so you can enjoy the casino atmosphere from the comfort of your own home!
Les Ambassadeurs
Les Ambassadeurs is easily one of the most exclusive, glitzy casinos you'll find in London. With its gorgeous interior and stunning views across Hyde Park, it's no wonder that this casino is renowned for drawing in the rich and famous. The glamorous location and interior mean that Les Ambassadeurs has one of the strictest and most formal dress codes in the city. Men should wear suits and ties, and women need to wear gowns or dresses. When it comes to choosing an outfit for this exclusive casino, the more formal it is, the better. After all, you could be brushing elbows with celebrities, millionaires, and perhaps even royalty.
The Ritz Club
The Ritz Club sits in the basement of its namesake hotel. The venue would look right at home in a James Bond film, thanks to its gorgeous architecture and sleek, dramatic styling. You can practise your James Bond Roulette strategy here! The dress code for the Ritz Club is smart-formal. This means suits and collared shirts for the men and cocktail dresses for the women. According to the Club, clothing should reflect the elegance of the hotel; so definitely no jeans or trainers. A live casino version of the Ritz would be Mr Rex Casino!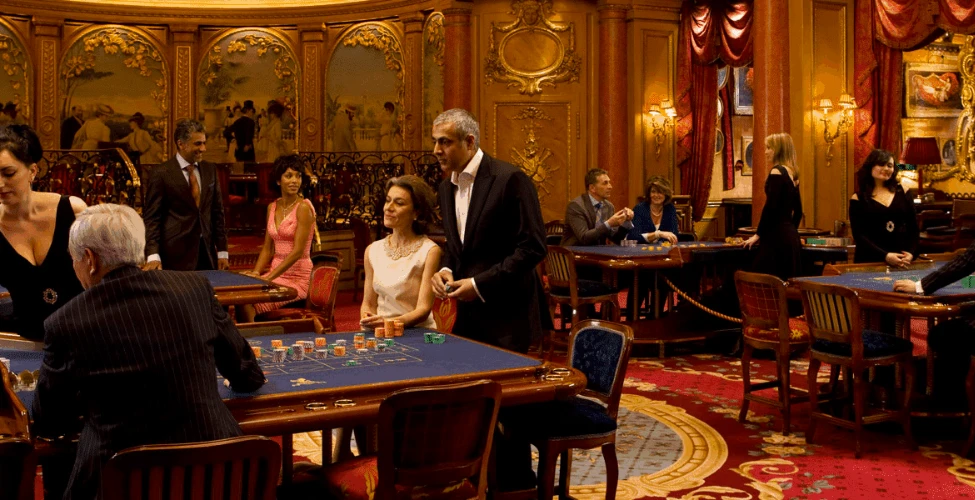 Grosvenor Casino
Grosvenor operates a more relaxed dress code than many other London casinos do. Grosvenor insists on a smart-casual dress code, but leaning more towards "casual" is unlikely to cause a major issue. In fact, Grosvenor themselves describe their dress code as being what you would wear on a night out at a bar or restaurant. Avoid scruffy clothing, manual workwear and sportswear (unless the casino is holding a relevant themed night!), and you should be good to go. That being said, the dress code at poker tables is even more relaxed, with players commonly seen wearing baseball caps and sunglasses. However, Grosvenor does still request that players stick to the smart-casual dress code throughout the remainder of the casino. Try out our Casino of the Month, Casiplay,  for a more relaxed but entertaining live casino experience!
Hippodrome
The Hippodrome prides itself on being the UK's largest and most popular casino and entertainment venue. Wrapped up in that package is six floors of gaming, an outdoor terrace, and even an in-house multi-award-winning steakhouse too. The Hippodrome has absolutely no formal dress code and so many people find it is the ideal choice for a spur-of-the-moment night out. The general message from the Hippodrome is that visitors can wear whatever they want, within reason. However, the majority of visitors do tend to stick to a smart-casual dress code unless the casino is holding a themed evening or it's a special occasion. For a Hippodrome experience at home try out PokerStars Casino!
The Palm Beach
The Palm Beach casino sits in the Grand Art Deco Ballroom of the Mayfair Hotel. Like the hotel itself, the Palm Beach casino is stunning, exclusive, and exquisite. The casino offers a range of table games and slots, along with a high-stakes room for private games for esteemed guests too. As a result of the luxury interior and top-notch service, Palm Beach operates strict dress code requirements. While the venue does class their dress code is smart-casual, men should wear collared shirts. You can wear smart jeans, but trainers are not allowed. For a Palm Beach experience, try out Mayfair Casino!
Las Vegas
If you're looking to step outside of London and head to the casino capital of the world, you might find yourself wondering what you should wear to a casino in Las Vegas. Like London, this depends heavily on the casino you want to go to. Most casinos in Las Vegas operate a smart-formal or business-casual dress code, and it is expected that you simply dress presentably, especially in the evening. Most Vegas casinos with this rule will accept nice jeans but will not accept shorts or flip flops. 
Some of the more high-end casinos and venues do insist on a formal dress code. In these situations, men should stick to suits and ties, and women can wear either formal gowns or cocktail dresses depending on the venue. When in doubt, check with the specific casino before you get ready to go out. At the end of the day, a trip to the casino should be fun. As a result, you should take the time to choose a casino where both the style and dress code suit you personally. It's hard to enjoy yourself if you're dressed uncomfortably!