What are the Main Variations of Keno?
Written by Phoebe
Published date · May 6, 2022 | Last Updated · Oct. 5, 2022 | Read Time: 4 mins
Keno has become a hugely popular game ay online casinos for several reasons. It is simple to play, it caters to a wide variety of budgets, and depending on the variation, it can payout up to 10,000x your stake. Similar in many ways to lottery or bingo games, Keno involves buying cards and/or picking numbers and hoping to get lucky when the numbers pill out the tombola. What's more, is that the more numbers you picked rolling out, the larger the multiplier you win. While the core game is simple, ‌it might surprise you to know that there are many variations that you can enjoy. This article will take you through those variations developed by software companies, including 1×2 Gaming, Pariplay, NetEnt, and more!
Power Keno
While Power Keno shares similarities with the standard variations of this casino game, there is an interesting change to the game rules. Rather than winning standard rewards for matching between 2 and 10 numbers from the 20 balls drawn from 80, you will win a 4x multiplier if the last ball drawn is one of your picks. The best thing about this variant is that you do not have to pay for a side bet to qualify for that multiplier. 
Mini Keno
The name provides a clue as to what you can expect from Mini Keno. There are 10 balls drawn from 40 rather than 20 from 80. While the payout structure will differ, all the other rules are the same. The biggest benefit for players of Mini Keno is that you get quicker rounds, which ‌allows for more games per hour. However, some of you might not want to wait for so many balls to draw each time and would prefer to enjoy more bets for the time spent. 
Way Ticket Keno
This variation of Keno often confuses people, but in reality, it's quite simple. Essentially, you're paying for multiple games on a single ticket. As a real-world example, it is like buying additional lines when purchasing tickets for lotteries. Each separate way (picked numbers but in separate bets) is independent of each other. So you might win from one 'way' but get nothing back from another.
Straight Ticket Keno
If you prefer to stick to the standard Keno rules, Straight Ticket Keno is the variation you should play. These are the basic rules whereby you simply choose 2 from 10 numbers and must hit a certain amount of those numbers to receive a payout. For instance, pick one number, and that number must land for you to win a multiplier of your stake. Pick 3 numbers, and at least two must land.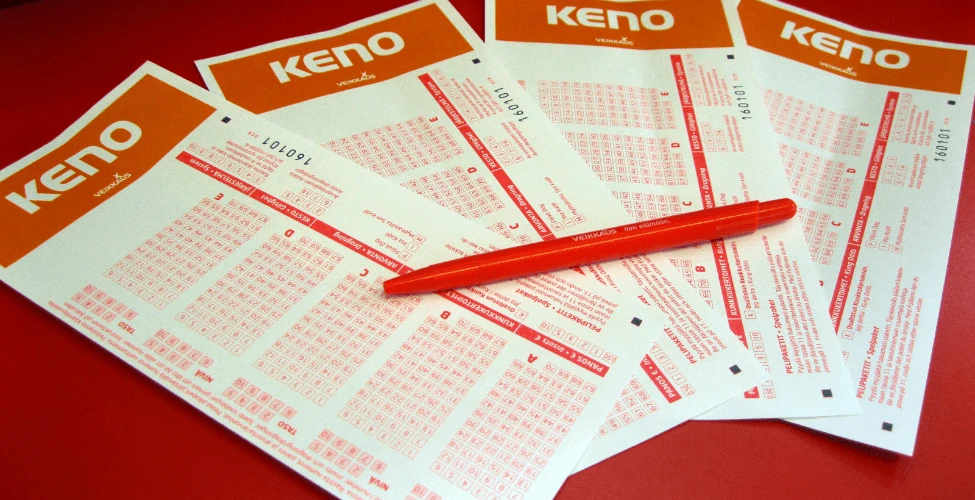 Progressive Jackpot Keno
If you have played progressive jackpot slots from software companies such as Microgaming and Playtech, you will understand how these network jackpots work. Well, rather than spinning in life-changing money, you could land up to 6-figure sums playing progressive jackpot keno instead. Of course, the odds of winning such a jackpot are rare, and you may pay more per card or place a qualifying side bet, but win the jackpot, and this extra expense will prove well worth it. 
Bonus Spot Keno
While many variations Keno like to leave it to the final ball to award multipliers, Bonus Spot Keno does it the other way around. The first ball of the 20 balls drawn from a basket of 80 is the 'Bonus Spot', which, depending on the online casino, will award a multiplier of between 4x and 10x. Of course, this makes no difference to the odds at all as it is still the same 80 to 1 of you picking that number, whether it's the first ball drawn or the last. 
Live Dealer Keno
Evolution, the multiple award-winning live casino software provider, was the first to bring a live dealer variation of Keno. While the name Mega Ball does not clarify that it is Keno, this title works the same way as all other Keno games. In this variation, an air machine draws 20 pools from a tombola containing 51. The twist with this variation is that the last ball (the Mega Ball) will have a multiplier of between 5x and 100x attached. If the Mega Ball completes a line, you stand to win up to 1,000,000x your stake!
Super Keno
Super Keno is a variation of Keno that is usually found at online casinos rather than brick-and-mortar casinos. It once again delivers a multiplier if you pick the first number drawn. Generally, that multiplier is usually 4x, but we have seen some online casinos offer multipliers of up to 10x. 
Final Thoughts 
The above list includes the most common variants of Keno that you will find at online casinos, but don't be surprised if you bump into many others along the way. Popular online software providers always strive to add new twists to classic games, and Keno is just one of many where this has happened. You only have to look at the many roulette and blackjack variations to see other examples of this. Additional multipliers seem to be the current trend, and that is the most common twist that you will find in modern variations of this Asian classic. So why not check out each of the different variants of Keno listed above to find the one that fits your preferences?