Top 5 Casino Meccas (That Aren't Vegas)
Published Date · Aug. 4, 2022
· Last Updated · Dec. 14, 2022
·
Read Time · 3 mins
From films to famous landmarks and hotels, we all associate casinos and betting with one place, Vegas. While it is still recognised as the OG casino mecca, there are so many other places that sometimes get overshadowed by Sin City. Because, of course, without Las Vegas, perhaps these locations would not have been casino capitals at all! Here are some of our top 5 casino Meccas that aren't Vegas (or its little sister Atlantic City) if you dont fancy a trip to the strip. 
5. Niagra Falls
Most famous for being one of the best waterfalls on the planet, Niagra Falls (Canada side) is a fantastic place to bet as well! There are two casinos in Niagara Falls, but they are huge. The Casino Niagara, Ontario's first permanent casino, has 95 000 square feet of floor area spread out over two levels, with 1500 slot machines, 45 gaming tables, including 12 poker tables, and sports betting. Fallsview Casino is another fantastic place to stay if you are a casino lover; aptly named, with fantastic views of Niagara Falls 24/7! You can even dine at a UFO-themed restaurant, which is out of this world!
4. Aruba
Sun, Sea, and… Casinos! Named the Caribbean Vegas, Aruba has become the top exotic casino destination on our list. Many of Aruba's casinos are open 24/7, so if you want to beat the jetlag and win some money, it is completely possible. One of the best parts (especially for fans of American sports) is that the casinos play most major matches and allow sports betting. So you can watch your favourite team with a pina colada in hand. If you enjoy sports, the Stellaris Casino is the place to go. If you want a traditional casino, we recommend Casablanca Casino (which includes baccarat, roulette, and Caribbean stud poker).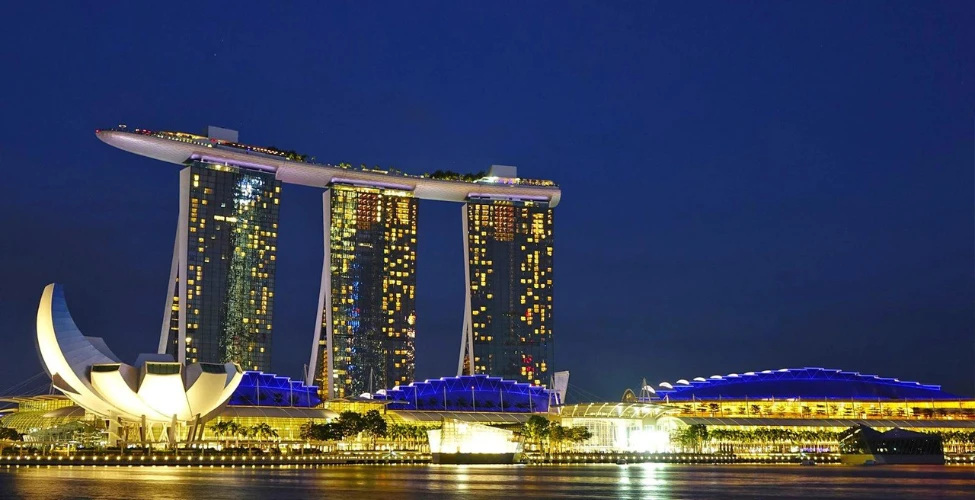 3. Singapore 
Singapore is a newcomer to the gaming sector, having legalised gambling in 2005. Despite this, it has quickly established itself as one of the world's greatest gaming locations. If you are looking for extravagance, Marina Bay Sands in Singapore takes it to a whole new level. The entire complex, which is located on Singapore's southern coast, cost approximately $5.5 billion to create. With 500 gaming tables and 2500 slot machines, it is the world's biggest indoor casino, made up of three towers with a spectacular view of the city.
2. Monte Carlo 
One of the more luxurious on the list, the setting of Bond Films and Ocean's Twelve, it's Monaco. Monaco was the premier gaming destination in the world, even before Las Vegas. The Casino de Monte-Carlo, which opened its doors in the 1800s, is perched on the Mediterranean coast and continues to hold a preeminent position in terms of its reputation for elegance and opulent gambling. While the casino has maintained its affluence and timeless style, it has also made an effort to stay up with changes in gaming technology. European and English roulettes, Trente et Quarante, Black Jack, and the wildly popular Texas Hold'em Poker and Stud Poker are all available at Monte Carlo's gaming suites.  
1. We have to Mention Macau 
This one is pretty well known, but we had to give it a mention. The Chinese city of Macau has arguably replaced Las Vegas as the world's gaming capital. This may not be a surprise, as in the last few decades, Macau has become a casino hotspot. Since the 1850s, when Macau was still a Portuguese province, gambling has been permitted there. Chinese betting has a long and rich history in the area. Nowadays, the majority of wagering in Macau takes place in Western-style casinos; in terms of gaming income, Macau surpassed the Las Vegas Strip in the early noughties. There are currently 38 casinos in Macau, and the area's yearly gambling income exceeds US$27.9 billion. With the rise of metaverse casinos and crypto, we are sure China will continue to be a gambling hotspot for the foreseeable future.
The worldwide casino industry is continuously thriving, and depending on your interests, there are numerous unique locations to visit. Whichever place piques your interest, we hope this list has given you some ideas for your next trip away to elevate your betting experience!