The Five Largest Casinos in the World
Written by Julie
Published date · Oct. 23, 2020 | Last Updated · Dec. 14, 2022 | Read Time: 4 mins
All sorts of cultures enjoy the experience of attending a casino. There are thousands of different casinos located all over the world. Of course, the most famous place to play casino games would be Las Vegas but where are the biggest casinos? You would probably expect the biggest few to be in Nevada but is that really the case?
You may be surprised to know that none of the top five largest casinos are in Vegas. In fact, only two of the top five are located in the USA with China having the other three in the top five. Let's find out where the biggest ones are.
5) Ponte 16, Macao, China
Coming in as the fifth largest casino in the world is Ponte in Macao, China. This lovely building is 270,000 square feet in area and is rammed full of casino goodness. There are 320 slot machines in this building which helps to give the customers plenty of opportunity to make the most of their visit with a play on the slots. As well as this, there are 150 poker tables. This helps make tournament nights very easy.
There are two gorgeous restaurants which serve the most delicious food. It really is a superb venue with so much on offer. There are a couple of bars as well for the punters who like to enjoy a drink whilst they play. Macao has Portugese heritage and that is clearly on show for those who choose to gamble here.

4) Foxwoods, Ledyard, Connecticut, USA
This is one of the two American casinos that are in the top five biggest in the world. Foxwoods is a great place to go for a night in the casino and many famous names have come here in the past too. The likes of Johnny Depp, Magic Johnson and John Legend have all been spotted in this casino. The glamour and fame of attracting names like those prove that Foxwoods is a lovely venue to game in. What's more is that this casino was recently voted the best outside Las Vegas in a recent survey by USA Today Readers Choice.
For the actual sizing of the casino, it is 340,000 square feet. There are a staggering 7,000 slot machines. That is a phenomenal number to have and highlights how busy the casino can get. There are over 400 tables for card games such as poker or blackjack. Another fantastic feature in this casino is the arcade for children. Usually anyone who is not of the legal age to gamble is not allowed to enter a casino. However, Foxwoods allow a two-story arcade where children can play games which are unrelated to gambling.

3) City of Dreams, Macao, China
This is another casino in our top five which is located in Macao in China. The region itself is very popular with gambling fans which partially explains why there are two casinos within this area in the top five. City of Dreams is 420,000 square metres with a wide variety of gambling games in it. There are 1,350 gaming machines altogether in the venue. This helps to give punters a wide variety of slot games to play on and ultimately maximise their time in the venue. There are 520 poker tables too. These are brilliant for how easy they make tournaments. The casino can accommodate 1,400 people with their luxurious facilities. The theme of City of Dreams is to have a 1970s look and feel about the place. There is no specific dress code to go by, just the usual smart casual look most people wear to a regular casino.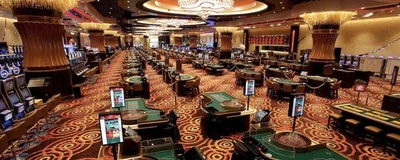 2) Venetian Macao, Macao, China
The second largest casino in the world is yet another one in Macao. Venetian is 546,000 square feet which is of course absolutely massive. They have cool new technology to welcome their customers in as well. Face ID recognition means that the customers do not need to wait around in a queue to get in. They walk up to a machine which will recognise whether they are already a member of the casino or not. There are 3,000 gaming machines and then 870 tables for card games. Venetian is not just known for its huge casino but it also has three massive shopping centres with a wide variety of shops. There are supermarkets, household shops and then a selection of restaurants too.

1) WinStar World Casino
The biggest casino in the world is in Thacker Vile, Oklahoma, USA. The sizing is an enormous 600,000 square feet. WinStar was first opened in 2003. The company was very successful though which led to its expansion. In 2013 they moved to this space and it has remained the biggest casino in the world ever since. As you can imagine, this venue is outrageous in size. It has so many attractions available to its customers. The restaurant is rated as one of the best in the world which should be enough to attract customers alone.