Top 5 Gambling Books & Podcasts
Written by Phoebe
Published date · June 28, 2021 | Last Updated · Dec. 14, 2022 | Read Time: 4 mins
The world of gambling is big — so big, it's impossible to limit it to just what you see on online casinos. We've gathered some of the best books and podcasts that dive into everything you should know about gambling and discuss our favourite industry behind the scenes. Learn the tricks of the trade from gambling professionals, whether it's slot players or sports betting pros, and gain insights that will help you win your next game.
5 Podcasts About Gambling
1. Gambling With an Edge
Broadcasting live from Las Vegas every Tuesday at 10 am PST, Gambling With an Edge is the podcast to go to when you want to get more information about anything related to gambling. Hosted by Bob Dancer and Richard Munchkin, the podcast tackles plenty of gambling-related topics, including interviews with gambling pros and other insiders, as well as strategies for specific games.
Episode to start with: Guest Slot King
2. Sports Gambling Podcast Network
If you're more of a sports gambler, this is the perfect podcast for you. It covers all betting sports topics, ranging from dog racing and college sports to NBA, MMA, and UFC. Sports Gambling Podcast Network is the best way to get your information on sports betting. It's hosted by Sean Green and Ryan Kramer, who have over 50 years of combined betting experience.
Episode to start with: It completely depends on the type of sport you're interested in.
3. Against All Odds
Combining gambling with entertainment, Against All Odds adds a touch of comedy to every episode thanks to the host "Cousin" Sal Iacono and his childhood friends, Harry, Darren "The Parlay Kid", and Brother Bri. The podcast focuses on all types of sports, as long as betting is involved, which pretty much means you can listen to betting insights on hot dog eating competitions. The team is joined by plenty of guests who bring their insights and sense 
Episode to start with: The Return of MLB, NBA, Mike Tyson, and The Podcast!
4. Professor Slots
If sports betting isn't your thing and you prefer to stick to slots, there's a podcast for that, too. Professor Slots is hosted by John Friedl who gives a rundown on everything you need to know about slot machines. From specific strategies (yes, there are strategies to playing slot games) to assessing which casino is best for you, John breaks everything down in informative, 1hr-long podcast episodes. 
Episode to start with: 5-Spin Method Test Update and Bonus Live
5. You Can Bet on That
Don't worry, there's a podcast for poker and blackjack players, too! You Can Bet on That brings a high-energy atmosphere with its hosts Mark DeVol and Dr. Mike who tackle topics such as poker, blackjack, sports betting and more. Along with providing plenty of insights, the charismatic hosts are streaming from Las Vegas and Atlantic City, bringing the total casino experience to the podcast.
Episode to start with: How Multipliers Work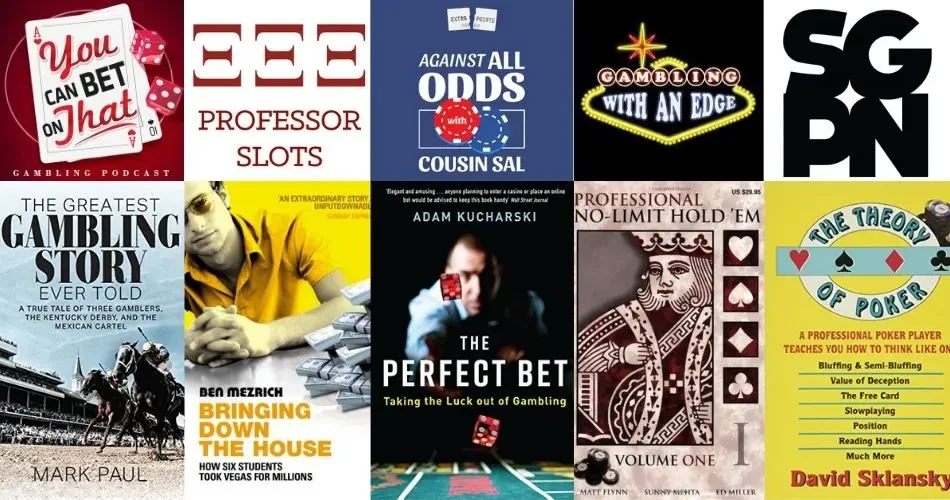 5 Books About Gambling
1. The Theory of Poker by David Sklansky
Everything you ever wanted to know about poker, answered. Whether you're a beginner poker player or just want to brush up on theory, The Theory of Poker will answer every question you have. The newer version of the book also focuses on one of the most popular poker games of modern times, No-Limit Hold'em. 
2. Professional No-Limit Hold 'em by Matt Flynn
If all you want to play is the No-Limit Hold'em, Matt Flynn's book will equip you with the knowledge that will let you become a competitive player. It tackles everything from history and key concepts to strategies that will make you better at No-Limit Hold'em. 
3. The Perfect Bet by Adam Kucharski
How does betting connect to science? Learn how betting works from a mathematical point of view. Dive into its history and swim out to the present day — by the end of it, you'll be on your way to be a betting pro. 
4. Bringing Down the House: The Inside Story of Six MIT Students Who Took Vegas for Millions by Ben Mezrich
When you want to break away from theory, this is the book that should be next on your list. It's a real story of mathematicians and physicists who played the system and managed to win millions along the way. 
5. The Greatest Gambling Story Ever Told: A True Tale of Three Gamblers, The Kentucky Derby, and the Mexican Cartel
This is the ultimate gambling story to read. It's an epic tale of a remarkable gambling adventure in which three gamblers make a name for themselves and inspire thousands around the world.