Ohio Gambling Laws
Written by Phoebe
Published date · Jan. 7, 2022 | Last Updated · Dec. 14, 2022 | Read Time: 3 mins
Ohio Gambling Laws
Previously, there have been several limitations on sports-based betting in the US since Congress passed the 1992 Professional and Amateur Sports Protection Act. This made athletics-based betting prohibited in virtually every state in the US until the Supreme Court repealed it in 2018. Sports betting legalities are often complicated because every state has its own rules. Ohio is one of the states that still enforce restrictions regarding sports betting, but what are the rules regarding Ohio and its general gambling laws? 
If you want to know what the betting laws are in the state of Ohio read on to find out more!
Ohio Gambling Laws Historically 
The state of Ohio has not always had clear legal classifications for betting. While gambling is not necessarily illegal in the state, much ambiguity has been surrounding what is or is not allowed, especially regarding online and sports betting. Ohio gambling laws state that it is currently prohibited for residents to engage in unauthorized bookmaking and real money sports bets. Prior to 2021, Ohio implemented restrictions for its citizens concerning sports betting, despite its bordering states such as Michigan, Pennsylvania, and Indiana having a more relaxed approach. In 2020 a sports gambling bill was introduced. However, the laws remained unchanged until 2021.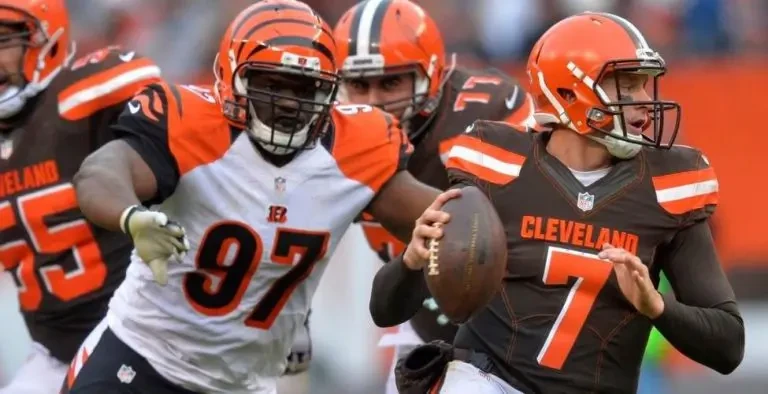 Current Ohio Gambling Laws as of 2022
Governor Mike DeWine passed legislation HB29, making sports betting lawful in Ohio for the first time. After bill HB29 was passed into law in December 2021,  sports betting will be fully allowed in the state. Ohio is expected to be ready to offer sports betting licenses in April 2022, with the state now planning to introduce sports betting in its state by the end of 2022. Sports betting sites are still not open, but Daily Fantasy Sports online can currently be played for real money in the state. However, it is important to note that sports betting is not yet legal in Ohio. Four of Ohio's five surrounding states allow legal sports betting. Individuals can currently legally bet online in Michigan, Indiana, Pennsylvania, and West Virginia. Many individuals in Ohio state were hoping that sports betting would be permitted before the start of the NFL season. However, legislators struggled to meet the deadline, and the date was moved further back. 
Once Ohio gambling rules change, sportsbooks like DraftKings, BetMGM, and Caesars are expected to be among the top sports betting apps accessible in Ohio. The state's projected launch for a fully legal sports-based wagering license is as early as 2023. Ohio is the 33rd state to allow betting, with Indiana, Michigan, and Pennsylvania also legalizing it on a municipal level.
Popular Teams to Bet on in Ohio
Ohio is home to professional football, hockey, baseball, basketball, soccer teams, and a number of well-known college sports teams. The Cleveland Cavaliers are a professional basketball club that plays in the NBA, specifically the Eastern Conference. The Cavaliers are the home of LeBron James and a favorite amongst fans! The Cleveland Browns are another popular team to bet on in Ohio and play in the NFL. Despite only reaching the playoffs once since the early 2000s, the Cavaliers have a loyal football fanbase. State rivals, the Cincinnati Bengals, also are another popular team to bet on in the NFL.