Welcome Bonus:
First Bet Refund Up To $1,250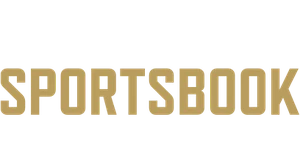 Published Date · Nov. 24, 2021 · Last Updated · Nov. 22, 2023
Caesars Sportsbook Review
Caesars Sportsbook is an online platform that provides punters in 20 US states with a top sports betting solution. It offers a good selection of betting markets, good odds, excellent in-play betting options, and a fantastic loyalty program. However, while operated by one of the most recognizable names in global gambling, how does Caesars Sportsbook compare with its many competitors in the online space? Let's take a look!
Sportsbook Details

| | |
| --- | --- |
| | 2013 |
| | 20+ |
| | 24 Hours |
| | x |
| | x |
| | iOS, MacOS, Windows, Android |
Our Expert Review

| | | |
| --- | --- | --- |
| | | Excellent |
| | | Excellent |
| | | Excellent |
| | | Excellent |
| | | Excellent |
| | | Excellent |
Pros
Brilliant Loyalty Program
Comprehensive Customer Support
Caesars Sportsbook Welcome Bonus
First Bet Refund Up To $1,250
Caesars Sportsbook Bonus
| | |
| --- | --- |
| | 100% up to $1250 |
| | 1250 Free Bets |
| | $20 |
| | USD |
Latest Promotions & News From Caesars Sportsbook
Caesars Sportsbook Registration Process
Registering for a new account at Caesars Sportsbook is easy, with your bonus code already pre-filled. The entire process takes just a couple of minutes.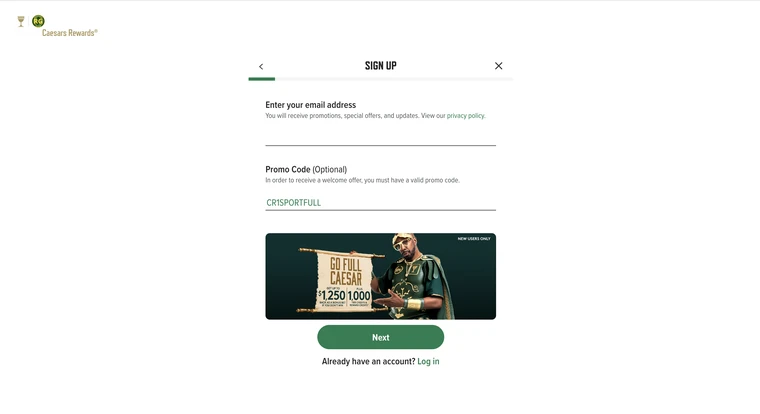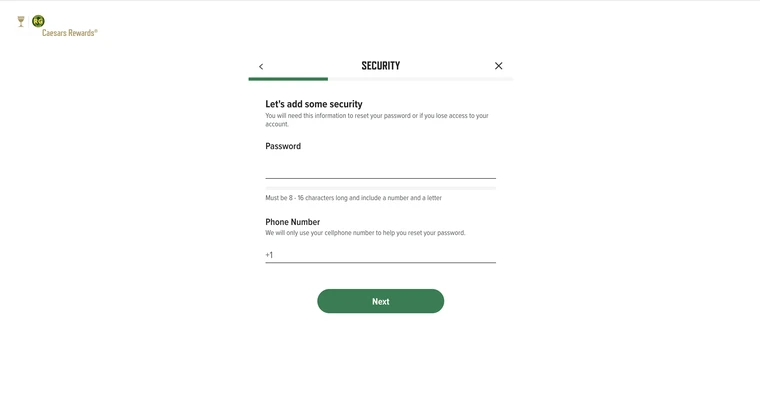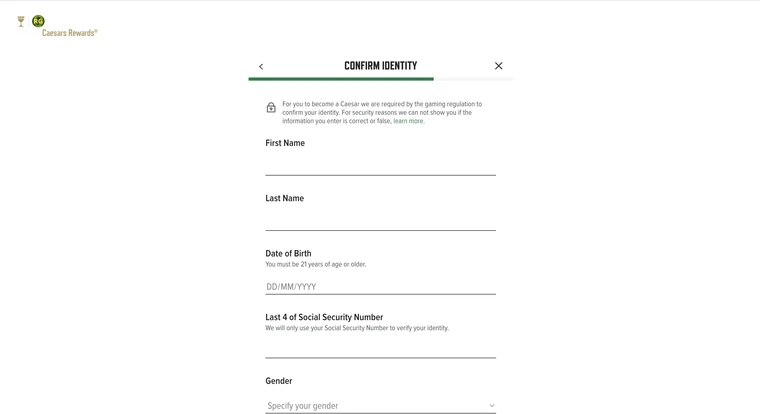 Caesars Sportsbook Lobby Explained
The sports betting lobby at Caesars Sportsbook has as good a design as you could expect. Sportsbooks often display a lot of information, so it is not always easy to display this info without cluttering up the screen.
The top of the screen contains all the links to the important account, log-in, and support pages. Following, that, you're straight into the sportsbook itself. To the left, you will find all the betting which once clicked, brings you all the upcoming matches/events you can bet on. At the right of the screen is your bet slip containing any current bets you're putting together, bets you have placed, and bets which are settled.
At the bottom of the page is the licensing information and links to Terms of Service, Contact Us, Help, live chat, and a bunch of other important pages.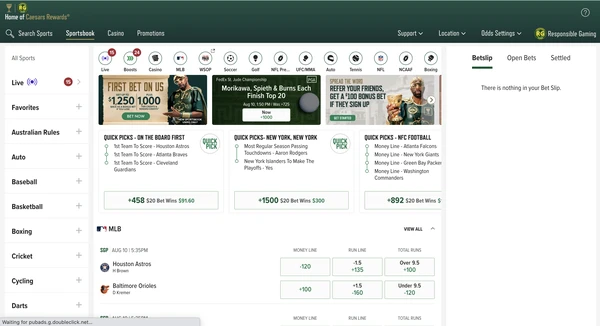 Caesars Sportsbook Sports Selection
Caesars' betting offerings encompass the major American sports, including football, basketball, baseball, hockey, and soccer. Additionally, it features internationally popular sports such as tennis, golf, boxing, MMA, and motor racing. Notably, there is also a strong representation of global soccer.
The platform's key strengths lie in its extensive selection of betting markets for each game and its highly dynamic in-play betting schedule. For example, users can use the Caesars website or app to track an MLB match in real-time, placing bets on aspects such as the game outcome, various alternate run lines, pitching performance predictions, and more.
On the main screen, users can place money line, spread, and total bets, while futures, prop bets, and parlays for the same events are available by selecting the respective match-ups.
Overall, Caesars Sportsbook competes effectively with other leading sportsbooks, such as DraftKings and FanDuel. While it may not cover as many niche sports as some rivals, it compensates by offering numerous betting opportunities for the sports it does feature.

Software Providers
Caesars Sportsbook's primary software solution is Liberty. Liberty is a tech stack, owned and integrated by Caesars themselves in 2021, and is used to run the company's mobile betting app.
In addition to this software, the sportsbook also uses GeoComply software. This software is needed to verify that you are located in a state Caesars is licensed to operate in, when you are gambling using real money.
Caesars Sportsbook Licenses
Players from 20 US states can access the Caesars Sportsbook. This includes players in New Jersey, Michigan, Colorado, Pennsylvania, and New York. Plus, Canadians living in Ontario also have a Caesars Sportsbook platform they can use.













Caesars Sportsbook Funding & Withdrawals
As such a global name in online gambling, you would expect Caesars to offer a variety of payment options for deposits and withdrawals. As you will see below, that is certainly the case. Withdrawals on average take around 1-3 banking days, but when using PayPal, you should receive your payouts within minutes or hours.
| | | | | |
| --- | --- | --- | --- | --- |
| | | | | |
| | | | | |
| | | | | |
| | | | | |
| | | | | |
| | | | | |
| | | | | |
Caesars Sportsbook Available States USA
Caesars Sportsbook Mobile Sportsbook
You have a couple of options regarding accessing the Caesars Sportsbook on your mobile devices. The website is mobile-optimized, so you will not have any issues there.
Alternatively, you can download apps for your iOS and Android smartphones and tablets. From the reviews, it seems both have hit the right notes with users.
App Store: 4.6* from 42,400+ reviews
Play Store: 4.3* from 20,500+ reviews
With such strong ratings from such large numbers of reviews, it's safe too say the Caesars Sportsbook app is a popular choice.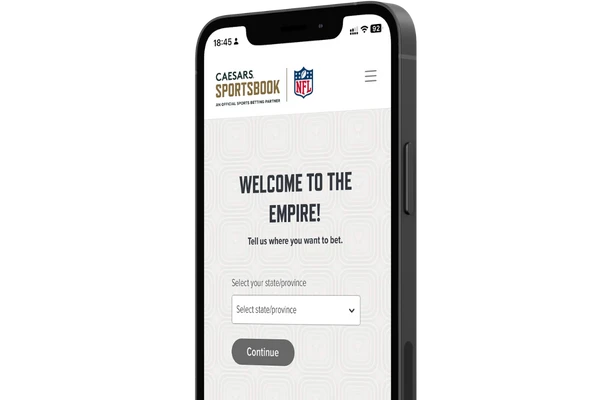 Customer Support

| | |
| --- | --- |
| | support@caesarssportsbook.com |
| | Yes |
| | Yes |
| | English |
More Info About Caesars Sportsbook Customer Support
You can contact the customer support team at the Caesars Sportsbook via live chat and email. You also have access to an FAQ page that gives solutions to lots of different issues.
24/7 Live Chat: To speak with a support agent, you must fill in your information and describe your issue. After, you're connected with an agent.
Phone Support: Caesars Sportsbook also has phone support via 855-474-0606.
Email Support: Alternatively, you can use the support@caesarsportsbook.com email address to reach customer support.
FAQs: There is a great FAQ resource providing questions and answers across a wide range of areas.
Caesars Sportsbook Loyalty Program
When you play at Caesars Sportsbook, you can take advantage of the Caesars Rewards program offered at all Caesars venues and online gambling sites.
You receive 10 reward credits for every $100 spent on Straight Bets and 20 reward credits for every $100 wagered on parlays.
This program also rewards you with monthly bonus bets, an additional bonus bet during your birthday month. Other rewards benefits include trading your credits for bonus cash, hotel stays, restaurant dining, and more.

Conclusion: Caesars Reign Supreme!
In the past years, Caesars Sportsbook emerged as one of the most rapidly expanding betting sites, and this growth trend has persisted throughout 2023.
The key selling points are clear, a robust rewards program, odds that favor players, and a great variety of betting options and markets.
A lucrative loyalty program is available, with some juicy awards ripe for the most loyal of players. Their sports selection is superb, with markets on all major leagues as well as events from around the world.
Their welcome bonus is one of the best going, with a huge first bet refund getting your life off to the best possible start. Long may the Caesars Sportsbook reign continue!
Caesars Sportsbook FAQs
How do I register an account on Caesars Sportsbook?

You can register for an account easily. It is connected to the casino account, so when you have one, you will have both. Click on "Join Now" and supply all of the relevant information to get your account up and running in minutes.
Does Caesars Sportsbook have an app?

You can download an app for any iOS or Android mobile device. Simply visit the appropriate app store or use the links on the Caesars Sportsbook website.
How can I contact Caesars Sportsbook customer support?

There are several options for getting in touch. You can call, chat, or email the customer service reps.
What is the Caesars Sportsbook promo code?

To receive the welcome bonus at Caesars Sportsbook, enter the CR1SPORTFULL bonus code when making your first deposit of $10 or more.
What is the Caesars Sportsbook welcome bonus?

You receive 1,000 reward credits, 1,000 Tier Credits, and receive a bonus bet worth up to $1,250 if you deposit and bet at least $10 and lose the bet.
When was Caesars Sportsbook created?

Caesars Sportsbook in New Jersey went live in 2018.
How can I close my Caesars Sportsbook account?

To close your account, contact customer support by calling 1-800-986-9248. Verify your account details and they will close your account for you.
Discover Other Sportsbook