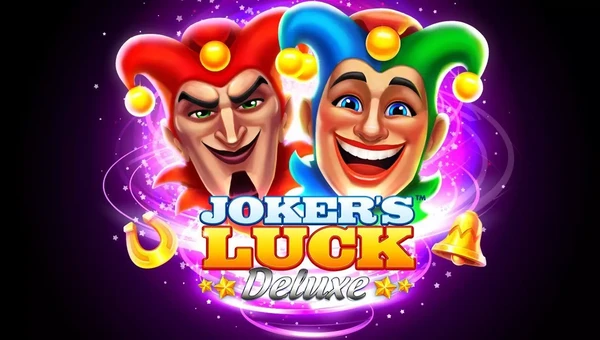 Published Date · March 29, 2021 · Last Updated · May 5, 2023
Joker's Luck Deluxe Slot Review
Joker's Luck Deluxe Slot Overview
Joker's Luck Deluxe is a brand-new online slot game from Skywind Group. It was released on the 18th March 2021 and joins many successful online slots in the Skywind portfolio. You might recognise other Skywind titles like Rain Balls, CSI: Crime Scene Investigation, Book of Gems Megaways, and The Last Kingdom. Skywind was established in 2012 by a crew of industry veterans who combine their experience to produce some of the online gambling industry's most played games. Joker's Luck Deluxe is the sequel to Joker's Luck. It takes the same unique premise that combines the need for luck and steel nerves to win the big jackpots and improves it with a new look and feel and new bonus features.
Joker's Luck Deluxe is a 3×1 slot game with a single pay line and an average RTP of 97%. There is a huge difference between the minimum and maximum bets. You can hit spin for as little as £0.01 or as much as £300 per spin. However, the more you bet, the bigger the prizes will be. The top win in the game is unlimited; it's down to you how much you want to risk it before you cash out.
Graphics and Theme
Skywind has kept the graphics and theme of this game relatively simple. The game screen background is filled with a gradient that starts off purple in the middle of your screen, working its way to a jet black at the edges of the screen. The reel is located in the centre, with the game controls located in the bottom right-hand corner of your screen. The cash towers that light up as you land winning combos are located above the reels with a bright yellow border.
There is no soundtrack to this game; instead, Skywind has created some vibrant sound effects to keep you entertained. When you hit spin, the reels rotate and come to a stop with a popping noise. Unless you land a red joker, in which case you will hear the deflating sound of defeat as your winnings disappear. Hopefully, you'll hear lots of the classic arcade win noises that sound every time you land a symbol and a prize. Finally, when you cash your winnings, a celebration noise and the sound of coins jingling will reverberate from your speaker.
Joker's Luck Deluxe Slot Details

| | |
| --- | --- |
| | 1 |
| | 97% |
| | High |
| | x |
| | $0.1 |
| | $300 |
| | x |
| | |
| | Original |
| | |
| | |
Who knew a 3×1 game with just one pay line could be some much fun? The excitement in this game comes with risking it for just one more spin; how far will you dare to go? Let us know what you think of this game in the comments below.
How To Play Joker's Luck Deluxe Slot
Joker's Luck Deluxe is played on a 3×1 set of reels with a single pay line. Before you hit spin, you will need to decide on your betting value which can be between £0.01 and £300. This huge range means that you can play the game for some fun or put down a serious stake to chase down the maximum potential payouts. The pay tower prizes range from 0.5x your stake to 210x your stake. Your winnings are accumulated on each spin. It's up to you whether you cash out or keep hitting spin to grow your cash pot. Just remember, if the red joker lands before you cash out, you lose all your winnings.
Joker's Luck Deluxe Slot Features
here are three paying symbols which in order of value include a golden horseshoe, a gold star, and a gold bell. The joker symbol acts as a wild symbol. One, two or three jokers used in a winning combo will help you skip two, four or eight steps on the corresponding cash tower. Finally, the red joker is a symbol that you don't want to see as it resets all of the towers and puts your cash pot back to zero.
Joker's Luck Deluxe cash pot
The whole game revolves around the three pay towers. Each tower corresponds to one of the three symbols. Each time you land a winning combination, one of the corresponding pay tower levels is highlighted. There are eight to 16 levels to each tower, and each level is more valuable.
All of the cash prizes are accumulated, and the total is shown in the cash pot that is located to the right of your reels. You can collect your winnings at any point or continue hitting spin to collect more prizes. However, if the red joker lands before you hit collect, all of your accumulated winnings will disappear, and you'll start again from zero.
It takes nerves of steel to make it to where all levels across the three towers are highlighted and some luck for the red joker not to show. However, if you have highlighted all of the levels in one of the towers and land another winning combo for that tower, each additional win will increase the value of the top payout.
The horseshoe cash tower increases by 2.5x your stake with each additional maxed out win
The bell cash tower increases by 10x your stake with each additional maxed out win
The gold star cash tower increases by 75x your stake with each additional maxed out win
Joker's Luck Deluxe Slot on Mobile
Joker's Luck Deluxe is compatible with all iOS and Android mobile devices. It has a responsive web design, so it will work on your laptop and tablet too.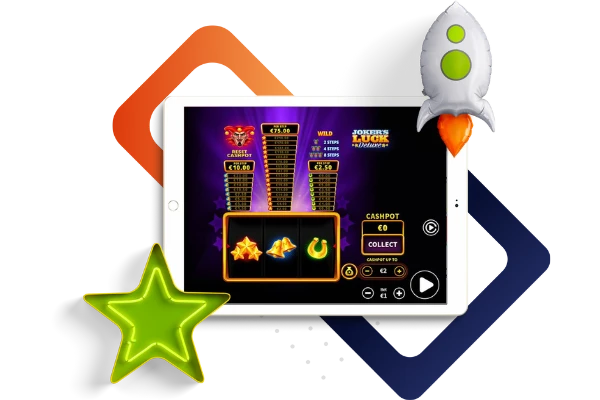 Best Casino To Play Joker's Luck Deluxe