Decentral Games MetaVerse Casino
Written by Phoebe
Published date · May 28, 2022 |
Last Updated · Dec. 14, 2022 | Read Time: 4 mins
The metaverse (a virtual land where you create a cartoonish avatar, socialise and play different games, trade, and live an alternate life online) also incorporates online gambling with virtual reality. This has led to the conception of virtual casinos that are located and hosted in the metaverse and function on decentralised gambling. This means that they use blockchain technology to process payments. These casinos include Decentraland's Vegas City, and Decentral games, which provide an engaging experience for their consumers. Decentral games is a social gaming platform that builds play-to-earn games in the metaverse. It is a casino ecosystem where anyone can play wager-based games like poker, blackjack, roulette, backgammon and slots. This platform is based in a virtual world called Decentraland, which is one of the busiest metaverses today and can be accessed through web browsers. Decentral Games is a platform owned, governed and maintained by holders of its in-house token called DG token, via a Decentralised Autonomous Organization (DOA). The following article provides an insight into the world of the metaverse and Decentral Games and their different factors that prove that they are the new version or vision of the internet.
History Of Decentral Games
Decentral Games launched in unison with the metaverse platform, Decentraland. The company launched their first casino, Chateau Satoshi, in February 2020, and since then, they have gone on to launch five more casinos. Generally, when betting, the winning odds are always in favour of the house. Decentral Games, however, believe that casinos based on blockchain technology should have a treasury belonging to the players. This resulted in the establishment of a DOA-based, powered by DG, an ERC- 20 token, where the players actually own the house.
The Metaverse And The iGaming Landscape
The metaverse is a 3D universe that mimics aspects of the physical world and consists of a set of virtual spaces where users can interact with others and perform almost every activity. It's a digital reality that combines different aspects of online gaming, artificial intelligence (AI), augmented reality (AR), virtual reality (VR), social media, and digital currency to allow players to have an immersive experience in an interactive environment. These virtual worlds are accessible via a VR headset, a computer, or a smartphone. Gaming is a major sector in the metaverse and offers a next-generation gaming experience to its users. It allows people to engage in the competitive gaming world like never before. The metaverse intends to captivate its users by providing an immersive experience that enhances the overall gaming experience. Rather than a two-dimensional screen, the metaverse provides a three-dimensional environment where interaction with other users and built-in gaming elements is far more personal.
Decentral Games Casino
Decentral Games runs compliant casinos in Decentraland, where players can communicate and compete against each other via their virtual avatar as they play the game. These casinos, characterised by their blockchain functionality, offer many added advantages. The user interface of the casinos is very interactive and tries to replicate the traditional casino experience. Players get rewards in the form of DG tokens when they participate in a game. These tokens are the most important components of the Decentral Games platform and work as a governance instrument. Moreover, all the users' fees end up in the treasury, an open and trusted casino fund. DG tokens are also taken out of the treasury to pay for players' winnings.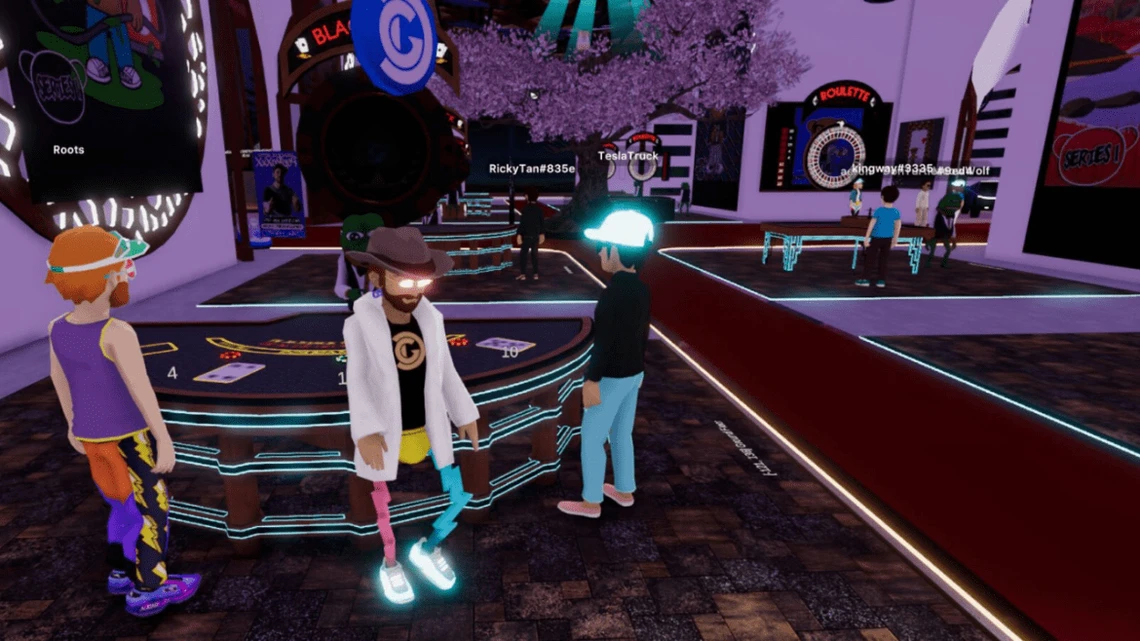 How It Works And How To Get Started
Decentral Games allow users to earn money by competing against each other in free-to-play poker games and by completing daily challenges. It does not work on its own blockchain technology but rather functions on two different blockchains that are Decentraland. This is where users go to interact with the decentral games casino and the Matic Network. The Matic Network offers seamless and cost-efficient transactions on the Ethereum network. Consider the following steps to get you started with your Decentral Games casino experience.
The first thing you need to get you started is to gear up with a VR or an AR headset to get the full metaverse experience. However, it isn't a necessity.
Players will need to buy an exclusive ICE NFT wearable or the relevant digital currency to participate.
Acquire a wallet to store the cryptocurrency along with NFTs. Metamask is an example of such wallets.
Once the player has the wallet, they need to connect it to the decentral games casino and click on the "Connect wallet" button. In this way, we can connect and begin gambling with the Decentral Games casino.
Has The Pandemic Caused A Migration To The Metaverse?
The pandemic of 2020 undoubtedly influenced the boom of the metaverse. The restrictions of the pandemic caused the whole world to shut down and forced people to go into isolation with absolutely nothing to do. A virtual world with things as real as one wants them to be was a solution to the problems many were facing. This resulted in people flocking to the metaverse so that they could fulfil their social needs that had been neglected because of the pandemic.
Future Of Decentral Metaverse Casino
Decentral Games is one of the newest projects in the crypto sector. With its latest technology, engaging interface, platform transparency, and DAO-based community control, decentral games have the potential to become the best virtual casino around. But to do that, it first needs to compete with existing online casinos. In conjunction with the increased flow of interest from the mainstream crowd, the number of investments will certainly take this industry's growth to another level. Furthermore, with the increase in the adoption of this platform, there is also potential for significant growth in the platform's in-house DG tokens.