In the Hot Seat: Casino Lab
Written by Julie
Published date · May 11, 2021 | Last Updated · Dec. 14, 2022 | Read Time: 2 mins
Casino Lab is an online casino with many unique features and great elements, making it a hit with enthusiasts. Casino Lab has been operating since 2016 and is licensed by the United Kingdom Gambling Commission. The themes of the site centre around a chemistry lab, as the name suggests. The site is full of vibrant imagery, which helps set the scene of being in the lab. This helps give Casino Lab a unique selling point as it can target a gap in the market. The intricate details, such as the site's menus, are shaped in different potion bottles.
Casino Lab Overview
The unique features on the site don't just stop at engaging theme. There are giveaways where all the player has to choose from a random selection of test tubes and they can win a prize. This can be anything from free spins to actual cash. Some terms and conditions need to be observed for this, so make sure you are familiar with them. The live casino games come under a 'live lab' name, which is pretty cool that they refer to that under unique terminology. The whole site has an incredibly slick feel to it that not many other casinos have.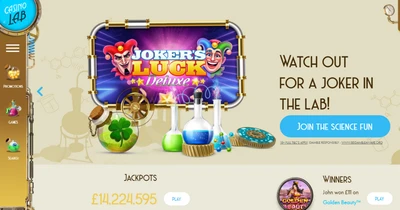 Our Casino in the Hot Seat
You are spoilt for choice for games to play at Casino Lab. As well as the live lab, there are plenty of other games that can appeal to each different type of casino lover. You can play all your classic table games such as baccarat, blackjack and roulette. Some of these even have a special lab version to help entice the theme of the site. There are also hundreds of slot games on site, so all slot lovers will have their favourite area covered. You can find slot games like Book of Dead and HammerFall there, which are both relatively new releases, so it shows Casino Lab keeps up to date with new games.