Top 5 Casinos in Unlikely Places
Written by Phoebe
Published date · Oct. 10, 2022 |
Last Updated · Dec. 14, 2022 | Read Time: 4 mins
Casinos have been around for hundreds of years, with the first recorded casino opening its doors back in 1638. Since then, the concept of casinos has spread worldwide, including to some very unlikely places.
While you might expect to find a casino in Las Vegas or a popular tourist area, you probably wouldn't expect to find one on a high-flying jet, in a puddle or atop a mountain range. However, the world is full of weird and wonderful surprises, including these very unlikely casinos.
A Puddle in Illinois, USA
The Rivers Casino in Des Plaines, Illinois, is famous for being built over a puddle. While you might not expect this to be a prime location for building a casino, it makes perfect sense in context.
The state has fairly strict gambling laws restricting all forms of casino gambling to riverboat casinos that must operate on the water. However, the water on which a casino operates doesn't need to be a river or a lake necessarily.
The creators of the Rivers Casino found an unusual loophole that meant they could build a casino over a small pool of water. Provided it was built over this shallow puddle, it is still technically operating on the water. As a result, it's still operating within the law.
As the location is only a few minutes away from downtown Chicago and the local airport, it attracts plenty of crowds and offers a huge range of games. Blackjack, roulette and over one thousand slot machines are all ready and waiting.
On a Plane Somewhere in the Sky
Plane journeys have become more common than ever, thanks to low-budget airlines. However, most journeys are fairly dull without much to do.
Longer journeys often feature inflight entertainment, and this could soon get an upgrade if AirJet Designs get its way. This company intends to develop casinos that can be fitted to passenger jets, allowing travellers to enjoy casino games in the air.
Gambling on a plane isn't a new concept, as several airlines have previously experimented with the idea. For example, the CEO of Ryanair has previously spoken of the possibility of funding cheaper air travel through in-flight gambling, and it's possible to buy scratch cards during your flight today. However, a casino floor at a thousand feet would be a very new concept and would certainly put the joy back into flying.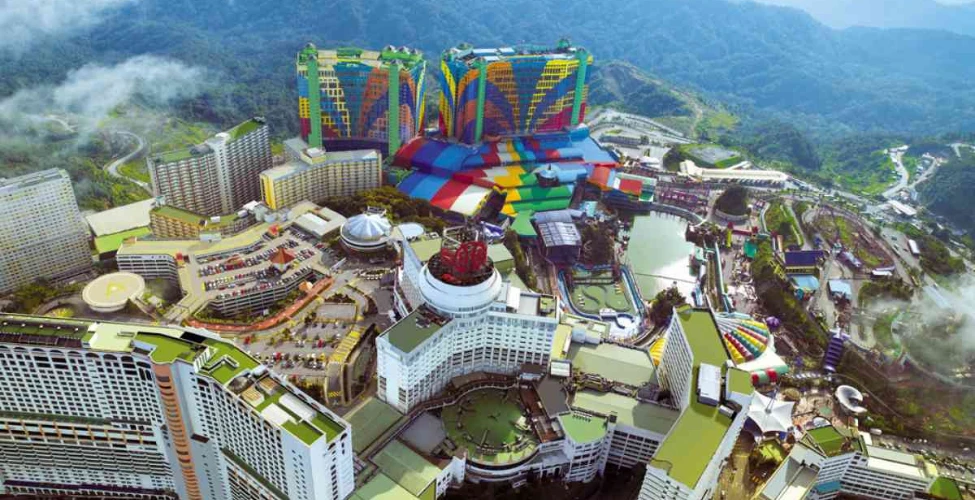 A Mountain Range in Malaysia
Pahang is a state in Malaysia famous for its giant mountains and the very special Resorts World Genting. Although gambling isn't permitted in most of the country, the Malaysian government has made an exception here in the mountains.
The luxurious casino and hotel, which also includes theme park rides and restaurants, is situated 1,800 metres above sea level. Construction of the resort began in 1969 but has seen many new additions over the years.
Visitors to this casino can not only enjoy games such as slots, blackjack and roulette but also some magnificent views. Vast swathes of untouched rainforest surround the resort, offering one of the most interesting casino experiences in the world. If you get tired of casino games and theme park rides, there are plenty of hiking excursions to enjoy.
A Desert Cave in Australia
Gambling is an underground activity in many countries where there are strict laws against it. In Australia, the laws are far more lenient. However, that didn't stop the owners of the Desert Hotel from building a casino literally underground.
Not only is it beneath the desert, but it's also incredibly remote. The Desert Hotel is situated deep in the outback and more than 300 miles from the nearest cities.
The hotel began as a way for local opal miners to stay cool from the desert sun. It's located in a town that is mostly built underground. Today, it welcomes visitors from all over the country and beyond.
The gaming room is mostly filled with slots, or pokies, as they're known in Australia. For claustrophobic people, above-ground accommodation is also available.
A Country Manor in Somerset, UK
Country manors are often associated with barons, lords and ladies rather than gambling. However, you can now enjoy casino gaming in the depths of the English countryside.
In Somerset, you can find North Cadbury Court, a 16th Century country house that is a designated Grade I listed building. It has an incredible 25 bedrooms and 19 bathrooms and also contains a casino in the basement.
Although normally used for weddings, North Cadbury Court can be used for almost any occasion, and the casino makes it a perfect place to host a birthday or similar celebration.
It includes authentic, full-sized table games for everything from craps, baccarat, blackjack and poker. Visitors can definitely enjoy a unique experience while playing here, and the manor itself is incredibly picturesque.
Final Thoughts
Casinos are meant to be exciting and fun places where we can forget about everything else for a while. These unusual casinos break the mould and do things differently.
Whether you love casinos or simply enjoy trying new things, all of these destinations must be worth a visit. Why not add them to your bucket list and join the millions of other gamblers who enjoy casino gaming worldwide?