Why Do People Enjoy Watching Twitch?
Published Date · Aug. 17, 2021
· Last Updated · Dec. 14, 2022
·
Read Time · 2 mins
Each day, millions of people are tuning in to watch other people play games online. The main platform for this streaming is Twitch, which has a vast amount of streamers and viewers. The live streams range from relaxed with their audience members to artists creating masterpieces with help from their loyal community. There are also casual and hardcore casino pros playing at online casinos on their streams. The trend of streaming has boomed in recent years, but what is it about watching someone spin some slots or play a hand of blackjack that is so entertaining to watch? Well, in this article we will try and answer this question for you.
Read Next: Top 5 Twitch Online Casino Streamers to watch
The Entertainment Factor
There is no one answer as to why streaming is so popular. Several reasons play a part depending on who the audience is. Many Twitch audiences watch their favourite streamer for one reason or another, as some prefer the more dramatic streamer or the one who pretends to be the next Russell Howard. 
Many people find it exciting to watch popular Twitch casino streamers gamble at online casinos, and the audience is getting bigger in this genre of streaming. Video slots and poker are the most popular games for streamers.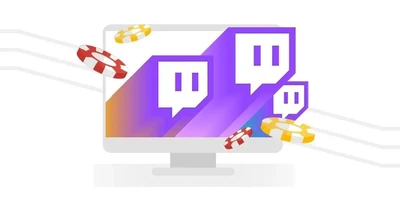 Learning the Tricks of the Trade
Alongside the entertainment factor of streaming, watching people play online casino games is a great way to learn the ins and outs of a particular casino game that you want to play. On Twitch, you'll find many skilled professional players who will help you to learn with ease. Many professional players tend to be the most-watched people on the platform and sometimes get hundreds of thousands of views on their streams. 
Some players will actively give hints and tips to their audience members and will answer some of the questions posted into the live chat of the stream.
The Community Part
Sitting at home on your computer has not always been the most social activity in the world, especially in recent times. So when you're feeling bored or alone, then why not tune into your favourite stream and see a well-known face and interact with them and others in the community as well. Viewers can bond and have a laugh with the streamer as well as other members of the audience. Some streamers have a smaller audience, so that the experience can be a lot more personal for you. Who knows, you may meet your next best friend whilst watching an online casino streamer.
Checking Out Other Online Casino Games
When you are undecided on your next online casino game adventure, checking out some live action could be the way to go. Reading some boring information about a game is not quite the same as checking out how it is played. Streamers understand the demand for the latest releases, so chances are you will find a stream of the game you want to check out on Twitch.