Will VR Slots Change The Online Casino Industry?
Written by Matt
Published date · Aug. 23, 2021 | Last Updated · Dec. 14, 2022 | Read Time: 4 mins
The gambling industry has seen a lot of change over the years. Before the birth of online gambling, you had to travel to a land-based casino to play your favourite casino games. The birth of technology was and is still a massive part of the industry's evolution. When the internet exploded in popularity in the 90s, it led to massive growth in the online gambling industry. 
At the start, players only had a limited amount of online casinos to play at, but now we are almost oversaturated with the number of online casinos springing up every single day. Keeping their fingers on the pulse of the latest technology trends is very important for online casinos. The biggest innovation these days is virtual reality. The technology may be relatively new, but it has found a place across numerous industries with different purposes. The gambling industry has also managed to bring virtual reality into their spaces to help bring in new players. In this article, we will look at how virtual reality could change the online casino industry and what this technology is all about as well.
What Is VR?
Most people would associate virtual reality with sci-fi movies and playing games whilst wearing big goggles. The literal definition of virtual reality is a 3d artificial environment that tries to replicate a realistic experience and to shut out the real world. Virtual reality wouldn't be possible without specialist equipment that will include the headset. The price of the headset depends on which one you want to get. 
The Oculus Rift is one of the more high-end VR headsets, but it certainly isn't cheap as it will cost a minimum of £400 for the most basic pair without any of the bells and whistles. If you intend to use VR online casino games, you'll need a decent level of headset. There are quite a few headsets available from big brands like Samsung, Google, HTC and TCL.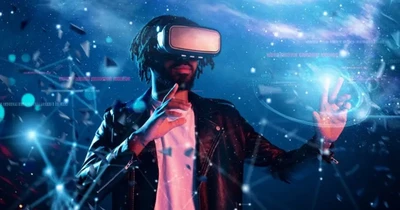 VR and Online Casinos
There are a few online casinos that have embraced this new technology. Unfortunately, the choice at the moment is rather limited at the moment. However, many industry insiders believe that it won't be too long before we see VR online casinos more in abundance. There is a growing number of people picking up VR headsets and accessories, which will mean that casinos that offer VR gaming will see more players head to their site. It is estimated that the global VR gambling industry could grow to $2.4 billion by 2024. 
Virtual casinos are expected to attract gamers above 30; VR casinos offer more than just 3D animations. Instead, VR casinos give players a lifelike casino experience by welcoming them to the real casino floor. VR Casinos will also allow players to interact with other players to interact with each other with a live chat function. In addition, some online bookmakers are looking into implementing VR to offer a new kind of betting experience. 
Many people believe that augmented reality and virtual reality are one and the same. However, they couldn't be more different. Augmented reality overlays images to your view of the real world and doesn't need any additional equipment. The best example of augmented reality is Pokemon Go. On the other hand, virtual reality aims to immerse you in an artificial world.
Playing VR Slot Games
As we have mentioned, VR is still in its infancy. So it is no surprise that there are not that many casinos games to play in VR at the moment. However, casino players have been treated to some superb slots and table games. For example, one of the industry-leading developers, Evolution Gaming, has brought us Gonzo's Treasure Hunt Live. 
To play VR games, casino players need to have a headset. In addition, they will need a PC or laptop that meets certain requirements, depending on which headset you pick up.
VR and the Future of Online Gambling
VR is an ever-growing technology trend that has taken the online gambling world by storm. Despite the technology is in its early stages, VR has already gained popularity amongst casino fans. Industry insiders believe that VR will take online casino action to a whole new level. VR will allow players to have better interaction with each other and a more immersive experience. Slot fans will be pushed to the edge of their seats as the VR technology will help to provide an immersive experience.
Many online casinos are expected to evolve to bring in VR to bring in new players and retain those who've been playing for years. Software developers will release more and more VR games to satisfy the increasing demand by players. The technology will continue to push the limits of the industry. Like all technology, the cost of headsets will decrease over the years to make it more affordable for everyone to get involved.