Discover Volt Casino's Virtual World Volt City
Written by Julie
Published date · Sept. 18, 2020 | Last Updated · Dec. 14, 2022 | Read Time: 3 mins
UPDATE: Volt Casino is closing on 30th October 2020 and any activities apart from verification and payments related will not be available.
Please be sure to cash out your balance prior to this day. You can find other casinos available here.
Brand new online casino game Volt City is now live and ready to play, exclusively at Volt Casino. A lot of time has been spent preparing this game by the software developers so it will be interesting to see if this will be worth the wait. Infact, it has taken over a year to develop this game so it should be great fun to play.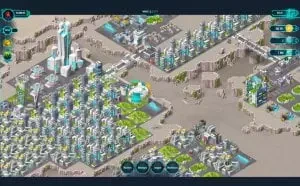 There are many things you can do with your city…
How Does it Work?
Volt City is a game where players develop their own virtual city in a world after fossil fuels. The player must gain Volt Crystals by playing their favourite casino games such as Larry the Leprechaun and Magic Stars 3. Volt Crystals then allow the player to build in their city. The city starts completely empty – there is not even any light! The challenge to restore all power and make it liveable is very fun and means that playing each casino game has some extra meaning with the Volt Crystal feature.
Whilst you build your city, you can also level up which earns the chance to feel an extra sense of achievement. This is a nice feature within the game and will help players feel like they are making progress.
The game is thought of very highly within the staff at Volt Casinos. Head of Volt Casinos, Daphne Xerri said: "Volt Casino is delighted to have Volt City officially available for our casino players to build their city and collect rewards. After an entire year in development, with the team working hard to make Volt City the most innovative, technically advanced gamified rewards programme in the industry, Volt Casino is proud to uncover Volt City. The most engaging online casino rewards programme available to date." Xerri's comments certainly show that she is confident in the game that she has developed will be a big success. 
What Bonus Features Does it Have?
A great feature of the game is that you can earn free spins on the game whilst you level up. This helps to entice customers to play on and earn the progress in their city. As the city develops, more and more bonuses and free spins become available. The needs of the city's citizens must be taken into account when you build the city. It is a fun challenge that combines your favourite online casino games with another game.
There are not many, if any, games like this out there. The originality is a huge pulling factor for this game. It is no wonder that it took a long time to develop with some of the unique features included. There are also mystery boxes as you go through the game which have special prizes to help build up the city.
You can also get a sense of achievement from developing the city. In some ways it can be seen as similar to the very popular computer game SIMS. It can be a bit of a strategy game but that should not put you off if it is not your sort of thing.
Overall, the game looks fabulous with plenty of great touches to it. The development sense of building your own city as well as playing online casino games is fantastic. It really does make for a superb gaming experience that should be given a go.