Top Esports Influencers
Written by Chris
Published date · May 29, 2022 |
Last Updated · Dec. 14, 2022 | Read Time: 5 mins
Around the end of 2015, the word 'influencer' took on a new meaning in the English language. Influencers often occupy every conceivable industry and interest, from food to fashion and entertainment to exercise. But beyond the huge followings, silly dances, entertaining videos, and engaging snapshots into these influencers' lives, there is an obvious economic side. According to the Oxford Dictionary, an influencer is someone that can use social media to " influence potential buyers of a product or service." Influencer marketing is now an almost indispensable tool for many companies. Another rising industry is esports which has embraced, or at least not escaped, the influencer marketing trend. Esports influencers are almost unique in their appeal to the elusive 18-34 market, which is notoriously harder to market products towards.
Esports influencers are very attractive to a wide range of companies. These include endemic companies that sell gaming-related products like keyboards and computers and non-endemic that can sell anything from beverages and cars to shipping services. In particular, for men in the 18-34 bracket, there is no other influencer type or topic that compares. So now you know why esports influencers are important; who are the top esports influencers? The answer is understandably subjective - many esports fans will only follow influencers from one or two esports, so one fan's idol can be a complete nobody to other esports fans. On top of that, esports is a rapidly growing and changing industry, meaning some influencers' popularity can explode almost overnight. So to keep things simple, we've decided to spotlight the top esports influencers from the biggest esports titles of 2022.
N0tail: Dota 2
Johan "N0tail" Sundstein is a professional Dota 2 player from Denmark. He is one of a small but elite group of players to have won Dota 2's annual competition 'The International' twice. Although currently retired from playing and working as a coach for OG, he has over 311K Twitter followers and over 291K on Instagram. As a leading figure in one of the biggest Dota 2 teams and a legend of the game itself, N0tail has partnerships with several companies. These include Redbull, BMW, Secret Lab, and IC Markets (a stock trading app whose company is based in Australia). This Danish Dota deity even has a partnership with a sports betting and gambling company, the UK-based 'Fun88'! Other honorable Dota 2 mentions include current and former pros like Arteezy, PPD, Fear KuroKy, Puppey, and Resolut1on, and casters like ODpixel, Sheever, and Capitalist.
FalleN: Counter-Srike: Global Offensive (CS:GO)
Gabriel "FalleN" Toledo is a Brazilian CS:GO professional, known for his unique gunmanship and like most pro gamers on this list, has an impressive amount of tournament wins. FalleN, though still talented, may no longer be widely regarded as one of the top CS:GO players. Despite this, his professional career still continues, despite starting in 2005! Little wonder then, that he has a staggering 1.2 million Twitter followers and 1 million Instagram followers. As if that wasn't enough, FalleN has apparently been voted the most influential person in Brazilian esports!
Sjokz: League of Legends (LoL)
Our top influencer for League of Legends of all time is a toss-up. On the one hand, we have perhaps the most iconic and talented player in LoL esports history, "Faker". The T1 player, also known as the "Unkillable Demon King", has 486.2K Twitter followers despite leaving relatively few messages in English. This could explain why his Instagram's 611k followers outnumber the ones on Twitter, but it's hard to say for certain. Faker commercial partnerships include Nike, one of South Korea's leading 5G mobile providers, alongside computer hardware and seemingly BMW. We can't easily confirm the last one as our Korean needs a little work! Our other contender for LoL's top influencer is Eefje "Sjokz" Depoortere. Sjokz is an incredible inspiration to many. This talented lady has competed in esports tournaments, 3 degrees, including a master's, and even competed in several pageants. However, she is most famous for esports reporting and hosting skills, which has been a near-constant fixture of LoL since the esport's inception. Sjokz's incredible social followings reflect this: 794.9K and 508k followers on Twitter and Instagram, respectively. It's a tough choice, but if we had to choose the greatest LoL influencer, we'd probably go for Sjokz.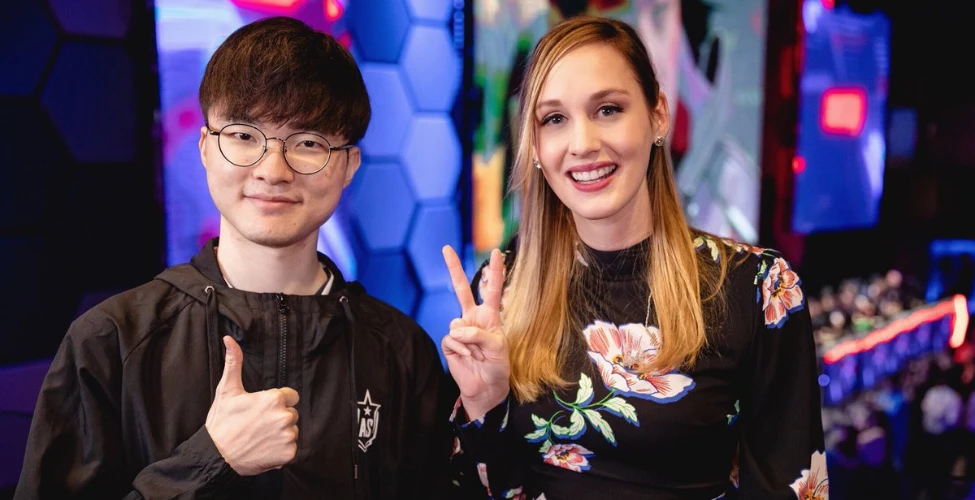 Crimsix: Call of Duty
Ian 'Crimsix' Porter has more major wins than any other Call of Duty pro, period. For many CoD fans, he is the greatest of all time, with his incredible skills earning him some incredible achievements. These include Crimsix becoming the first ever pro gamer in both CoD and Halo on top of being one of the first console esports players to win over $1million. His impressive tournament track record features almost 50 first-place finishes in Premier Tournaments. When you consider all these achievements, his staggering 861.4K Twitter followers and 205K Instagram followers make sense. His commercial partnerships include a few names that will Americans will be familiar with, including DraftKings, United Airlines, USAA Insurance, and GameFuel.
Tenz: Valorant
Valorant is the perfect esport to close out our article on esports influencers. The esport owes a lot of its success to influencer marketing with esports pros and popular Twitch streamers. Riot Games got several big Twitch and esports personalities involved in the game - even before the official launch. This helped the game get off to an excellent start and created an esports scene almost overnight. Now that the initial fuss has died down though, who is the biggest Valorant influencer? Our best bet is Tenz, a Canadian former CS:GO pro who some have pegged as Valorant's number one player. As the first player to reach the top rank in the open beta and multiple 1st and top 3 performances in Valorant tournaments, we're inclined to agree. Tenz also has a pretty staggering following on social media platforms, with 994.1K Twitter followers and 806k on Instagram; it's safe to say that Tenz is the one to go if you want a Valorant influencer!
How will Esports Influencers Change in the Future?
As the esports industry continues to grow and become more mainstream, we expect the number of esports influencers to grow with it. That includes these rockstars of gaming's reach and appeal to companies looking to market their products. It's not just our gut feeling either; a study from YouGov shows this is already happening in Asia and around the world. The United States is unlikely to be an exception, but just how far Esports Influencers will rise in the US remains to be seen.