US Players to Watch in the Qatar World Cup 2022
Written by Phoebe
Published date · Nov. 16, 2022 | Last Updated · Dec. 14, 2022 | Read Time: 3 mins
With the World Cup Officially kicking off this weekend in Qatar, we are super excited that the United States Men's National Team returns after missing out on the 2018 edition. Playing in Group B against teams such as England, IR Iran, and Wales, we are bound to see some awesome games ahead of us. This is one of the best squads we have seen in US history, including players that are owned by Juventus, Barcelona, Chelsea, and Arsenal, so here are some players to watch out for who are contributing to this American all-star lineup!
Christian Pulisic
This generation's top US player (and possibly the best attacking midfielder) now has a chance to finally compete in the World Cup. After helping Chelsea win the UEFA Champions League, he still struggled to settle in fully. Yet, Pulisic remains one of Group B's most lethal attackers because of his speed and assertiveness. At the Qatar World Cup, the 23-year-old captain will wear the No. 10 shirt and definitely one to watch!
Segino Dest
Dual citizen Sergio Dest is playing in a World Cup in Qatar after choosing the United States over the Netherlands. Dest, a talented and adaptable right-back, is capable of filling in on either side of the field as a wide defender. Described as 'like having two players in one', the AC Milan loanee is also a fantastic attacker, and we can't wait to see what he brings to the US team. The 22-year-old has more experience than is typical for someone his age, having participated in two FIFA youth competitions so far.
Yunus Musah
Former Arsenal star Musah, only 19 years old, a self-described global citizen, has advanced through the ranks and emerged as one of the USMNT roster's most fascinating players. For the USMNT to proceed to the knockout stages in Qatar, Musah must have an outstanding performance. Musah, a midfielder for Valencia, is one of the young players in Qatar to keep an eye on. He has featured 11 times for his side so far this season, a powerful, fast, and great midfielder on the team.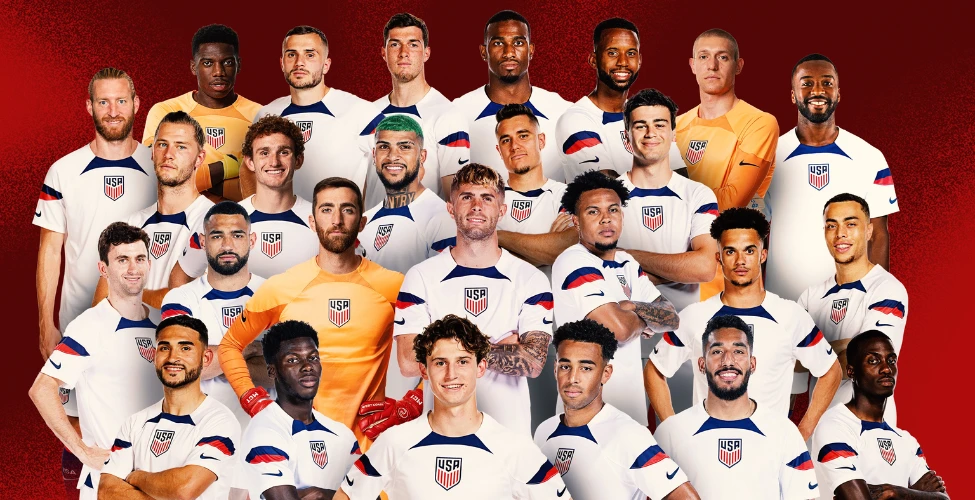 The US mens squad for the Qatar World Cup 2022. Image courtesy of the team's Twitter @usmnt
Tyler Adams
Adams is the key to this midfield team's success. As the deepest lying playmaker for the US during qualifiers, the Leeds United midfielder maintained a consistent presence. Adams has made an impression since joining Leeds, winning three Player of the Match accolades in 12 appearances against Chelsea, Everton, and Villa. Adams will have to offer a lot of protection while playing in front of what may be a shifting backline; he will also be playing with his fellow Leeds player Brenden Aaronson who is also playing for the US squad in Qatar. 
Weston McKennie 
Last, but definitely not least is the 24-year-old American Midfielder McKennie. Unfortunately however, the player sustained an injury last month while playing for Juventus. The USMNT's group stage matches against Wales, England, and IR Iran are scheduled to begin on November 21 in Qatar, so will he play? We certainly hope so!  Up to that point, McKennie participated in every game he was able to and has so far scored three goals across all games and has been one to watch!