Our Guide to Online Casino Apps
Written by Matt
Published date · July 14, 2021 | Last Updated · Dec. 14, 2022 | Read Time: 2 mins
The best online casinos worldwide have apps compatible with the latest mobile devices running on a diverse range of operating systems. However, sometimes that isn't enough. If you are a hardcore online casino player, you need an online casino app that satisfies your needs. 
Choosing the right online casino app that is perfect for your online gaming needs can be hard for those unfamiliar with mobile apps. That is where we come in to help you choose an online casino app that guarantees you a fun and enjoyable experience. Whether you are on iOS or Android devices, you'll be enjoying your favourite casino games in no time.
Our Top Rated Online Casino Apps
There are so many great online casino apps available at the moment. We have put together a list of the best online casino apps that we have put time and effort into testing and evaluating the quality of each app that has made our list. So here are our top online casino apps.
Karamba
The biggest shakeup that Karamba Casino has done in recent times is to introduce live casino games onto their platform, which got a huge seal of approval from the live casino game community.
The casino got it spot on from the start by utilising well-known software developer Evolution Gaming's services. This means that they have various top of the range table game for you to get stuck into. You can also play all of your favourite casino games on the platform, so Karamba has everyone covered.
Karamba has an average of four stars across the Google Play Store and the Apple App store, with most reviews praising the number of games on offer and the ease of use of the app. On the Play Store, they have over 50,000 downloads so you can tell already it is a popular app amongst casino players.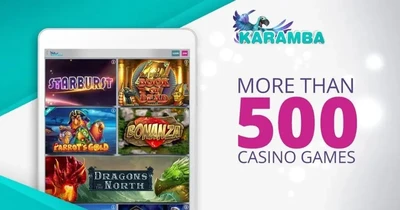 Grosvenor Casino
The Grosvenor Casino app has an incredible selection of games and is so slick. It has sharp, superb graphics, and it has a user-friendly design that is very similar to what it is on the desktop version. In addition, thanks to its compatibility with iOS and Android, you will find that it works on most modern mobile devices that run on those operating systems. 
The Grosvenor App has an average rating of four stars across the Google Play Store and the Apple App Store. The app also has over 10,000 downloads on the Google Play Store alone, so if you do decide to play on this mobile casino, you'll be joining a healthy amount of other players as well.