Xhaka Yellow Probed after $420k Bitcoin Bets
Written by Jade
Published date · Jan. 26, 2022 | Last Updated · Dec. 14, 2022 | Read Time: 2 mins
Bookmaker Reports $420k in Suspicious Bitcoin Bets, Focus on Xhaka Yellow Card
According to The Athletic, a single bookmaker placed at least $420,000 on an Arsenal player receiving a yellow card in the final 10 minutes of a game earlier this season. The operator reported the suspicious bets to the International Betting Integrity Association (IBIA).
The yellow card in issue, as first reported by CasinoRange.com last week, is said to be the one picked up by midfielder Granit Xhaka in the 85th minute against Leeds, when he appeared to needlessly time-waste over a free kick.
The incident shocked observers because Arsenal was ahead 4-1 at the time and there was no reason to squander time.
Several gamblers flocked to Twitter shortly after the game to emphasise that roughly $65,000 had been matched unexpectedly on the Betfair betting market shortly before the booking, lowering the odds from 9/4 to 4/5.
However, if there was a betting conspiracy, it extended beyond Betfair markets, and the stakes were far larger.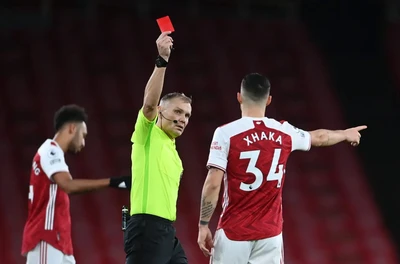 Concerns about a Manipulated Market
According to emails obtained by The Athletic, the unnamed bookmaker received "many bets" in bitcoin that would have resulted in more than $1 million in profits if the market had not been blocked. The operator's internal inquiry concluded that the market was possibly manipulated.
The Football Association, the regulatory body of English football, is said to be looking into the situation but has yet to open a formal investigation. However, FA sources told The Times that there is no evidence of misconduct on the part of Xhaka or any other Arsenal player.
The Swiss midfielder is a card magnet, having been booked or sent off in more than a quarter of Arsenal's games throughout his five-year tenure. He has been suspended for Arsenal's last two games following a red card in the first leg of the Carabao Cup semi-final against Liverpool.
Spot-Fixing Is Extremely Rare
Any probe, however, will have to look into whether or not "spot-fixing" occurred. Spot betting refers to wagering on certain aspects of a game rather than the overall outcome — for example, the number of cards or corners.
Critics argue that it promotes corruption by making it simpler for individual sportsmen to affect small components of a game in ways that are difficult to detect. Spot-fixing, on the other hand, is nearly unheard of in professional soccer due to exorbitant wages that remove any financial motivation.
There have been some instances where wages have been reduced in cricket. Pakistani players Mohammad Asif and Mohammad Amir were found to have purposely delivered no-balls in 2010. This occurred during a tour of England for the profit of a gambling syndicate led by Pakistan captain Salman Butt. All three individuals were sentenced to hefty prison terms.