Gambling Gift Guide
Written by Julie
Published date · July 31, 2020 | Last Updated · Dec. 14, 2022 | Read Time: 3 mins
It can often be quite tricky trying to think of a gift to buy for your partner, brother, sister, parent or friend on their birthday. Gambling and online gaming are becoming more and more popular across the world, here are some gift ideas for your gaming mad loved one. With a list containing ideas for all budgets, you should have no problem deciding on your next present.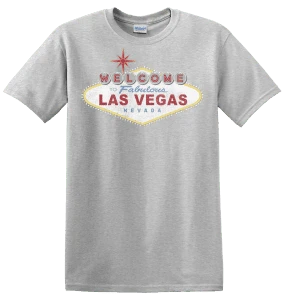 Las Vegas is the casino capital of the world. There are around 100 casinos in Vegas which helps to keep its reputation of being the place to go if you are wanting to game. A item of clothing with Las Vegas and some relevant symbols on it would be a very smart choice for someone who loves their gaming. As long as you know which size to buy in, you cannot go wrong. There are also plenty of football shirts with gambling sponsors on, although this has sparked up some controversy.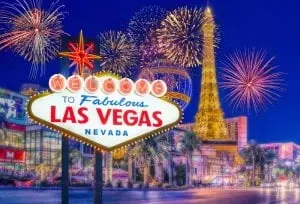 Instead of buying items with Las Vegas themes on, why not go all out and whisk them away for a week's break? It will be quite pricey but I am sure a holiday to beautiful Las Vegas, Nevada, is on every gambler's bucket list. As well as the casinos and atmosphere, the weather is usually incredible and there are plenty of bars to enjoy a drink at. It really does make for an experience of a lifetime, so if you can save up the cash to go, it will be well worth it.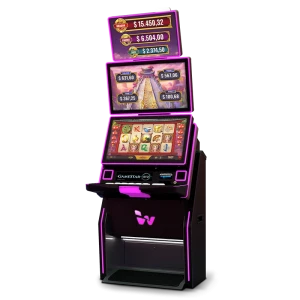 This present will be perfect to put in the games room in the house. It probably will not quite have the same thrill of playing on the machines in a casino but it will look very cool and still provide entertainment. Of course the only money you could win from this would be your own, however it will look fantastic in the house. A unique decoration that is sure to spark a talking point with guests. This would have been particularly useful during the lockdown period where casinos were shut. They are reopening again soon though.
Personalised Poker Chips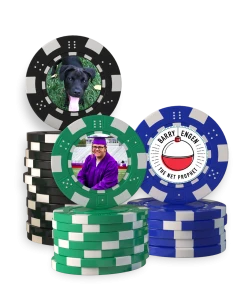 This present is ideal for someone who enjoys a lot of private poker parties. This gift will not break the bank and will show planning behind it. It is a nice thoughtful thing to buy especially if you can think of a nice thing to have on them. Something with sentimental meaning is sure to go down a treat, particularly if this is for a loved one.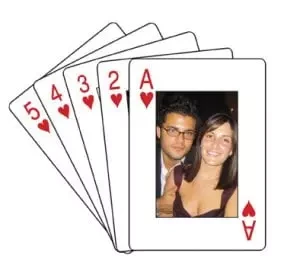 This is a great present for anyone who wants to play private events which involve playing cards. These cards can have meaning to the players who are at the table. A good idea would be to personalise them with inside jokes which can help make a game more entertaining. This will be a reasonably cheap gift that can have a lot of meaning to the recipient.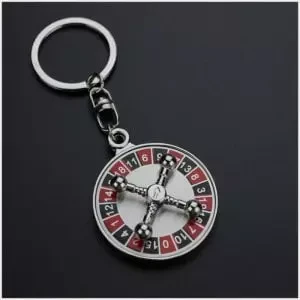 A classic gift. You can get almost anything on a key ring so it will be a good idea to make it something gaming related for anyone who enjoys playing. My personal favourite choice would be to get a roulette wheel on one. This would be great to have on a keyring as, of course, it is the a common casino game. There are other options though. A poker chip could be made into a keyring too. This is a nice way to indicate that you are handy at the table.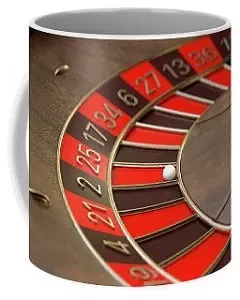 A traditional birthday present for a sibling is something simple like socks or a mug. If this is up your street and your brother/sister likes to visit a casino, it may be an idea to purchase them a mug with themes of their favourite game on it. A simple gift like this may not be too imaginative but it is also a safe buy. It is almost guaranteed to be used which in many ways is better than a more expensive present that will spend years gathering dust. A roulette wheel looks great on a mug, the round shape adds to it.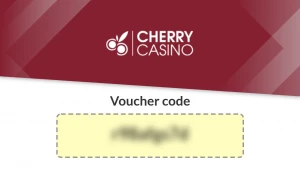 Many brick casinos in the UK have a restaurant as part of the service. A good present for someone who enjoys a casino trip would be a voucher to buy some food there. This is the sort of present that would definitely get used too. Plus, as an added bonus the person giving this present may be able to get some use out of it too. As no one wants to eat a meal alone. All in all this is a very reliable gift that will go down well with anyone who enjoys a casino trip.