Bally
Taking a closer look at Bally online slots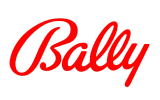 Whether in a Las Vegas casino or playing online, we are certain you will have come across a Bally slot machine, with this iconic American brand being one of the longest-running slots providers in the world. They are probably now best known as prolific producers of classic and movie-themed slot games.
Bally Slots With The Best RTP
History of Bally
Bally can be traced all the way back to 1932, when Bally Manufacturing was founded by Raymond Maloney. This initial formation saw them create a number of pinball gaming machines that proved very popular.
The company then moved into the slots world and quickly established themselves as one of the premier manufacturers and distributors in this industry.
Bally released the Money Honey slot machine in 1963 and by 1968, 90% of slots sold in Nevada were produced by them.
Their expansion then continued into the video game market as they agreed distribution contracts for Pac Man and Space Invaders. They then split their business into two separate divisions - one focused on video games, and the other one manufacturing slot machines.
In 1990, the company changed their name to Bally Entertainment.
In 1994, their reputation as an industry innovator was demonstrated when they released Game Maker, the first touch-screen video slot machine in the world.
In 1996, Bally gaming merged with Alliance Gaming Technology and were renamed as Bally Technologies. This continues to be their name to this day.
Best Bally Slot Games
Having been around for so many decades, Bally certainly has an impressive catalogue of online slot games to their name. We're big fans of plenty of them, let's take a closer look at a couple...
You have to start with Anchorman - not just because it is a slot that revolves around the iconic movie, but because this is a thrilling game in its own right, with features galore. There are two different Free Games on offer, as well as a Wilds feature and a Pick Bonus. This slot is... 'kind of a big deal'!
Another Bally slot machine we have to recommend is 88 Fortunes, the classic 243-Ways slot that is hugely popular with land-based and online players alike. It's easy to see why when you see a slot that offers Wild symbols, a classic Free Spins Bonus and four different fixed jackpots. This is one slot game that certainly falls into the classic genre!
Casinos Where You Can Play Bally Slots