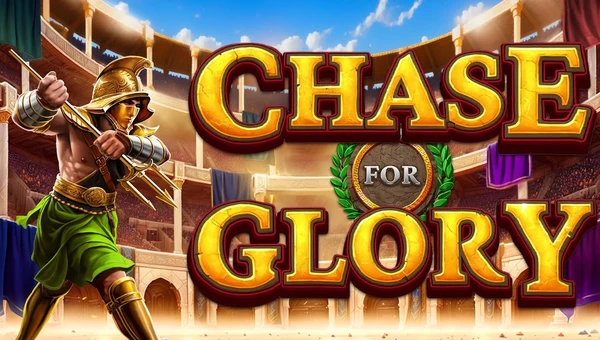 Published Date · Nov. 14, 2023 · Last Updated · Nov. 15, 2023
Chase For Glory Slot Review
Chase For Glory Slot Overview
Chase For Glory sees top online developer Pragmatic Play summon slots gladiators to the Arena of Ancient Rome. Four champions do battle in a game offering great visuals, Wilds, and a Four-Grid Free Spins Bonus! The base game looks great but offers few boosts or Special Symbols, mainly serving to set the scene for a four-gladiator clash in the bonus round. Select your champion wisely as, should they prevail, you will gain the emperor's approval and pocket the winnings from all four grids. Escape unscathed, and you may emerge with a 7,887x max win!
Chase For Glory Slot Details

| | |
| --- | --- |
| | 243 |
| | 96% |
| | High |
| | x |
| | £0.3 |
| | £240 |
| | 7,887 x |
| | |
| | Roman |
| | |
| | |
Overall, we found this to be solid, but not spectacular. On the plus side, the audio and visuals are top-notch and do an excellent job of bringing the theme to life. It's all pretty serious, but the congratulatory phrases and coin emoticons at least inject a little fun into the proceedings. Turning to the gameplay, the base game really needed a little more than a Wild symbol - which can only appear on two of the reels - and struggles to grip as a result. That said, the feature appears frequently enough to minimise this issue and deserves praise for offering something different. The RTP ranges compare favourably with many other variable releases, but that max win of 7,887x doesn't measure up so well. Nevertheless, if you are into Gladiators and distinctive features, this is well worth a look.
Pros
Battle-Style Free Spins Bonus
Cons
Limited Base Game Features
How To Play Chase For Glory Slot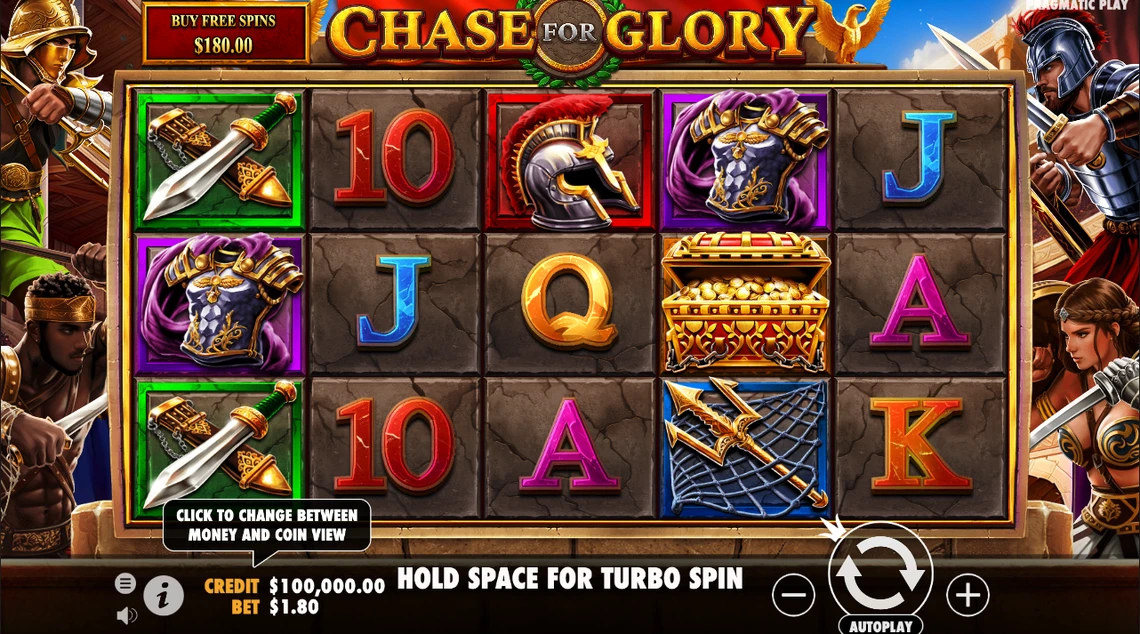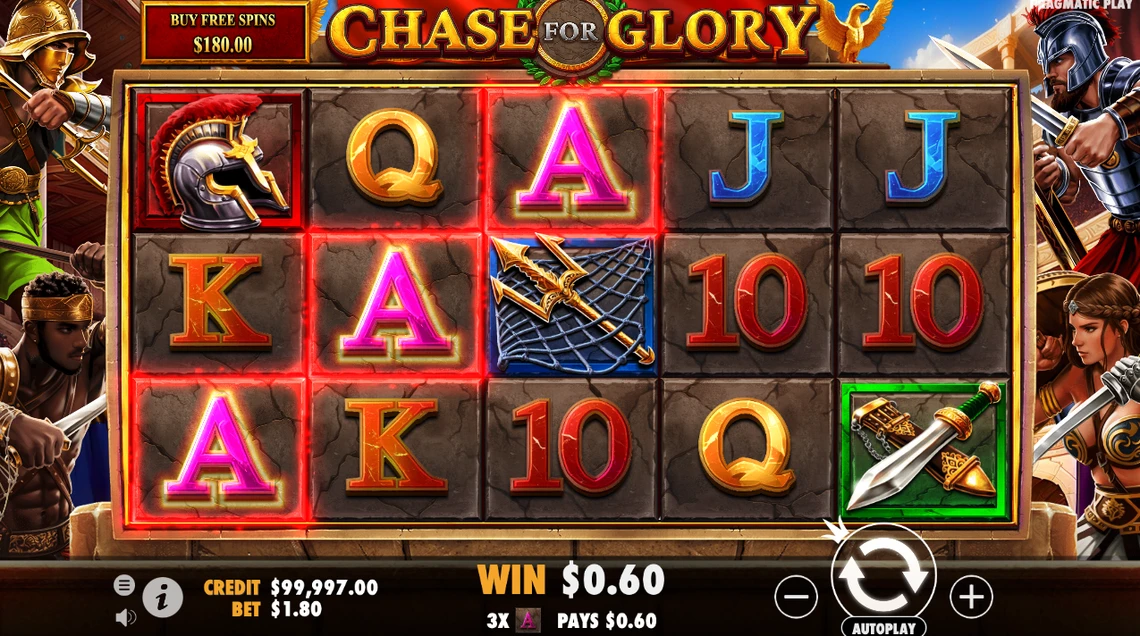 Chase For Glory Basic Rules
The Roman reels spin out on a 5x3 layout
Thanks to the All-Ways Pay system, the slot offers 243 winning ways
Payouts are produced by landing three or more matching symbols on adjacent reels, beginning at reel one
Chase For Glory Slot Paytable & Symbols
Chase For Glory Slot Features
Lion Shield Wilds
May appear on reels two and four, substituting for all standard symbols to help create winning combinations.
Chase For Glory Slot Bonus Features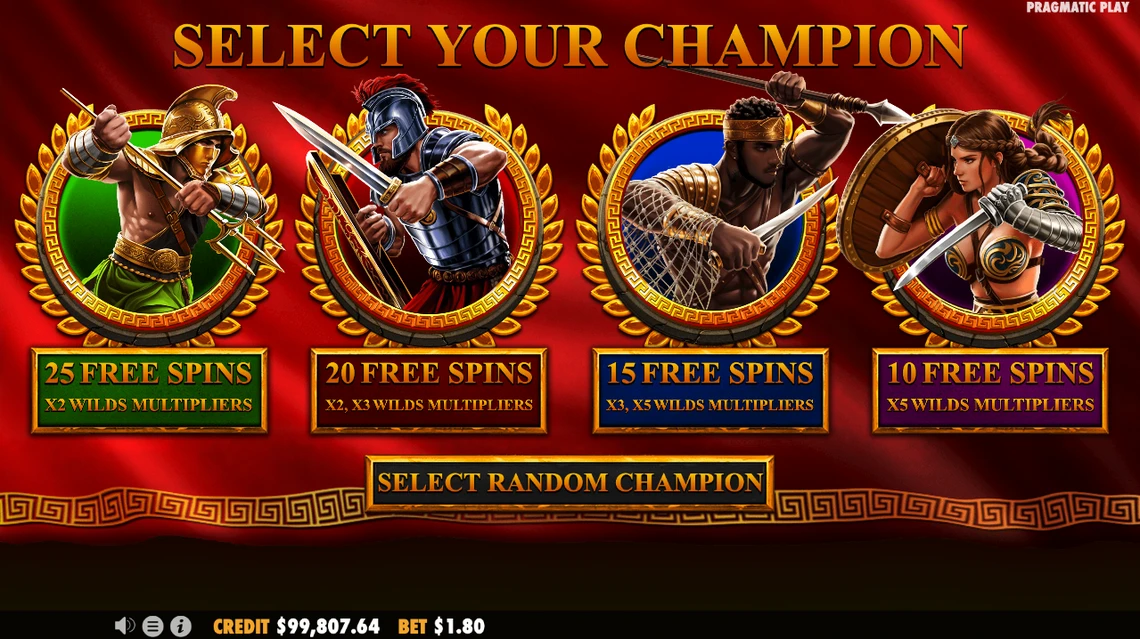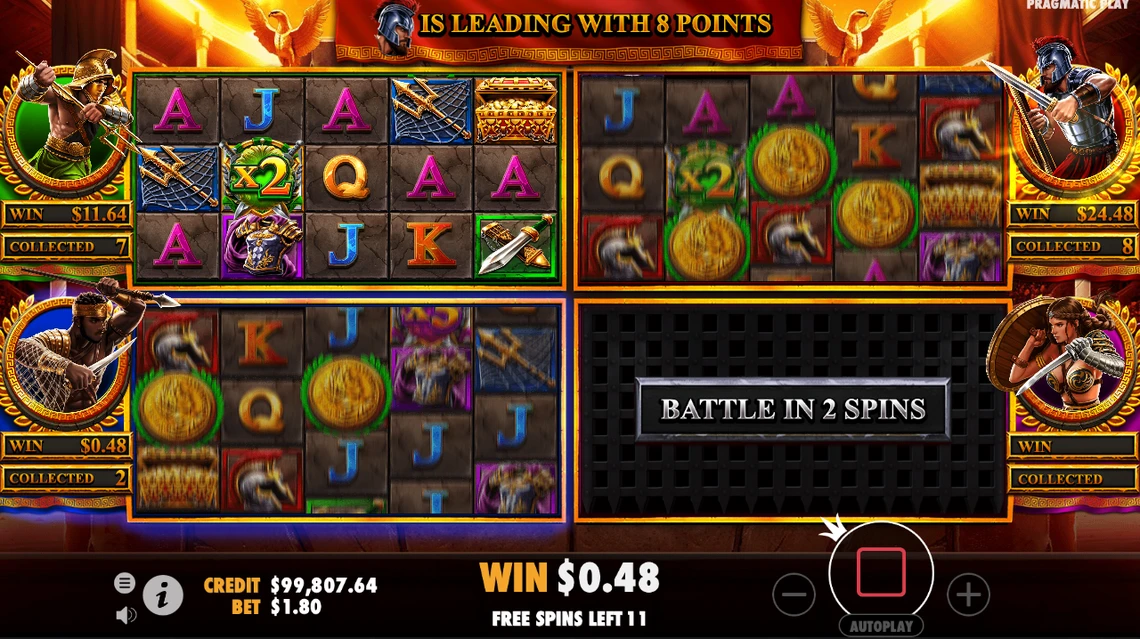 Free Spins Bonus
Colosseum Symbols are the Scatters of the game. Land three to five on a single spin, and you will be readying yourself for battle in the Free Spins Bonus.
Your first task is to choose your champion. There are four available, as follows:
Green Champion: 25 free spins. Wilds may appear on reels two and four and contain a 2x multiplier.
Red Champion: 20 free spins. Wilds may appear on reels two and four and contain a 2x or 3x multiplier.
Blue Champion: 15 free spins. Wilds may appear on reels two and four and contain an 3x or 5x multiplier.
Purple Champion: 20 free spins. Wilds may appear on reels two and four and contain an 5x multiplier.
The feature sees the screen split into four 5x3 grids – one for each of the four champions. The bonus round of each gladiator will play out on their respective grid.
The Green Champion begins, with the Red Champion entering the fray once five spins have passed, the Blue Champion after 10 spins, and the Purple Champion last to the party after 15 spins.
Keep an eye out for the Golden Coin symbols, which appear during the round. These Coins may land on any of the four grids and will be collected by the relevant champion whenever they show up. A meter for each grid shows how many coins each champion has collected.
However, those coin totals aren't set in stone. Whenever a Fist symbol appears on any grid, the champion with the most coins – other than your selected hero, who is immune – will see their tally reset to zero. If two champions are tied, one will be randomly selected to lose their coins.
When the round ends, you will always collect the winnings accumulated by your selected champion. However, if your hero has the most coins, you will scoop up the winnings for all four grids!
Bonus Buy Feature
Those who can't wait to step into the bonus round battle may wish to select Bonus Buy from above the grid. This option will take you straight into the four-grid feature for a price of 100x the total bet. Bonus Buy is only available in eligible jurisdictions – not available to UK players
Our Verdict Given the lack of features in the base game, the bonus round really needed to deliver, and thankfully, it does. We love a feature with an element of choice, whilst the coin system provides a solid reason to cheer your selected hero to victory.
Chase For Glory Slot RTP & Volatility
The top-end Return to Player (RTP) percentage of 96% aligns with the industry average RTP.
Chase For Glory sits squarely in the high volatility category of slots. As such, you should expect a fair share of ups and downs. However, games of this rating provide a better chance of landing a rewarding win in a short session than low-medium-volatility releases.
Our Verdict At 96%, this game measures up well and represents solid value. However, as a variable RTP release, alternative, lower settings of 95% and 94% are also available. Both are still reasonable, but we always recommend consulting the information section of the game to discover the setting in use at your online casino of choice. The high volatility setting also feels like the right fit for the theme.
Chase For Glory Slot Graphics & Audio
Graphics
The impressive gladiators are in view throughout, flanking the thematic marble slab symbols of the game grid - all of which are nicely illustrated, with the metallic hues of the high values popping nicely against the predominant browns of the backdrop. The fluttering red curtain and rising gates of life and death add a suitable element of drama to the bonus round, with the glowing animations helping track the action. The cut-screen proclamations such as "You Smashed It" and "You're A Rockstar", meanwhile, confirm that you are, in fact, playing a 21st-century slot and not involved in a fight to the death.
Audio
Marching drums propel the action, with moodily swooping strings and a forlorn wailing siren helping to set the tone. As you would expect, the tune then ramps up through the gears in the feature as the strings take on a darker tone, gates clatter and clank, and the crowd chips in with cheers and chants. The reel effects are drawn from a more modern palette and feature your usual array of clicks, twinkles and triumphant flourishes.
Our Verdict There are many slots based upon Ancient Rome, and Chase For Glory stakes its place in the upper echelons of the genre in terms of audio and visual quality. It may not be groundbreaking, but everything is extremely well done and creates an immersive experience.
Chase For Glory Slot on Mobile
Mobile phones may not have featured in the tool kit of your standard gladiator, but Pragmatic Play has ensured that this release is available to modern slot fans. Chase For Glory is fully optimised for the small screen. Whether you are an Android, iOS, or Windows user, you will find all the gameplay and features intact.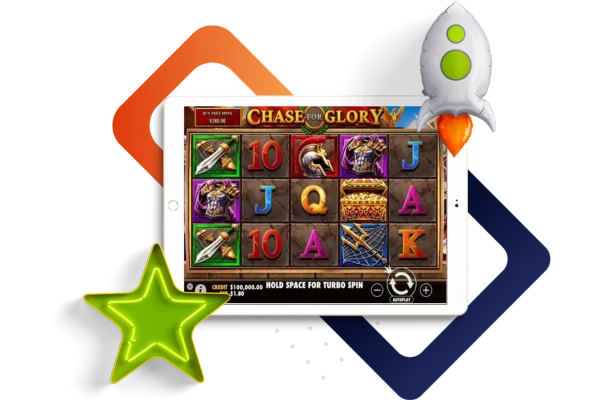 Chase For Glory FAQs
Who made Chase For Glory slot?

This slot was developed by Pragmatic Play.
How much can I win playing Chase for Glory slot?

The maximum win amount for this game is 7,887x.
When was Chase For Glory slot released?

This game was released on 31/10/2023.
What is the RTP for Chase for Glory slot?

The return to player for this game is 96%.