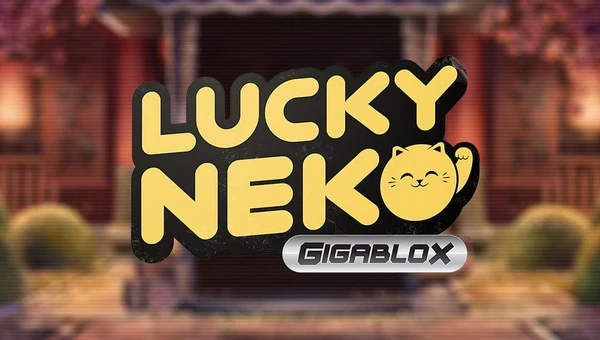 Published Date · July 13, 2020 · Last Updated · May 5, 2023
Lucky Neko Slot Overview
Lucky Neko Gigablox is a freshly-launched slot game, having only been released on June 24th 2020. This is a Japanese-themed game, with a colourful and fun appearance. Lucky Neko himself is a beckoning cat ('neko' literally means 'cat'), who features most prominently when you've hit on some winnings.
The Lucky Neklo slot has been created by Swedish developers Yggdrasil. The minimum bet is only 0.08, the max bet is £100, there are 40 paylines, and you need three or more matching symbols to win. 
Yggdrasil are famed for their innovative takes on slots, and it's no different here. In this case, the main attraction is their Gigablox feature. 
Rather than being of a uniform size, certain blocks in this slot are deliberately oversized, measuring 2×2, 3×3, or 4×4 regular blocks. Thus, while this slot has a regular size of six reels, at least two will be locked into a certain symbol with each spin. Naturally, this increases your chances of a winning combination.
All the technical details for this slot game can be found here. Most noteworthy are the maximum payout of £695,300, and the Return to Player percentage, which is 96.4%. 
Graphics and Theme
Lucky Neko is technically set in the Edo period of Japanese history. We doubt it's the most authentic representation on the internet. But between the visuals and sounds, it's certainly a fun enough place to be.
The blocks themselves feature either card symbols, or different-coloured Daruma dolls (moustachioed men who are symbols of good fortune). Based on the background, the game appears to be based in the beautiful garden of a temple. It's a soothing setting, and this atmosphere is added to by the tinkling, eastern-themed music in the background. 
The quality of the graphics, animations, and sounds are extremely high. The visuals are sharp, bright, and colourful. The reels of the slot blur convincingly as they rotate. Tree petals float to the ground in the background. There's a light rumbling as the slots whirl around, then a satisfying thud when they come to a stop. The all-round production values really are excellent here.
Lucky Neko Slot Details

| | |
| --- | --- |
| | 32,400 |
| | 96.73% |
| | Med |
| | £695,300 |
| | £0.2 |
| | £20 |
| | 6,953 x |
| | |
| | |
| | |
| | |
Lucky Neko is a pleasant game to play. The innovative Gigablox feature offers extensive replayability. This slot is suited to casino users of all experience levels.
Pros
Great New Innovation for Slots
Cons
Could be a little complicated
How To Play Lucky Neko Slot
Like any regular slot, you're trying to match symbols with Lucky Neko. The wild cards here, however, are the Gigablox. This variation in the size of the blocks creates constant variation across the pay lines, meaning it's a game you certainly won't get bored of playing in 72 hours.
Usually, Lucky Neko works on a six reel, four-row grid, with 40 pay lines. As noted, though, in special rounds the sizes of both the grids and number of pay lines can drastically increase. The minimum bet amount is £0.08, and the maximum is £100. The maximum payout of £695,300 is simply calculated by multiplying that maximum bet by 6,953. 
Your winning payouts depend on what symbols you manage to match. Card suits are worth 2.5x your stake, purple and green Darumas are worth 5x, yellow Darummas are worth 5.5x, and pink Darummas are worth 8x. As noted, if you managed to nail a blessed symbol, your payout is boosted 5x. 
Lucky Neko Slot Features
Most enticing here is the allure of free spins. These are dished out whenever you manage to nail a scatter, represented by a Neko symbol. Your free spins scale depending on the number of scatter symbols you get, with each, scatter giving you an extra free spin. If you get five scatter symbols on the screen at any point, you actually unlock an entire round of free spins. 
These are arguably the most exciting rounds of all. The number of rows doubles from four to eight and the pay lines increase all the way up to 85. Free spins also unlock the extra-large Gigablox, taking them from their regular 2×2-4×4 sizes to 5×5 and 6×6 varieties. Finally, before the round starts, one symbol type will be chosen as a blessed symbol. These symbols will pay out at a hefty 5x for the whole round. 
Elsewhere, in addition to getting a regular card suit or a Daruma, you can also get a golden cat. This acts as a wild symbol, which can create a winning combo by representing any other paying symbol. 
Lucky Neko Slot on Mobile
We're pleased to say that Lucky Neko isn't for desktop customers only, but for mobile bettors too. Even better, it can be played on either Android or iOS devices and works on Chrome, Firefox, Edge, and Safari mobile internet browsers. 
Despite its high-quality graphics, Lucky Neko still runs smoothly on mobile online casinos.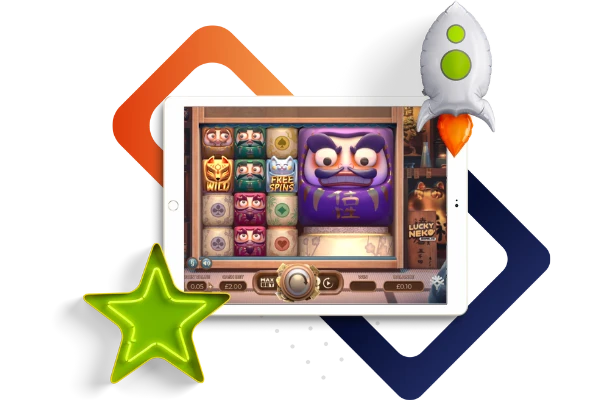 Best Casino To Play Lucky Neko