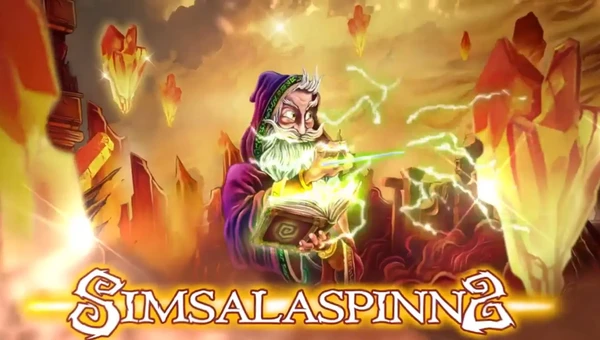 Published Date · June 22, 2022 · Last Updated · May 5, 2023
Simsalaspinn 2 Slot Review
Simsalaspinn 2 Slot Overview
Simsalaspinn 2 is the new and improved version of Simsalaspinn, a popular online slot game by developer IGT. The game was launched in October 2021. A popular name in the gaming industry, IGT has been developing new and unique slot games since 1971. Simsalaspinn is one among a long line of international favourite online slot games.
Simsalaspinn 2 is an engaging update by IGT. This version is a fantasy-themed slot game featuring characters like dragons and wizards. The game has 5 X 3 reels and 30 pay lines. The game's theme introduces unique cards, letters, and wild scatter cards in the game.
Developers have used fairly stereotypical symbols in the game. It makes the game more intuitive. Players need not spend time understanding the game and its symbols or undergo any loss. This game has a long introduction – approximately 7 minutes that will guide the players through. It sets the mood for the game and we recommend a watch.
Simsalaspinn 2 is a medium volatility game and, as a result, has a medium-high RTP of 94.56%. The game has a multiplier system that allows players to win up to 2,400 times their original stake. The game requires the player to place a minimum bet of £0.20. The betting is capped at £2,000. Similarly, winning is also capped at £250,000.
Graphics and Theme
Being fantasy-themed, Simsalaspinn 2 has a cartoonish vibe to the game. The original brick-and-mortar vibe of the game is kept intact while fantasy features are added to make the latest version of the game stand out from its predecessor. The game features many magic characters like wizards and fantasy characters like dragons, enchanted creatures and items like magic lamps.
The developer well preserves the overall theme of the game. After a win, players see a 'congratulations' followed by their win details on a typical scroll. The game also features magic books, wands, potions, spells, and other elements often featured in fantasy or magic-themed games or videos.
Simsalaspinn 2 has top-notch graphics that can inspire countless hours of play. The game background is usually bright with varying colours that align with the game's theme. IGT has used streamlined symbols, which helps improve the user experience since players will know what each symbol means and do not need to spend time in trial-and-error shots.
Simsalaspinn 2 Slot Details

| | |
| --- | --- |
| | 30 |
| | 95% |
| | Med |
| | x |
| | $0.2 |
| | $600 |
| | 2400 x |
| | |
| | |
| | |
| | |
Simsalaspinn 2 is a popular fantasy-themed slots game that provides the ultimate gaming experience. Compatible with all devices, this game has 30 pay lines and can increase multipliers to 2400x the original stake. The game is medium volatility and ideal for anyone looking for a good gaming experience without high risk. Simsalaspinn 2 is highly favoured by gamers as depicted in various online reviews and provides a complete fantasy-themed experience.
Cons
Not for those who like Cluster Reels
How To Play Simsalaspinn 2 Slot
To start the game, you have to place a bet between £0.20 and £2000. Getting Wild in this game is difficult. The mysterious wizard on the left-hand side of the screen will point the wand to the reels at random intervals and conjure 3-15 random spiral wilds across the reels. These replace the regular pay symbols and help players form winning combinations.
All wins with wilds receive the multiplier 2x. This feature is triggered regularly and allows players a chance to win. In addition, to win free spins or bonus rounds, users need to land dragon scatters. 3, 4, or 5 dragon scatters give 10, 20 or 75 free spins, respectively. The wizard feature is triggered on every spin during such a free play.
Simsalaspinn 2 Slot Features
Simsalaspinn 2 offers 30 pay lines for users to play and win. It is difficult to receive a Wild in the game since they are not activated by gameplay but by the Wild Wizard. The wild cards are spread randomly across the reels during gameplay by the Wild Wizard. These can be anything between 3 and 15.
If the combination with a Wild is created, the 2x multipliers are activated. Thus any win after this ends up being twice the original stake. Players can keep accumulating the multipliers until they rack up to 2,400x their original stake. However, bonuses are capped at £250,000 by the developers.
Simsalaspinn 2 offers various bonuses and free spins. To receive bonuses, players have to create combinations with WildCards. The game also offers free spins. Players can win free spins by collecting dragon scatters in combinations. If 3, 4 or 5 dragon scatter cards are collected, they trigger 10, 20 and 70 free spins, respectively. The wild cards are also active during this play, allowing players to increase their multipliers.
Simsalaspinn 2 Slot Graphics & Audio
Simsalaspinn 2 Slot on Mobile
Simsalaspinn 2 is compatible with desktops, laptops, tabs, and mobile phones. The game is an instant-play slot game, and therefore no download or installation is required. Furthermore, Simsalaspinn 2 is compatible with many devices, including Android, iOS, Windows, etc. Perfect for slot mobile player !The game has been developed with excellent features that give the same feel regardless of the device used, promoting a good gaming experience. Lastly, the game does need a stable internet connection for the best gaming experience.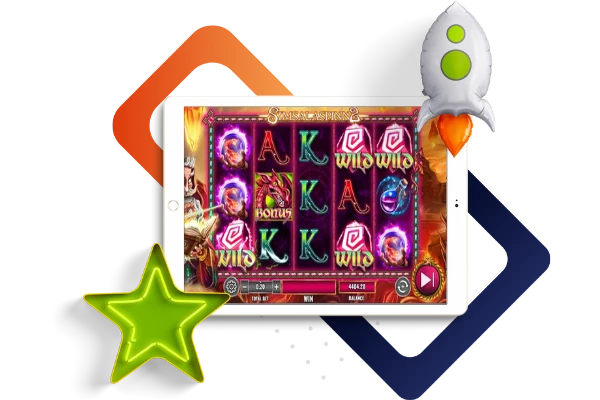 Best Casino To Play Simsalaspinn 2