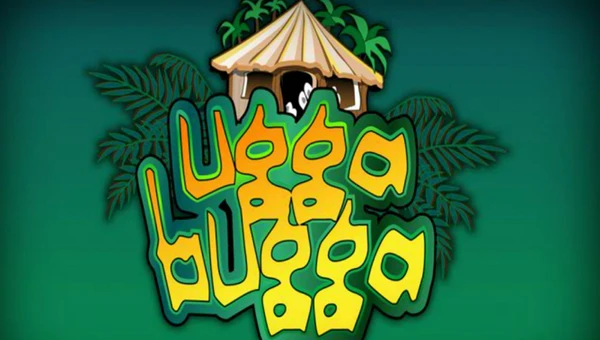 Published Date · Aug. 16, 2022 · Last Updated · Oct. 7, 2023
Ugga Bugga Slot Overview
A tropical excursion has often proved to be the perfect way to cap off any day you might be having. The good folks at Playtech clearly agree as they bring the fun straight to you with Ugga Bugga! This unique slot truly stands out in a heavily competitive market, not least because of its staggering RTP of 99.07%! Filled with Wilds, the Hold Reels feature, and an opportunity to win 1,000x your stake, there's plenty of reason to jump into your jungle journey and start spinning! Read on for our comprehensive Ugga Bugga slot review.
Ugga Bugga Slot Details

| | |
| --- | --- |
| | 10 |
| | 99.06% |
| | Low |
| | x |
| | £0.1 |
| | £250 |
| | 1,000 x |
| | |
| | |
| | |
| | |
Ugga Bugga is an interesting slot game to summarise. The gameplay itself is simple as there aren't any bonus features to have to get to grips with, yet the layout is something unlike any other slot game you'll play. Anything that makes a game stand out is a plus, but the structure might take some getting used to if you're accustomed to playing more traditional slot games. Whether you're a fan of the layout or not, there's no arguing with a 99.07% RTP. Even if you're not likely to win big, you're more likely to win at all than you would on other slot games. For us, that's reason enough to give Ugga Bugga a spin!
How To Play Ugga Bugga Slot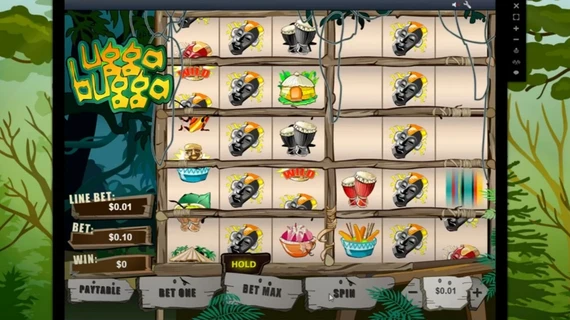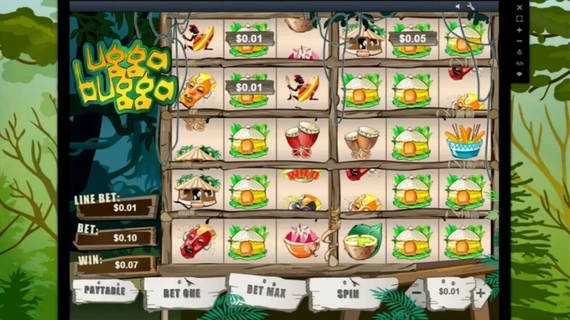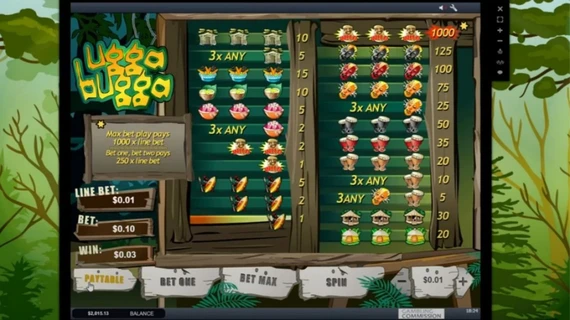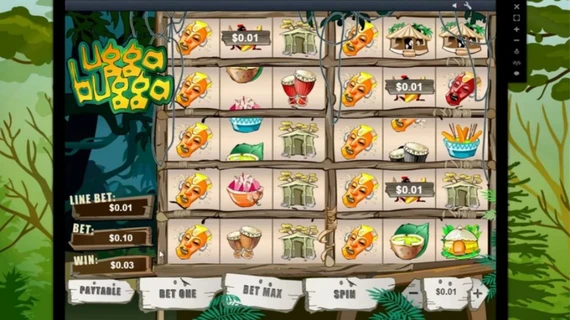 Ugga Bugga Basic Rules:
The game is laid out on three reels and 10 separate rows.
10 paylines spin independently on each row.
The aim is to land as many winning combinations from those ten sections as possible. Essentially, you have 10 separate chances to land payouts on the same spin.
Ugga Bugga Slot Paytable & Symbols
Here's a guide to the symbols and payouts in Ugga Bugga slot. Ugga Bugga uses 10 paylines, which spin independently on each row. Each payline acts as a classic three-reel slot as there's only one winning combination to be formed.
| | | | |
| --- | --- | --- | --- |
| | | | |
| | | | |
| | | | |
| | | | |
| | | | |
| | | | |
| | | | |
| | | | |
| | | | |
| | | | |
| | | | |
| | | | |
| | | | |
| | | | |
| | | | |
| | | | |
| | | | |
| | | | |
Ugga Bugga Slot Features
Scatter Symbol
The Warrior symbol is the game's Scatter symbol, which pays out every time one or more appears on a payline. The Scatter comes attached with its own multipliers:
3 = 5x stake
2 = 2x stake
1 = 1x stake
Wild Symbol
The Totem Head is the game's Wild symbol, which can replace any other symbol - aside from the Scatter - to help form a winning combination. Landing three or more Wild symbols pays out 1,000x your stake if you stake the maximum bet across 10 paylines.
Hold Reels Feature
When spinning in Ugga Bugga, you place your bet as normal but only one of the rows will spin. When three symbols land across the reels, you can choose to hold any of them before you complete the spin. Any held symbol then appears across the rest of the rows. This feature is optional, so you can choose not to hold any symbols if you don't want to.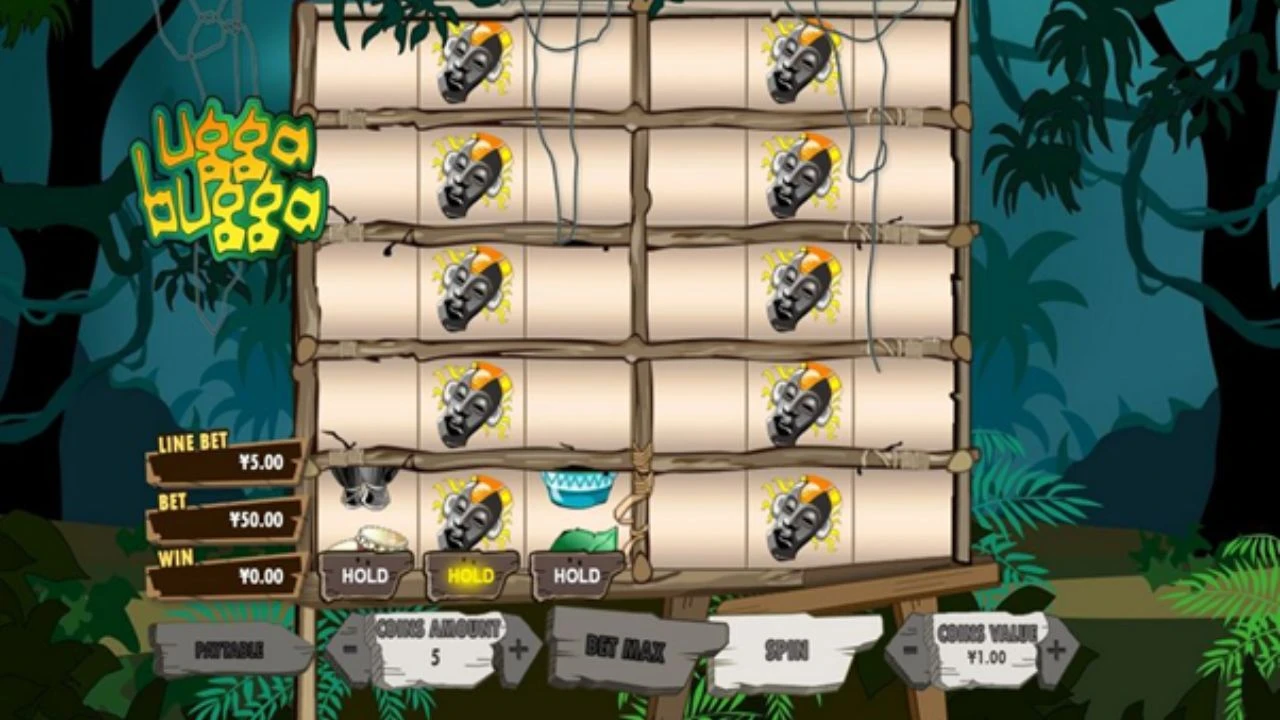 Our Verdict: The Hold Reels feature is an interesting mechanic which adds a small element of strategy to a game otherwise based on luck. It would be nice if the slot had a few more extra features to play with, as the gameplay can get repetitive quite quickly once you get over the novelty of the Hold Reels and individual reels.
Ugga Bugga Slot Bonus Features
Ugga Bugga doesn't have any bonus features to speak of outside of the base game.
Our Verdict: While the extremely high RTP helps to compensate to some degree, the lack of bonus features really holds this slot back. Bonus extras help to keep the gameplay fresh, and without them in this slot, you could find yourself getting bored quicker than you would like. Maybe we've been spoilt by modern slot games, but a few extras in the slot wouldn't go amiss.
Ugga Bugga Slot RTP & Volatility
Ugga Bugga comes with a return to player (RTP) of 99.07%. As well as the staggeringly high RTP, Ugga Bugga is also classed as low volatility. This means that although your wins won't be massive, you can expect them to occur fairly regularly.
Our Verdict: Normally, if you get an online slot game that has a return to player (RTP) percentage of around 96%, you'd be pretty happy as that is the average to be expected within the industry. The fact that Ugga Bugga has an RTP of 99.07% is nothing short of outstanding. If you like your slot games to be as risk-averse as possible, then you'll be hard-pressed to find a safer bet than Ugga Bugga.
Ugga Bugga Slot Graphics & Audio
Graphics
As you might expect from a tropical-themed slot, you can expect to see lots of bright colours coming from the reels. You'll be able to see vines and tree trunks in the background of the reels, creating a more immersive jungle experience.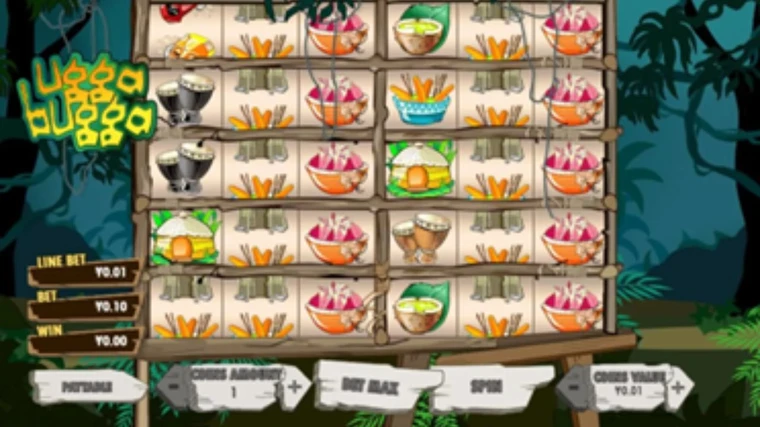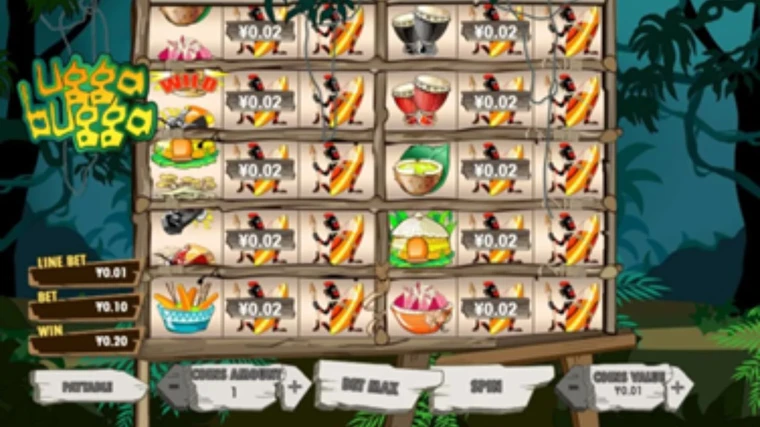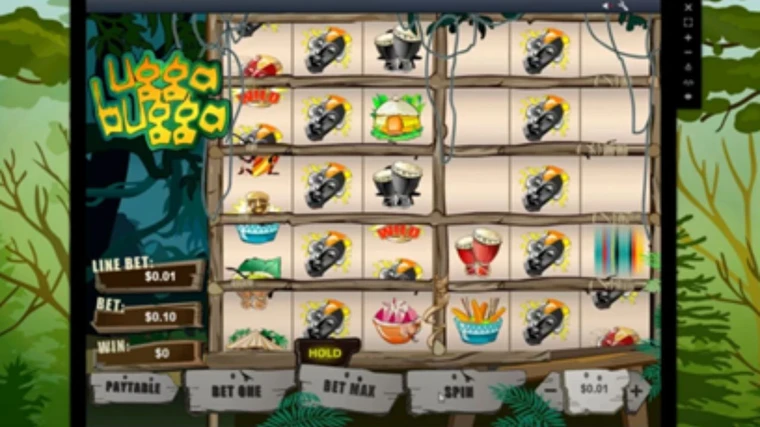 Audio
You won't hear much in the way of background music if you play with the sound on, although high-pitched noises will greet you when spinning and landing symbols.
Ugga Bugga Slot on Mobile
Responsive: Playtech has worked tirelessly to ensure that its games perform flawlessly on smaller screens, and Ugga Bugga is no exception. Optimised with the latest HTML5 technology, you can expect desktop-level quality on portable devices.
App: Ugga Bugga is playable on all iOS and Android devices so long as you have a stable internet connection.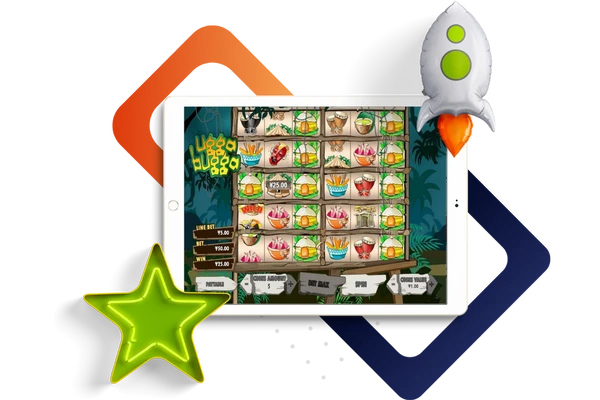 Ugga Bugga FAQs
When was Ugga Bugga slot released?
What is the RTP for Ugga Bugga slot?
How volatile is Ugga Bugga slot?

The game is classed as a low-volatility slot.
Who made Ugga Bugga slot?

The game was developed by Playtech.
Best Casino To Play Ugga Bugga