iGaming's Growth in the First Quarter of 2023
Published Date · April 4, 2023
· Last Updated · Oct. 2, 2023
·
Read Time · 6 mins
While online betting on sports has expanded rapidly across the United States, the same cannot be said for iGaming. Online casino play is legal in New Jersey, Michigan, West Virginia, Delaware, and Pennsylvania, while Connecticut was the most recent state to legalize online gambling in October 2021.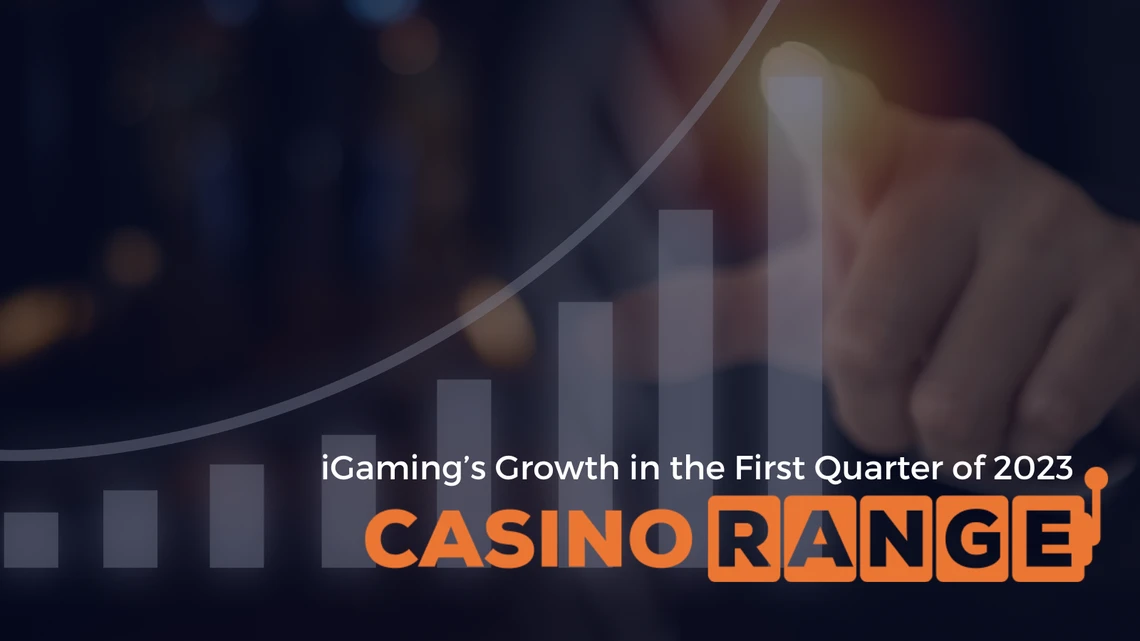 That said, online gambling revenue saw a massive surge in 2022, growing 35.2% year-over-year to $5 billion.
As we move into 2023, there's potential for more states to legalize. Here, we'll look at a 2022 retrospective, examine how iGaming has grown in the legal states, as well as looking at what to expect in 2023.
What Happened in the iGaming Industry in 2022?
As mentioned, the iGaming industry saw a growth of just over 35%. Considering there were no new legal states in 2022, this shows pure organic growth, as Connecticut was the most recent legal state in October 2021.
Three of the six states (New Jersey, Michigan, and Pennsylvania) had a combined $12 billion in revenue for land-based and online play over a 12-month period, which ended in June 2022. These states have also seen a 51.3% increase in revenue for land-based and online when compared to 2019 and before COVID-19.
The size of the land-based market as a whole will be around $50 billion, and iGaming is at 10% of the market already in those few states. iGaming from six states did $1 billion in tax revenue while 30 states produced $500m in sports betting tax revenue. And that market is just getting going.
– Howard Glaser, head of government affairs for Light & Wonder.


While there are only six legal states, the online casinos in these jurisdictions have continuous updates to their game library, user interface design, mobile gambling app, and social media presence to promote their product. However, there's still a stigma associated with iGaming compared to sports betting, and it's seen through the high tax rates of around 50%, as eluded to by Business Insider.
Quick Tip: Regarding iGaming, there are two laws to be aware of—the Professional and Amateur Sports Protection Act (PASPA) and The Federal Wire Act.
PASPA: This was overturned in May 2018, allowing individual states to pass legislation for legal online sports betting. This is relevant to iGaming because, due to sports betting becoming available, states like Michigan, Connecticut, and West Virginia passed laws for online casino play.
The Federal Wire Act: In September 2011, the US Department of Justice issued a legal opinion that all contests that do not relate to betting on sporting event fall outside the reach of this Act. As a result, New Jersey and Delaware made the first moves to legalize online gambling in 2012/2013.
How the iGaming Market has Grown in Each State
Between revenue numbers and the number of sites you can play online casinos at, the industry has steadily grown in all legal states year-over-year since 2019.
Below, we'll look at the revenue numbers in each state starting in 2019, followed by a list of online operators available in each.
Note: Finding proper revenue data for some states proved more difficult than others, but even with a couple of months that need to be completed, you can see the growth.
| | | | | | 2023 Revenue (as of April) |
| --- | --- | --- | --- | --- | --- |
| | | | | | |
| | | | | | |
| | | | | $227 million (found data from January through October) | |
| | | | | | $301.8 million (through February) |
| | | | | $89 million (through October 2022) | $24.2 million (through February) |
What is Expected For The Industry in 2023?
The online casino industry is making some progress heading into 2023. While it's not at the level of sports wagering, some states still have a stigma attached to casino games. Below, we'll look at the states most likely to legalize online casino pay in 2023, adding to the current six legal destinations.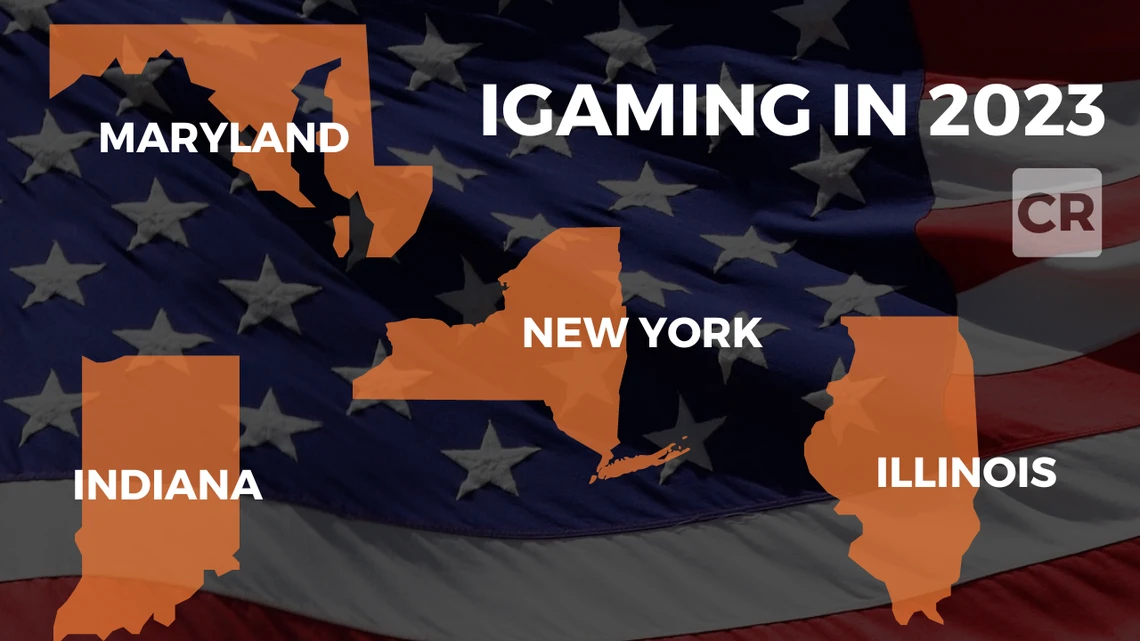 Indiana: Of the states in this list, Indiana should be at the top. Right now, HB1536 has been proposed by Rep. Ethan Manning, which includes a tax rate of 18%. However, there's some scepticism over how the State Senate will react to it.
Illinois: With a proposed tax rate of 15%, HB 2239, a companion bill to SB 1656, Representatives Edgar Gonzalez Jr. and Jonathan Carroll and Sen. Cristina Castro have introduced various bills, though it's too early to tell how these will do.
Maryland: After a lengthy process to bring online sports betting to the state, online casino legalization could face similar hurdles. In Maryland, any expansion of gambling must undergo a referendum. Ronald Watson and Nancy King have introduced a bill to add it to the 2024 general election, so it's more likely we will get answers than in 2023.
New York: Led by Sen. Joseph Addabbo, New York would be another state to deliver a massive boon to online casino play, as we saw its impact when it legalized online sports betting in January 2022. Governor Kathy Hochul didn't mention anything about online gaming regarding the executive budget. Still, a bill for it has yet to appear.
Where Should You Play?
All the sites listed below have a reliable, responsible gaming resource for you to access, including a collection of content to help with your protection, adding a time limit to your play, resources for assistance, and other limitations you can set on yourself.
WynnBET: Equipped with a simplistic user interface that makes navigating the site and game library easy, WynnBET offers players a 100% deposit match worth up to $1,000. With hundreds of slots, a healthy variety of table games, and close to 10 live dealer options, WynnBET is the perfect place to play, especially for new players.
BetRivers: Previously known as SugarHouse, BetRivers has been in business online for several years and always delivers a top-tier product. The online casino also offers a deposit match bonus, but here it's for $250. BetRivers stands out because of its live feed of real-time winners, extensive game filtering options, easy-to-understand rewards program, and various existing player promotions, such as bet & get offers, extra loyalty points, and more.
Unibet: While the welcome bonus differs slightly from state to state, you'll also receive a deposit match offer. Like WynnBET, Unibet has an incredibly easy-to-navigate user interface design. On the desktop page, you'll see a menu at the top with links to the sportsbook, casino, promotions, and support, followed by a menu for the types of games. They do a nice job of providing tools for your success on the platform. There's also a nice variety of existing player promotions here, including those for live dealer games, a "Game of the Week" bonus, and more.