The Top 5 Most Popular Slot Characters
Written by Phoebe
Published date · Aug. 12, 2022 | Last Updated · Dec. 14, 2022 | Read Time: 4 mins
Slots are one of the most popular games you will find in an online casino. Slot games are arguably the most entertaining of games you can find, and it's not surprising with high-quality graphics, themes, and soundtracks that take you on a cinematic journey. For a real storyline though, you need a protagonist. Similar to PC games, slot machine games feature characters, and many have introduced many memorable and instantly recognisable ones. Creating a unique character for players to enjoy can really help make a standard slot game great. This article discusses our top 5 popular characters you will find once you enter the world of online slots.
5. The Cows from Invaders from the Planet Moolah  
Anyone who loves extraterrestrial-themed slot games will know about the alien cows from "Invaders from the Planet Moolah." by WMS. This herd of alien cows have hopped in their spaceships to wreak havoc on a farm. Five flying saucers, each with its cow captain, float right above the reels, occasionally sending out rays to blast winning symbols.
In addition to the incredibly entertaining theme and sci-fi soundtrack, the game has a cascading reel feature that switches out winning symbols for new ones to create even more winning combos. You will hear a range of different "moo" sounds when you win with the wild symbols. The rest of the bonus features are just as comical. Overall, these sentient cows make for weird yet fun and are completely lovable in the oddest way.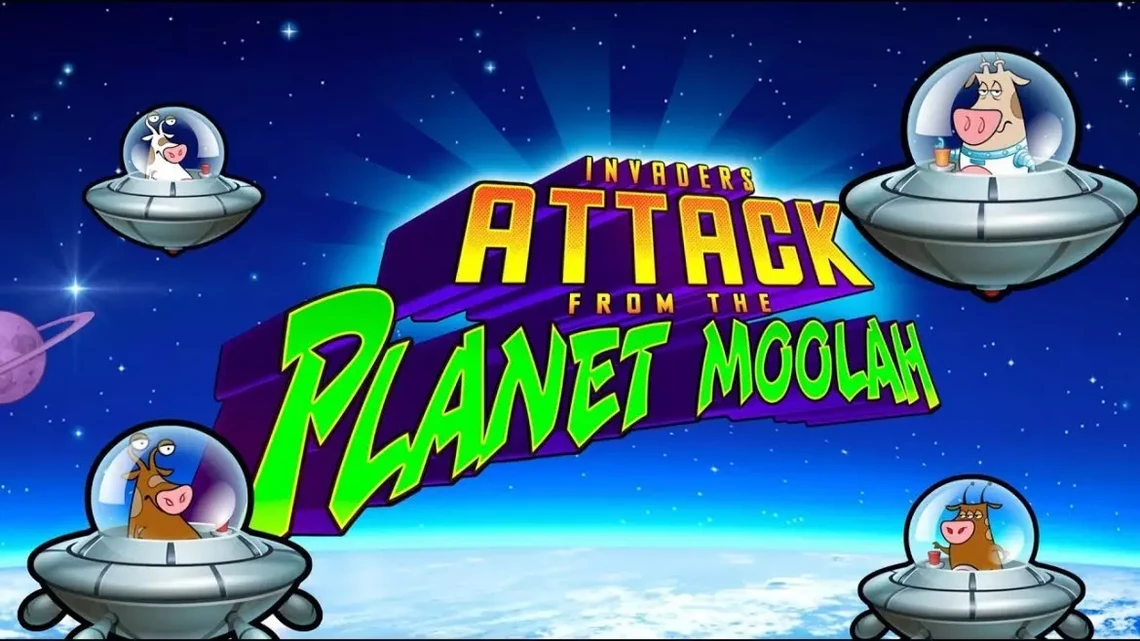 4. Thor
It shouldn't be surprising to see Thor make it onto this list. Thor is the God of thunder, storms, rain, and much more in Norse Mythology. He is the crown prince of Asgard, known for using his Mjolnir (hammer) in battle. He has saved many innocent lives from evil monsters and giants with his trusty hammer. All of these points make the fierce God a perfect main character for a Norse mythology-themed slot game.
Thor is a favourite character among fans, especially in Microgaming's Thunderstruck II. Thor is not the only Norse representation in the game. Thunderstruck II is inspired by Norse mythology, complete with intense drum music playing in the background.  In the game, you must use Thor to achieve the winning payline. Once you get a winning combination, Thor rewards you by releasing thunder from his eyes. The sound of thunder crackling also plays in the background. Thor has also appeared in other popular slot games such as Power of Thor Megaways, Thor's Vengeance, and more.
3. Rich Wilde
Play'n GO's Rich Wilde is a classic on our list and a familiar face to many slot enthusiasts.  He has travelled across numerous ancient civilisations worldwide. The first game in the Rich Wilde series was called "Rich Wilde and the Aztec Idols." The game features him travelling through the South American jungles to pursue Aztec gold.
His second trip in "Rich Wilde and the Pearls of India" led him East to the mystical Indian Mountains. Wilde's third voyage has captured the attention of millions of slot fans worldwide. In "Rich Wilde and the Book of Dead," Wilde goes on a dangerous-yet-adventurous trip to Egypt.
After that, Wilde went on an intense voyage to another world in "Riche Wilde and the Tome of Madness." His latest appearance is in the "Rich Wilde and the Amulet of Dead," which again takes on an Egyptian theme. The game that followed featured his daughter, Cat Wilde.
2. Cleopatra
The classic slot game Cleopatra by IGT has stunning, vibrant Egyptian artwork that will transport you to Ancient Egypt. Of course, you will meet one of the most famous Queens ever to come out of the ancient civilisation, Cleopatra. The slot itself is instantly recognisable however the character is depicted in many other slot games as well such as Pharaohs of Egypt, Cleopatra's Secrets, Cleopatra's Pyramid.
The iconic Egyptian Queen is the best and most valuable symbol in the Cleopatra slot machine, and five of her on a single payline will grab you the 10,000x jackpot. Additionally serving as the game's wild symbol, Cleopatra may substitute for any symbol on a payline that is absent.
1. Gonzo
Easily one of the most iconic slot characters of all time is the OG, Gonzo Pizzaro. Gonzalo, popularly known as Gonzo, is based on an actual Spanish Conquistador from the 16th century. As soon as you enter Gonzo's world, you are transported to the Peru coast in 1541, where they see the beginning of Gonzo's famed quest.
That is where a cutscene shows the explorer escaping a ship full of his comrades. Gonzo wants to get away and search for the lost city of El Dorado alone. The player then joins the Spaniard on his journey to the lost city, where they find treasures along the way.  So far, NetEnt's most celebrated son has appeared in Gonzo's Quest, Gonzo's Quest Megaways, and Gonzo's Quest VR. What makes the franchise particularly fantastic is the array of trailers prior to a game release. NetEnt does an amazing job of pushing Gonzo's narrative and bringing the characters to life. 
How Do Characters Improve Slot Games?
Popular slot series generally have many characteristics: a memorable and original central protagonist, a fascinating plot set in a fantasy setting, and some spectacular features that provide immersive gaming. Making your own universe with your own cast of characters is a big part of the fun of playing slots. These characters have played a significant role in making slot games as popular as they are today. In comparison to traditional fruit games, having a protagonist is an important factor in storytelling and adds another dimension to slot machines.