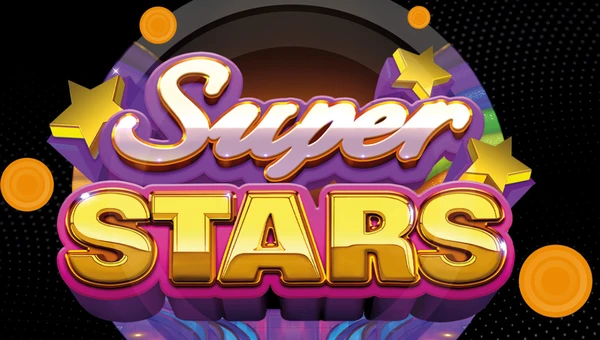 Superstars Slot Overview
Top game provider NetEnt have created the ultimate treat for online slots fans with the fun-packed, feature-crammed, Superstars. Enjoy your favourite heroes of the reels as Gonzo, Finn, Miss Banks, Brute, and the Starburst Octogram join forces for your spinning pleasure.
Taking place on a stage somewhere deep in the slotosphere, a vibrant rainbow backdrop and joyful soundtrack add to the celebratory atmosphere. You would expect such a dream team of iconic characters to have a few tricks up their sleeves, and this slot game certainly doesn't disappoint.
Phoebe
Journalist at CasinoRange.com
Published Date · Nov. 29, 2022
Last Updated · Dec. 22, 2022
The prospect of seeing so many popular characters in the same game certainly creates plenty of excitement - as well as plenty of pressure on Pragmatic Play to deliver. We are happy to report that they have knocked it out of the park with a game worthy of the slots legends.
The base game could perhaps have done with an extra special symbol, but the premium icons and Wild symbols still provide plenty of win potential. Any small complaints with the base game as blown away by the dazzling bonus round, which will likely have you coming back time and again. Overall, this is one slot that looks to be one of NetEnt's most popular releases.
Superstars Slot Features
Features, Features, and More Features in Frenetic Bonus Round
The game's Scatter symbols are represented as Glistening DIamonds, which may appear on any reel, as well as the Dice symbol that will only appear on reel 5.
Landing three or more Scatter symbols triggers the Hold & Win Bonus, which comes loaded with multipliers, modifiers and a Monopoly-style game board.
Played on a 5x5 grid that is surrounded by the Game Board, only Blanks, Multipliers and Dice symbols appear on the central grid. Any Scatter symbols that triggered the bonus round will remain on the reels and transform into Multiplier symbols.
Your round begins with three spins, played across a basic Hold & Win mechanic. For each spin where a multiplier does not land, the spin count is decreased by one - but landing a win will see your tally reset back to three.
Bonus Round – Board Game Features
The big selling point of the bonus round is the raft of features that is contained within the board game squares. You will roll the dice to move your red playing piece around the board, activating features as you land on them.
If a Dice symbol helped trigger your bonus, you will be awarded one dice roll before the spins begin. You will then collect further dice as they land on the central grid, or via the Wheel Game.
The effects triggering squares around the board are as follows:
Finn – Adds up to five multipliers to the grid, which combine to fill only one space to leave more room for additional multipliers to land
Gonzo – Multiplies up to 24 existing multipliers by x2, x3, or x5
Miss Banks – Adds up to 15 multiplier values to the grid with values of up to 5x.
Brute – Creates clones of the three highest multipliers on the grid, and awards three re-spins where only blanks or the three cloned values may land
Starburst – Creates a vertical stack of three multiplier boosts of x2 - x5
Extra Spin – Found in the top right corner, this square increases the spin tally from three to four
Extra Life – Each time you make it all the way around the game board and either land on or pass the Start square, you will be rewarded with an extra life
Wheel Game – Spin the wheel for further boosts, with the following rewards on offer.

1 Dice – Awards one dice roll
2 Dice – Awards two dice rolls
+1 – Increases the value of all multiplier squares by x1
Upgrade – Transforms all blank squares on the game board to +1 squares
Random – Awards a random character effect (Starburst, Finn, Brute, Gonzo, or Miss Banks)
Replay – The next bonus feature (Starburst, Gonzo, Finn, Miss Banks, Brute, Upgrade) you land on will be replayed - whether activated by a game board square or the Wheel Game.
Multiplier Heaven in The Final Game
During the Final Game, all squares on the Game Board transform into multipliers of x25, x50, x75x, x100, x500, or x1,000. The only exceptions are the squares in the bottom left and top right corners which award dice rolls when landed on.
This round then sees you simply rolling dice to collect the turbo-charged multipliers as you move around the board. You will initially be awarded one dice roll for the bottom left starting square plus:
Any unused dice rolls you have left over from the bonus round
One roll for the number of spins on your spin counter from the bonus round
One roll per unused extra life.
Should you have an unused Replay feature from the Wheel Game, the number of dice rolls gained from; unused rolls, the spin counter, and extra lives will be doubled, before the roll for the starting square is added.
Superstars Slot Gallery Images
How To Play Superstars Slot
It is played on a bright and cheerful 5x5 grid, with wins triggered by matching three or more symbols on any of the 45 paylines.
Standard playing card values, 10-A, provide the game's low-paying symbols, with the slot stars acting as the premium symbols, which award up to 5x for five in a row.
Wild Symbols
Star Emblazoned symbols appear as the game's Wild symbols, substituting in for all standard symbols to complete winning lines.
Superstars on Mobile
NetEnt have ensured all of the nostalgic fun, features and Brilliant Bonus round are available to mobile slots fans. Whether you are an Android or iOs user you will find that the antics of Finn, Gonzo and co transfer seamlessly across to small screen devices.
Superstars RTP and Volatility
Superstars' top-end return to player percentage of 96.08% comes in a few ticks above the industry average of 96%. Do note, however, that this is a variable RTP, with operators free to choose alternative settings of 94.06% and 92.01% should they wish.
Superstars is a game of medium/high volatility. Both the base game and bonus round offer the potential for decent and big wins, and you should expect fewer dead and low-paying spins than in a pure high-volatility game.