Biggest Upsets in US Sporting History
Written by Chris
Published date · Nov. 30, 2022 | Last Updated · Dec. 14, 2022 | Read Time: 4 mins
Sport, on the whole, is awash with tails of underdogs usurping nailed-on winners. That is the beauty of competitive sports and one of the reasons we all watch them. However, which are the sporting feats that come out top in a list of the biggest upsets in US sporting history? And is a horse named Upset really the origin of its use for sporting upsets?
For sure, we know that many of you will have your own opinion. However, does it align with that in the list below?
The 'Miracle on Ice' - The 1980 Olympics Ice Hockey Upset
This list is full of some amazing upsets that deserve great credit. Big underdogs achieving feats not expected of them in a million years. However, it is not even close when it comes to the biggest upset in US sporting history.
Going into the 1980 Winter Olympics at Lake Placid, New York, the USSR had won five of the last six men's Ice Hockey Olympic gold medals. Both the United States and the USSR had made it to the medal rounds where they would now go head-to-head.
The most feared team in the world, the Soviet team included experienced and successful professional players. The United States team comprised amateurs and a few college-level players. Nobody could see a result other than another for the USSR. The US men's team had other ideas, however, as they came from behind to snatch a dramatic 4-3 victory that is still spoken about today.
Buster Douglas Shocks Mike Tyson (and the World)
Mike 'Iron Man' Tyson is rightly considered one of the greatest heavyweight boxing champions of all time. In 1990, he was the undisputed heavyweight champion of the world winning 37 fights and losing none. Nobody had even knocked him down at this point in time, let alone coming close to actually beating him. It looked as if nobody could touch this man of pure power, viciousness, and intensity. Nobody in the world thought anyone could beat Tyson in the ring.
However, his next opponent did not share the fear that many others had of Tyson. Buster Douglas came into the fight in Tokyo, Japan as a 42/1 shot to win. Just 23 days before the bout took place, he lost his 46-year-old mother to a stroke. Douglas used the sadness and anger from his loss to cause one of the biggest upsets in US sporting history. Douglas himself had hit the canvas just two rounds earlier, but in the 10th, he unleashed a torrent of punches that sent Tyson tumbling to a shock loss.
Rulon Gardner Defeats Alexander Karelin - A True David vs Goliath Story
As you might expect, this next upset is the story of a huge underdog surpassing anyone's wildest expectations. Here, it is Rulon Gardner that now holds legendary status for his feat. In his first Olympics in 2000, Gardner made it to the Greco-Roman Wrestling final. That is a fantastic achievement alone and most would have applauded him no matter the result of his next bout.
However, most expected the American to succumb to a Russian that had dominated the sport for more than a decade. That man was Alexander Karelin, a three-time reigning Olympic Champion who had not lost at international level for 13 years. He even went six years without losing a point against his opponents.
By now, you probably know what happens. David (Gardner) beat Goliath (Karelin) in one of the biggest sporting upsets in sports history.
Jim Harbaugh - The Man Expected to Do The Unexpected
Most of the upsets on this list came as a genuine surprise, but Jim 'Miracle' Harbaugh made a career out of pulling rabbits from the hat. No, he was not a magician, just a genius NFL coach that knew how to get the very best from his players.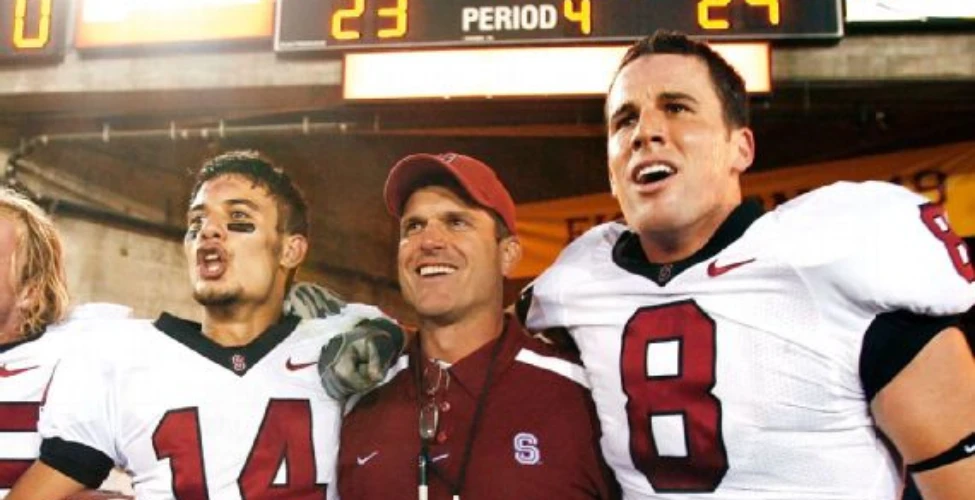 Photo courtesy of ESPN & AP Photo/Matt Sayles.
In 2007 and as the coach of Stanford Cardinal, nobody gave his side a chance against a USC Trojans side made 41-point favorites. However, the Cardinal put in an amazing performance to not only win the match 24-23 but to do it with a last-minute touchdown. Harbaugh went on to deliver similar upsets when he was the coach of the San Francisco 49ers.
A Fittingly Named Upset Causes an Upset
When you reel off a list of the greatest horses ever to race, it is difficult to ignore Man 'O War. Voted by various sporting publications as the best racehorse of the 20th century, Man 'O War had an almost perfect record. The big red stallion actually racked up 20 wins from the 21 races he took part in.
I guess you know where this is going! The one race Man 'O War did not come out victorious, is when he lost to the aptly named 100-1 outsider, Upset.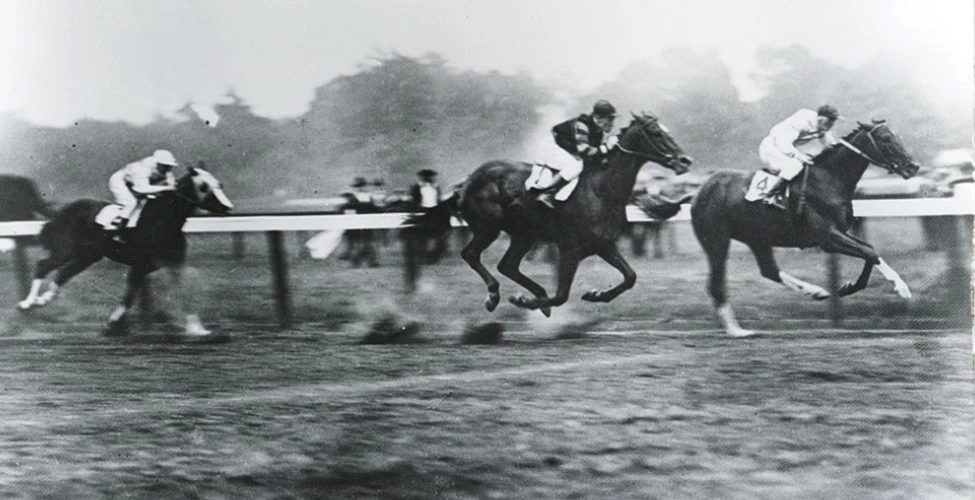 ©Saratoga Race
There has been a popular rumor for many years that Upset was the origin of the word in the sense of sporting upsets. As pleasing as that would be, lexicographer Ben Zimmer confirmed that it existed in racing, baseball, and other sporting fields before Upset's surprising victory.
Still, Zimmer confirmed that the term rose drastically in popularity after this race, so it's very likely that this heroic horse popularized the term - even if he didn't invent it. The more you know!