Future of Online Betting and the Move to the Metaverse
Written by Phoebe
Published date · Aug. 13, 2022 |
Last Updated · Dec. 14, 2022 | Read Time: 4 mins
The metaverse refers to the internet as a virtual location that uses 3D animation to create an immersive virtual world where people across the globe can congregate and enjoy different activities online. Users can move through different virtual spaces, engage in activities, and create whatever they want within the metaverse. As a result, the technology provides endless possibilities not just for online gambling but for the future of the human race. Activities could include playing golf or browsing an art gallery, exploring Jupiter or collaborating on your latest work project, and even attending a concert with your friends or simply just hanging out at the foot of the Eiffel Tower.
What is The Metaverse?
Music superstars, the biggest football clubs in the world, and massive multinational companies are adopting the metaverse as part of their strategy. Zepeto, a metaverse originating in South Korea, collaborated with Blackpink for the release of their song Ice Cream with Selena Gomez. Manchester City took part in the first-ever metaverse kit launch, but as an example of what is possible in these virtual worlds: they are set to build the world's first metaverse stadium. This is with the hope of recreating matches that can be viewed from every angle in the stadium. It is only a matter of time before the world of online betting is taken over by digital worlds. In April 2022, the first metaverse marathon took place with players encouraged to select avatars in wheelchairs or with bionic legs and running blades. There are infinite opportunities this virtual reality technology poses for revolutionary change across our whole life, so just imagine what it can do for online gambling.
Can You Bet in the Metaverse?
The metaverse provides a fantastic platform in which to host gambling activities, and there are metaverse casinos ready to enjoy right now. Second Life is one of the first examples of a metaverse, and they host gambling options in the form of "Skill Games." The gaming company giants Atari are working with Meta to build a casino in the metaverse of the company formally known as Facebook. Decentraland host a casino that, in February 2022, was reported to have taken $7.5 million, with a third of all Decentraland visitors passing through the casino. In spite of the endless events and digital spaces that people can visit on the platform, at any given time, around 1,000 users are likely to be in the casino, according to the founders Ari Meilich and Esteban Ordano.
What is in a Metaverse Casino?
Metaverse casinos could look like digitally animated recreation of physical casinos, but the worlds in the metaverse can be designed and made to look however people want. A casino could have a floor without gravity, creators could build a virtual replica of the Bellagio; heck, it could even be a recreation of the entire casino city Canto Bight from Star Wars: The Last Jedi. To be able to compete with a service like this, online casinos are going to have to seriously step up their game, as live dealer games just aren't going to cut it anymore.
Currently, people are mostly experiencing their various digital worlds through laptops and PCs, but this is only the beginning of the immersive experience. The possibilities are expanded by the introduction of virtual reality headsets. Players will be able, for all intent and purpose, to walk around the land of their digital spaces. The spanner in the illusion of directing with a keyboard and typing to interact will disappear and completely enhance the social aspect.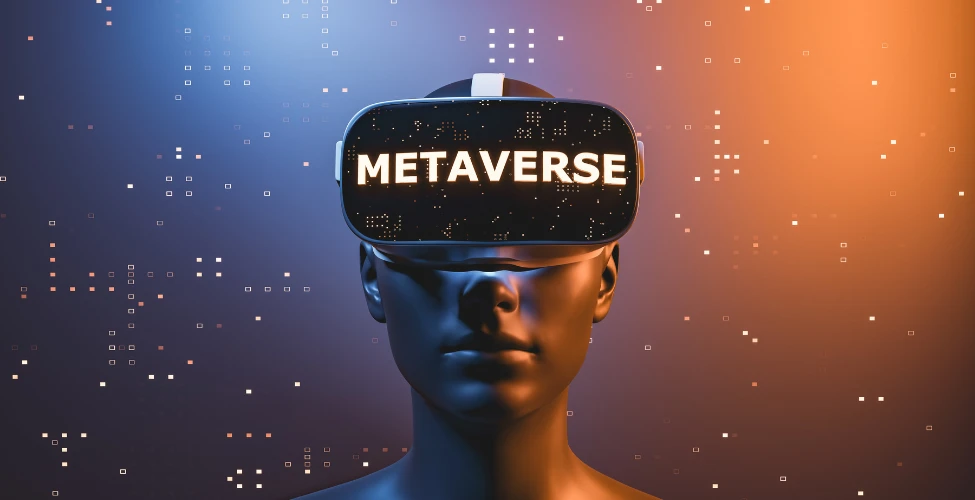 Is the Metaverse the Future of igaming?
The potential for around-the-clock online gambling by people from all over the world opens up the question of a common currency. It is safe to say that some form of cryptocurrency will be used to facilitate casino gaming in the metaverse. In Decentraland, players can use the company's own form of crypto called MANA. It is accepted across the whole virtual space, including the casino; it is also exchangeable for items to use in the rest of the land. The use of blockchains and cryptocurrency is already pervasive in the metaverse. It is used for logging into virtual spaces, storing digital items in the form of a non-fungible token, and storing crypto.
What this means for gambling in the metaverse is that players will only need to share their wallet address in order to log in, acquire items, and make payments. This provides more security as players don't need to share private financial information with an online casino.
It also opens the door for decentralized gambling which could be overwhelmingly welcomed thanks to crypto's ability to be both transparent and private while also adding security. This would pose a huge threat to gambling companies, especially if decentralized casinos offered games lacking a house edge.
Is Betting in the Metaverse Legal in the US?
Gambling in the metaverse is treated legally in the same way as any other form of online gambling. So it is outlawed in most states but can be enjoyed in the 15 states that permit online gambling. Even in states where it is illegal, players can enjoy a recreation of the casino experience with games like ICE Poker in Decentraland. This particular game gives players a set of chips to use every day to complete challenges in poker matches. Players can earn tokens which can be exchanged for NFT clothes that are worn by a digital avatar in Decentraland.
How Could this Change the Online Casino Industry?
There are many ways this technology and the growing popularity of metaverse gaming could change betting online. Whether it is a threat or a boon to online casinos is really up to them and how quickly and openly they embrace this burgeoning technology. Imagination could also have a huge effect because of the capabilities available, so casinos need to earnestly consider their approach before diving in. Do they want to recreate the brick-and-mortar casino experience from the comfort of home? Do they want to enhance what online casinos are like now? Or should they do something completely? No one knows, but you should stick around to find out. It should be fun.