Twitch Betting Ban: Sportsbook vs Casino
Written by Phoebe
Published date · Nov. 22, 2022 |
Last Updated · Dec. 14, 2022 | Read Time: 3 mins
Whether you enjoy playing online video games or online gambling on slots or table games, there is a good chance you have heard of Twitch.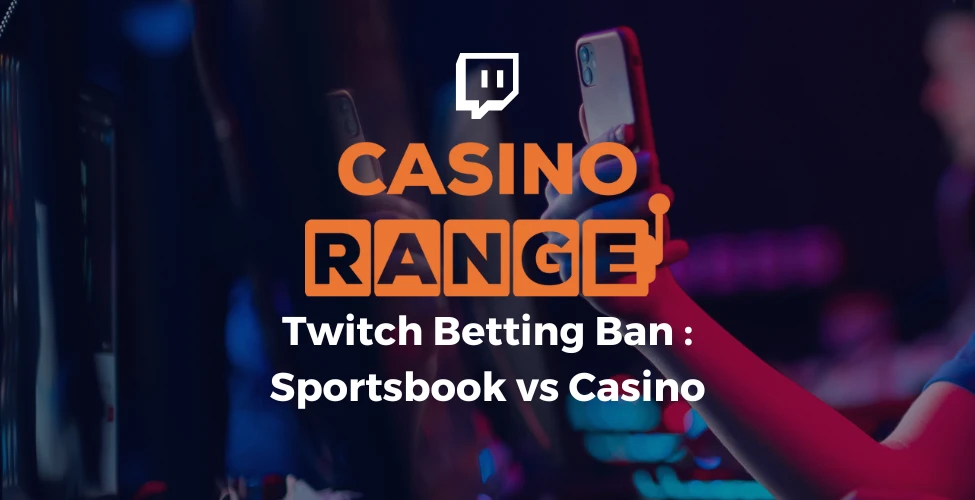 This is the world's number one live streaming platform that allows streamers to live stream when playing games. By playing popular video games to a high or entertaining standard, many attract a large following, earn partnership deals with platforms, and can earn big money.
However, the platform has received criticism from many quarters for allowing the live streaming of casino content. Eventually, this criticism led the platform to make changes to its gambling policy. Starting on 18th October 2022, Twitch banned the streaming of slots, roulette, or dice games from platforms unlicensed in the US or by another respected jurisdiction. The only gambling content now permitted is that of sports betting, fantasy sports and poker.
How has Twitch Affected the Online Casino Industry?
Before this ban, Twitch was the most popular gambling streaming platform in the world. 74% of people that enjoyed watching live streamers play their favorite casino slots and live games would use the Twitch platform. In fact, it became so popular that more people were watching these streams than many of the popular online video games.
Twitch is an online video-sharing platform that is becoming increasingly popular. Millions of people around the world use the service. In fact, it has become so popular that Amazon bought it for almost $1 billion. However, while the platform initially attracted streamers playing video games, in recent years gambling streams have become far more prominent.
Often in partnership with operators, streamers will play slots and table games on Twitch while streaming live. Viewers like to see new games, get a feel for popular classics and just enjoy watching somebody else win or lose. Such is the rise in popularity of gambling streams, slots were previously the 10th most watched content on Twitch.
How has Twitch Affected the Sportsbook Industry?
As mentioned previously, streamers can still stream sports betting content on Twitch. This is another online gambling vertical that the rise of streamers and popular streaming platforms, including Twitch has affected.
Live streamers with big personalities quickly earn a following if their content is good enough. Usually, followers believe they can garner knowledge from people that are good at betting on sports. By using the tips and methods of the streamers, they believe they can enjoy similar success.
It often ends with streamers entering partnerships with major operators to help market the platforms. Some of these streamers can earn up to a million dollars a month just by running streams and persuading gamblers to sign up for these platforms.
What are the Controversies Surrounding Them?
The increase in gambling streams on Twitch has caused plenty of controversy over the years. Many big-name streamers of regular gaming content have called gambling horrible for the platform. As 20% of viewers on the site are between 13 and 17 years old, they believe the platform could provide minors with a gateway to gambling harm.
Many regular Twitch personalities with millions of followers between them even planned a boycott of the platform for a week over Christmas. That was until Twitch put in place the ban on the streaming of unlicensed platforms that offer slots, roulette, or dice games.
Prior to that, there was another backlash as one popular streamer from the UK was accused of scamming other creators by offering fake accounts. He has since admitted to the $200,000 scam, claiming that it was to fuel his own gambling addiction.
What's Next for Twitch?
No matter which side your opinion falls on, it certainly seems that this decision will create winners and losers. White Witch has banned the live streaming of unlicensed online casinos, but streamers can still live stream action from platforms licensed in the US and other jurisdictions that provide sufficient consumer protection.
On top of that, there has been an explosion of other streaming platforms that purely focus on gambling. For that reason alone, live streaming of casino games is not going anywhere soon. We do expect a tightening of the regulation of these platforms in the future, but even so, they are here to stay.