DraftKings UFC266 New Customer Promotion
Written by Phoebe
Published date · Sept. 24, 2021 |
Last Updated · Dec. 14, 2022 | Read Time: 2 mins
This weekend we have UFC 266 headlined by the matchup of Alexander Volkanovski and Briant Ortega at the UFC Apex in Las Vegas, Nevada. The headline fight on the women's side is between Valentina Shevchenko and Lauren Murphy. The middle bout is pitting old rivals Nick Diaz and Robbie Lawler together for their first fight for 17 years. 
The Headliner Fight: Volkanovski v Ortega
The reigning champion Volkanovski has risen to the highest levels of MMA and is at the top of his career at the moment, but he still remains as one of the most disrespected champions in UFC history. Volkanovski secured the title in a close fight with Max Holloway, and because of the close nature of the bout, there was a rematch which Volkanovski won as well. He is a very aggressive fighter who seeks to land his overhand and will often start the encounter with a leg kick one way or another. However, he also has great fortitude and intelligence in the ring as well. 
When you look into the fight, you want to look at the habits of each of the fighters and how the opposing fighters will combat these habits. In the fight with Holloway, Volkanovski struggled in the beginning exchanges; he was caught off guard with uppercuts and knees, which could play into Ortega's hands as that's how he knocked out Frankie Edgar. Ortega's issue is in his defensive game. If he doesn't open the exchange, then he will struggle to make a meaningful strike in the flow of the bout. Both will need to control the middle, be on the offense and land their strikes first.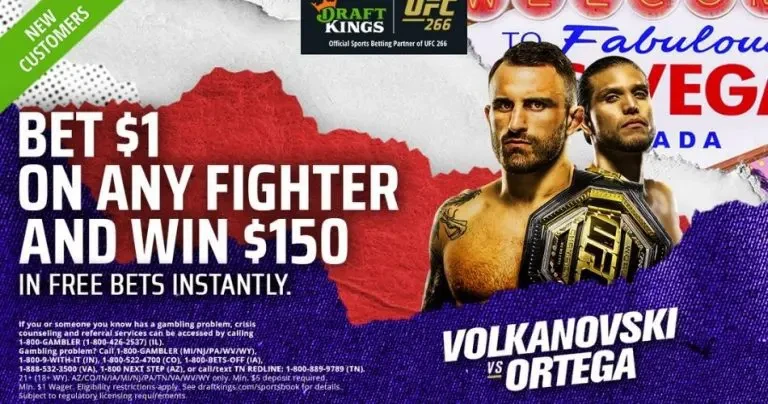 DraftKings UFC 266 New Customer Promotion
Now onto the great promotion that DraftKings are running alongside UFC 266 for new customers. 
If you are a new customer and deposit $5 into the sportsbook, you can participate in this promotion. Once you have made your initial $5+ deposit, you will then need to place a bet of at least $1 on UFC 266, and then you will be issued a bonus of $150 in free bets. The bonus is paid in six $25 free bets. The free bets that you receive will be valid for a week after you receive them, and if you do not use them in that time frame, then they will expire. The free bet amount will not be included in any returns or winnings you get with that bet. 
The free bets are non-transferable, redeemable for cash, or refundable. You can only get one qualifying bet per user. The bet excludes live bets, parlays, free bets, cash-out bets, and voided bets. You have to be in AZ, CO, IA, IL, IN, MI, NJ, PA, TN, VA, WV, WY to claim this offer.