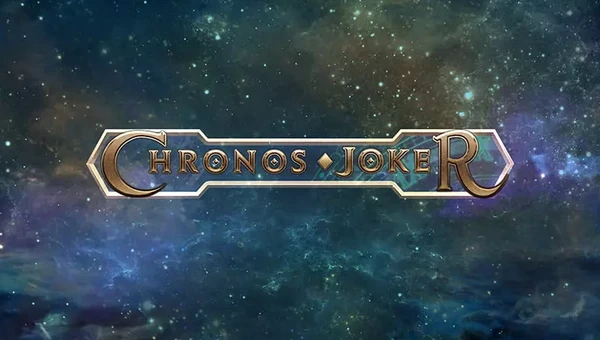 Chronos Joker Slot Review
Chronos Joker Slot Overview
This unusual but captivating slot game takes players on a journey through time and space. Based on the Ancient Greek God of Time, Chronos, the game is all about the perception of time and its immeasurable impact on the universe. However, your guide for this adventure is an interesting Joker character, blending two themes which are not usually associated. This is quite a high concept for a slot game, but although it sounds strange, works well. Chronos Joker comes to us in the form of a three-reel five pay line slot created by masters in the industry Play 'N' Go. Although the format of the game may be simple, the bonus features create a whole new dimension to the game. These include a re-spins feature and random multipliers which can range up to a truly cosmic 20x—bets for this game range between 5p and £100 per spin. The largest win you can achieve is an awesome 1,600x your stake.  The volatility is medium with an RTP of 94.57%.
Graphics and Theme
This theme is a refreshing amalgamation of space-age time travel and conventional slot machine characters such as the Joker. They have managed this by committing mostly to the space theme but incorporating conventional fruity symbols and by using the Joker as your guide. This mystical creation has a very expansive feel to it, helped by the backdrop of a starry sky. The high-quality graphics are part of what makes this work though, as Play 'N' Go have committed to giving each element an excellent finish.   Symbols are various chronometers such as sundials, pocket watches and hourglasses, all related to the passing of time. The music is an interesting techno theme peppered with futuristic sound effects that transport you to Hollywood interpretations of time-travel.  Wins are accompanied by some sort of energy ball pulsating with your win in the centre, accompanied by accelerating space-age music indicating great excitement.
Chronos Joker Slot Details

| | |
| --- | --- |
| | 5 |
| | 95% |
| | Med |
| | x |
| | $0.05 |
| | $100 |
| | 1600 x |
| | |
| | Original |
| | |
| | |
Matt
Journalist at CasinoRange.com
Published Date · Nov. 24, 2020
Last Updated · June 6, 2023
This unconventional yet highly entertaining game has a lot going for it. The fresh theme is accompanied by a new approach to normal bonus features, giving players an unprecedented playing experience. If you are looking for something new, with varied gameplay and a high-quality finish, Chronos Joker could be your new favourite slot.  The key to winning the bigger money as a tip comes when you manage to upgrade the free spins round with the Super Spins extra feature, which boost the multipliers and gives you a much-improved chance at achieving the top payouts.
How To Play Chronos Joker Slot
This is one of the more straightforward games. All you need to do is set you bet before spinning the reels by using the controls indicated on the screen. There are 22 available betting options. Once you have completed the settings, including an upper and lower win and loss limits, you can begin to spin the reels by pressing the big green button.  If you would like to play without having to press the button each time, auto-spins are also available.
Chronos Joker Slot Features
Bonuses are threefold in this game; however, each has its twist, which gives Chronos Joker a novel feel when playing. However, this does take some getting used to as multipliers, free spins and re-spins are linked very strongly in this game, so they blend rather than stand apart as different bonuses.
The first is the Re-Spins feature. You can trigger this feature by landing three identical symbols on any two reels out of three.  The type of re-spin you will be granted then depends on the multiplier which is currently active.  The reel which did not get matching symbols on it will spin again but will only do so if there is no active multiplier for that spin. It is on this Re-Spin feature that the Multiplier Feature can be re-triggered.
The Multiplier Feature can be triggered on any spin with any winning combination. The available multipliers are 2x, 3x, 4x, 5x, or 10x multiplier. Multipliers and their accompanying spins are broken into three categories.
Spins of the Future – These spins are triggered when you get a 2x multiplier. Then each subsequent re-spin increases the multiplier up to 10x. These re-spins take place until you get a win.
Spins of the Present – These spins take place when you achieve a 3x, 4x or 5x multiplier.
Spins of the Past – This feature will only start if you get a 10x multiplier. With each subsequent re-spin, the multiplier decreases to 5x, 4x, 3x, and 2x. Again, the re-spins take place until you get a win.
Lastly, there is the Super Spins feature, which acts as a kind of booster for the Free Spins rounds. This, unlike the previous bonus, is a random feature which has the potential to double the multiplier values at the start of a new spin or re-spin
They are structured like so.
Super Spins of the Future – This is triggered when the multiplier at play is 4x. With each re-spin, the multiplier can now increase by up to 20x. Re-spins keep re-loading until you achieve a win.
Super Spins of the Present – This feature is triggered when the multiplier in play is either 6x, 8x, or 10x. Re-spins again will continue until you achieve a winning combination.
Super Spins of the Past- Lastly, when the multiplier is 20x, this feature is triggered. With each re-spin, the multiplier decreases in a scale from 20x, to 10x to 8x, 6x and finally 4x. The re-spins occur again until you win a combo.
Play Chronos Joker Demo for Free
If you want to play for fun first, try out the Chronos Joker slot demo! Unveil exclusive content in online slots demos, where players can discover features and elements not present in the real-money version. Make informed decisions by comparing different online slots demos, tailoring your choices to suit your gaming tastes.
Chronos Joker Slot on Mobile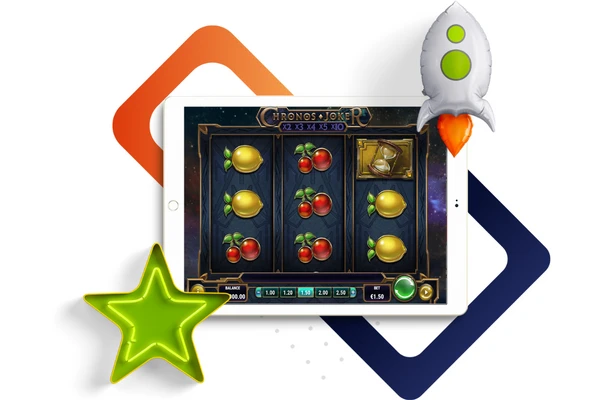 Best Casino To Play Chronos Joker