The Paroli Roulette Strategy
Written by Matt
Published date · Nov. 15, 2021 |
Last Updated · Nov. 8, 2023 | Read Time: 4 mins
The Paroli roulette system is a tried and tested way to change the stakes you place based on your previous results. This smart system dates back more than 500 years and has been used by players from all walks of life.
To make sure you can put it into practice the right way, this article will make sure the Paroli roulette strategy is explained in simple terms for players of all abilities. Once you see the beauty of it, you'll be able to put it into practice like you've been using it for years.
What is the Paroli Strategy in Roulette Games?
The system is simple. You start by making even bets on the roulette table to make the odds as simple as possible. If you lose, your next stake remains the same, and you play again. If you win, things start to get interesting.
You double your stake and play again. The goal here is to go on a run of 3 straight winning bets, doubling your stake each time. This means that if you win on the third bet, you'll be staking 8 times what you would on a standard starting bet.
Once you get to this point, you take some of your winnings off the table and start over again. This simple system is ideal for making sure you leave the game with ample helping of your initial winnings.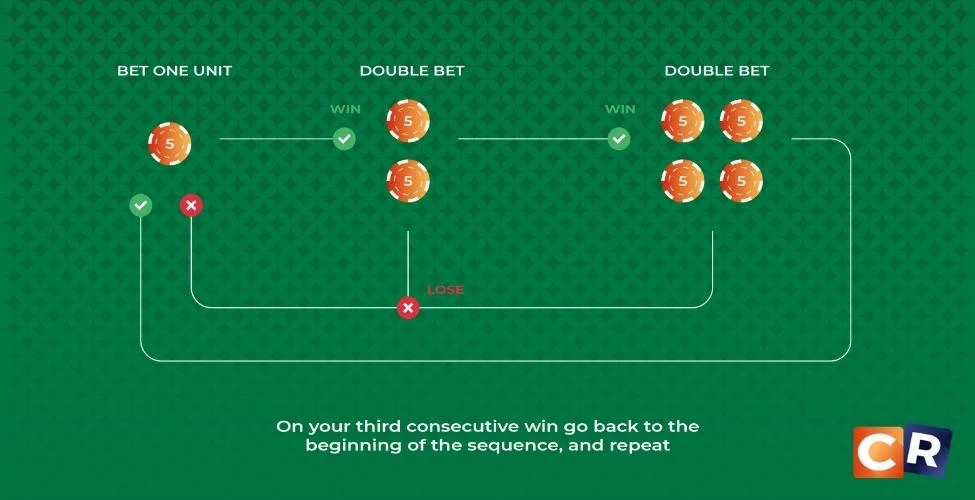 How do you play the Contra Paroli roulette system?
The contra Paroli roulette system has an added twist where you take more notice of your losing bets.
Rather than a losing bet constraining your next stake to remain the same, it halves it. A winning bet will then double your next stake, giving you the chance to make up your losses quickly while minimising the risk and the downside.
This simple approach is ideal for modifying the Paroli roulette strategy to make it a little more conservative. If you're a risk-averse player who likes to be careful with their initial stake, this system will give your subsequent bets a firm structure.
How do you play the best Paroli Sequence?
Because the idea behind the Paroli roulette strategy is so simple, there is no optimal sequence. All you're doing is waiting to get 3 wins in a row and then taking out a proportion of your winnings and cashing them in.
This makes sure you leave the table with money, regardless of future losses on your next round of spins. Many players who want to increase the stakes take out everything bar twice the value of their original stake, multiplied by how many spins they want to play.
They can then work through the sequence again but with double the return for each even bet which comes in.
Does the Paroli Roulette System work in real life?
Yes, it does provided you make the most of the good runs you get. While it can be tempting to think you have a hot hand, the key with the Paroli roulette system is to stick to what you know.
Because you're making even bets, the odds are always 50/50 that you'll win, and the same that you'll lose your stake. You'll never know which spin will end up costing you money, so make sure always to pull money off the table provide when you win 3 on the bounce.
This will help ensure you against future losses table provide over and give you the money you can put back into the game later on if you want to.
Will in-person casinos and online games ban you for using the Paroli Strategy?
Both the Paroli roulette strategy and the contra Paroli roulette system are legal and allowed in all forms of casino and gaming apps.
The system is more than 500 years old and doesn't give you an unfair advantage when betting against the house. For this reason, online casinos will happily allow you to use it because they know they'll win in the end if you play indefinitely.
The key is to know when to walk away and to make sure you always cash out a portion of your winnings when you get 3 in a row.
Conclusion
Using the best Paroli strategy roulette players can find is all about not getting too carried away when you go on a run. Make sure you stick to the 3-winner rule and take out a portion of your winnings.
If in doubt, stick to the same size of the initial stake, and you'll be able to balance risk and reward on every spin. This will help you take a smart approach to even betting, so you don't end up losing it all back to the house before you leave the table.
Check out the best online casino selection for playing roulette.
Roulette Strategies Related Tips