What is the Punto Banco Variation of Baccarat?
Written by Phoebe
Published date · May 11, 2022 |
Last Updated · Oct. 5, 2022 | Read Time: 4 mins
Baccarat is a medieval card game that can be dated back to the 15th century. This game was originally called 'baccara' which means zero in Italian. But, as they adopted the game around Europe, the French spelling 'baccarat' became more popular. As the card game was played around the world, different Baccarat variations developed. Punto Banco was a version of Baccarat that was adapted from the original card game in South America and the Caribbean. It was introduced to American casinos in the 1950s. Today, it's one of the most popular variations of baccarat. It's also known as American Baccarat. In Spanish 'punto' means player, and 'banco' is Bank. The name is essentially a reference to the player and the bank a player bets on during the game.
How Do You Play Punto Banco?
In Punto Banco, the player wagers against the dealer. If you've played blackjack before, it's the same sort of set-up. The only aim of the game is for the side you're betting on to get to nine, or the closest to nine before the other side does. You'll also lose if you go bust by getting higher than nine. In casinos, the game is played at big tables with up to 14 players, and up to two dealers. Players don't get individual hands of cards, it's an overall hand for the 'player' vs the bank. You can decide whether you want to bet on the bank or player to win, or you can bet it will be a tie. 
Is Punto Banco Difficult to Play?
Punto Banco and classic Baccarat are both easy to play card games that are ideal for beginners who are new to casinos. They are games based on pure luck and chance, so there's no strategy involved in the cards to win. The tough part is getting to grips with the points system. In Punto Banco, the picture cards and tens are worth zero points, and nines have the highest score. Cards from 2 to 9 are worth their face value, and the ace is worth one point making it the lowest point card on the deck. So, make sure you remember that when you're playing. 
Tips for Beginners Playing Punto Banco
There are plenty of tips to help you win at online casinos. When playing Punto Banco, even though the game is very simple, there are still ways you can win if you think strategically. First, keep track of the scores and odds. You have three options for placing your bets: banker, player, or tie. A tie is least likely to happen, so it won't bring you a win regularly. You should maximise the chances of you winning, so bet on either player or banker. Statistics show the Banco has a slight edge over the Punto, so if you really want to maximise your chances of winning, then bet on the bank. Take advantage of any bonuses the casino might offer when playing Punto Banco, as this will allow you to learn more about the game and establish a good understanding of how it's played. Always remember at Punto Banco there is no winning or losing hand. It is a game purely won out of chance. 
House Edge
Remember that in a casino there's always an element of the house edge. When you're playing a game like Punto Banco, you're trying to give the house the least advantage. As casinos take a commission from the games, if you want to play for longer, find a game with smaller commission rates. This will require some research on your part. Games with a small commission can mean higher wins, so it's worth it. The best advice anyone can give to casino players is to master the art of observation. You want to learn all about your opponents and recognise patterns in the game. This will increase your chances of winning.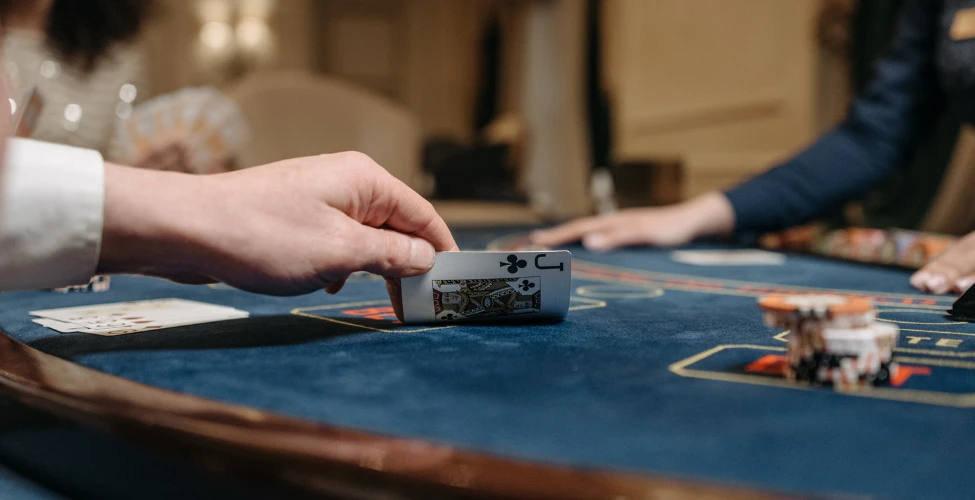 Can You Play Punto Banco in Online Casinos?
Punto Banco is available in some of the UK's top online casinos. There are often bonuses attached to joining and playing, too. As it's one of the most popular casino games, there are plenty of chances to play it. Live casino games. For example, Hippodrome Casino is just one of many casinos where gamblers can play Punto Banco, and they offer a 100% bonus for new players up to £250.  
Is it Legal to Play Punto Banco in Casinos?
Any legitimate online casino will have a license through the UK Gambling Commission, or another form of gambling authority. Playing Punto Banco at a licensed casino is completely legitimate and legal. It's not a rigged game. So if you make sure the casino you're playing at has a license, then it's completely legal to play. 
Final Thoughts
Punto Banco is a straightforward game to play and is suitable for beginners. It's fast-paced, with no strategy involved, which makes it a suspenseful and exciting experience for players. The game is so popular because of its simplicity. As with any casino game, being observational when playing Punto Banco will give you a better advantage. Always make sure you keep track of the scores, and look for any patterns in the game. If you bet strategically, you'll be increasing your chances of winning. Punto Banco is available as a live casino game at most of the top UK online casinos, as it's such a popular game to play. Remember, you can take advantage of some casino bonuses to allow you to play more games.