PartyCasino Unique Features
Written by Matt
Published date · June 11, 2021 | Last Updated · June 13, 2023 | Read Time: 3 mins
In this post, we'll look at what distinguishes PartyCasino from the many other online casinos out there and how that can benefit you as a player. Our In The Hot Seat series also takes a deeper look at PartyCasino.
Read Next: In The Hot Seat: PartyCasino
PartyCasino Unique Feature: Game Selection
Many casinos offer a wide variety of games to choose from, and this vast selection of games can be frustrating as you don't know where to begin when you sign in to the casino. Luckily for players, though, PartyCasino are one step ahead by implementing a specialist lobby so that you are only shown games that match up with your particular gaming needs. This can help you to find a new game to play that you may enjoy. PartyCasino offers over 300 online slot games and a range of great table games like blackjack, roulette, and many versions of video poker. 
There are also lots of different live casino games to choose from and play, so it's easy to imagine how many types of games there are. You can choose to play slots, video poker and live dealer games. It is also worth noting that some online casino games are designed with new players in mind, and others have been designed for more experienced players as well. 
There is also the Party Time tab that helps players find the so-called lucky games and there is also a tab that tells you the top jackpots that are on offer at PartyCasino.
PartyCasino Unique Feature: VIP Programme
It is worth noting that PartyCasino doesn't operate with the usual wagering requirements system that most online casinos operate with. Instead, they operate with a more complex loyalty points system. You can earn loyalty points for spending money on specific casino games. You can usually withdraw any winnings made with your bonus money after collecting a certain amount of loyalty points. 
There is also a VIP programme at PartyCasino. The invitation to the VIP club will come after you earn a certain amount of loyalty points. VIPs can have access to a range of exclusive games and offers; you can even have access to special invite-only leaderboards and a dedicated account manager. This makes it feel like you have a real tailored experience. 
There is also a massive amount of exclusive bonuses, and even more deposit options are also there for those who are loyal to PartyCasino.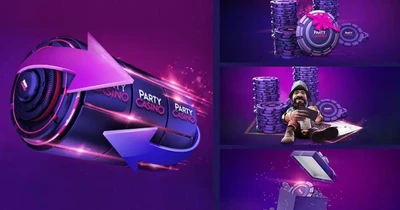 PartyCasino Unique Feature: Site Theme
As there are a lot of online casinos out there, finding a truly unique casino theme is quite rare. PartyCasino though have a brilliant unique theme that also creates a fun gaming atmosphere online as well.
There is definitely a party atmosphere with the presentation of the site with glitz and glamour pouring out of every inch of the site. There is a friendly host on the site who will keep you in the know on all the promotions and makes it feel more like a personal experience for you whilst you play. In general, the site theme and design is slick and well designed and makes for a smooth experience which is a massive bonus and makes the casino really stand out as one of the best around.