Thunderkick
Taking a closer look at Thunderkick online slots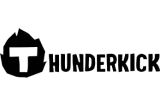 Thunderkick are an innovative and pioneering online slot developer who have more than a decade of experience to their name. The Swedish company's motto really says it all, with their aim being to "create kick-ass content that leaves no-one untouched".
Thunderkick Slots With The Best RTP
History of Thunderkick
Founded in Stockholm in 2012 by a couple of guys who wanted to do their own thing, Thunderkick were determined to make an impact in an industry dominated by the biggest names. Their mission statement was always to go in another direction, while swearing to stay fun and always give a damn.
They received an operating licence from the Malta Gaming Authority (MGA) in 2012 - this was followed by a licence from the United Kingdom Gambling Commission (UKGC) the following year.
With more than 60 employees, they are still a relatively small studio, but they have already made a significant impact in this highly-competitive space.
Thunderkick released their 50th online slot game in 2021.
In the last decade, Thunderkick has established a reputation for producing stunning slot machines brought to life by HD graphics, as well as offering some of the most eye-catching max wins available on the market.
Best Thunderkick Slot Games
We're big fans of Thunderkick slot games, but we definitely have a few favorites...
Sword of Khans is probably the best of the bunch, with this unique slot machine packing plenty of big-win potential. A classic Free Spins Bonus is greatly enhanced by the Expanding Symbols feature, which can expand and deliver some awesome wins.
Another Thunderkick slot that we're very keen on is Lava Lava. This Avalanche Effect slot game can see you winning over and over on the same spin, with your gaming experience brought to life by a distinctive theme and and a rhythmic soundtrack. The most unusual, and exciting, feature of this game is probably the Multiplicative Wilds, which can award up to x32 in multipliers.
Thunderkick Awards
As an established slot developer, Thunderkick have earned their fair share of industry awards over the years. These include:
Best Mobile Game of the Year - Flame Buster (Videoslots Awards 2017)
Best Low Volatility Game of the Year - Frog Grog (Videoslots Awards 2017)
Best New Slot Game of the Year - Midas Golden Touch (Videoslots Awards 2019)
They were also nominated for three different awards at the Slot Catalog Awards in 2020.
Casinos Where You Can Play Thunderkick Slots