CasinoRange Sits Down With: Relax Gaming
Written by Phoebe
Published date · Aug. 24, 2022 | Last Updated · June 13, 2023 | Read Time: 4 mins
Online Slot Jackpots are a particular favourite with UK Casino players, and we are excited to interview Daniel Eskola, who heads up Research & Development at Relax Gaming. We wanted to learn more about Relax Gamings Dream Drop Jackpot and what players can expect.
Hi Daniel, thanks for taking the time to talk to us about Relax Gaming's Dream Drop Jackpot. Can you start us off by explaining a little about the jackpot and how it came to be?
The Dream Drop Jackpot is a new high-end jackpot Relax Gaming launched in May that features a significantly higher number of defined win points, meaning players aren't waiting for weeks, months or even years for a jackpot prize to trigger. The upshot is more consistently exciting gameplay, with word of mouth about the numerous wins spreading from player to player.
The consensus at Relax in the months leading up to its release was the jackpot landscape had become stale and required a severe shake-up. Instead, we've managed to turn the jackpot space on its head, and I think suppliers will be looking over their shoulders nervously as the Dream Drop product continues to gain more and more momentum following each win.
It's been several months since the Dream Drop jackpot launched alongside Temple Tumble 2. Do you think the success of Dream Drop relied on being twinned with such a highly anticipated game?
Launching the Dream Drop Jackpots alongside a top-quality game such as Temple Tumble 2 was much more important than most people perhaps realise. Internally, we all knew just how big the Dream Drop Jackpot would be, but we also knew it would only succeed if players were playing the game that was linked to it.
Both Temple Tumble and Cluster Tumble were and still are two of Relax Gaming's most successful games of all time, so there was naturally a lot of hype for a sequel. However, this game would have performed incredibly well without the Dream Drop Jackpots.
We could have developed a brand-new game to launch with the Dream Drop, and we'd have been confident of its success. But from a marketing perspective, it was a savvy move to launch with a highly anticipated slot such as Temple Tumble 2.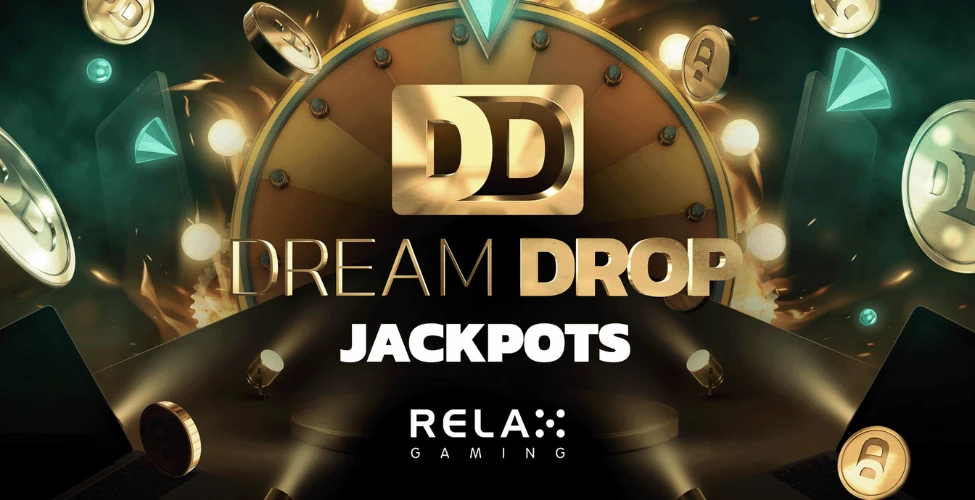 Leading up to its launch, it was made very clear that the Dream Drop is not your run-of-the-mill jackpot slot – What is Relax Gaming's recipe for creating a successful jackpot game?
Absolutely, this innovation is so much more than a standard slots jackpot, and that's all down to its win frequency. There's no other jackpot slot on the market that pays out as frequently as the Dream Drop does, and that's a fact.
In addition to paying out more frequently than other jackpots, Dream Drop has also changed how players experience memorable near-win moments as the Mega jackpot is close to the guaranteed fallout level. The pulse and adrenaline brought to the table by the Dream Drop mechanics will be the future of big-ticket jackpots and really challenge the current biggest jackpots on the market.
The recipe for creating a successful jackpot game isn't necessarily about throwing the biggest cash prizes out there and hoping for the best. So instead, we conducted a comprehensive year-long research project into jackpot slots, speaking to our most trusted operator partners to find out exactly what they and their player base wanted to see.
We're getting close to seeing the Dream Drop make its first-ever millionaire. Do you think this landmark prize will cement Dream Drop as a legendary product, even though it's only a few months old?
In just four months, the Dream Drop Jackpot has seen more than 680,000 players win one of the Rapid, Midi, Maxi, Major or Mega jackpots, which is an incredible figure. Just imagine what that number will look like in another four months' time – we'll have seen millions of jackpots drop.
Incredibly, 28 winners have triggered the Major jackpot, which is no mean feat. What's more impressive, though, is that two incredibly lucky players have triggered the Mega jackpot. The first won €997,779.17 on Snake Arena Dream Drop and the second €924,386.51 on Temple Tumble 2 Dream Drop.
The Dream Drop Jackpots are already cemented as an iconic jackpot product purely for the number of winners that it's produced. But once that first millionaire has been crowned, it'll see the jackpot ascend to an entirely new level of distinction amongst both players and operators as the prizes will only become larger and larger as they level up. The nature of the level-up mechanic will mean that prizes upwards of €5,000,000 will be very plausible in 12-18 months!
Can you tell us what's coming next for the Dream Drop Jackpot?
The next Dream Drop Jackpot slot to land in casino lobbies will be Neko Night Dream Drop, live on 7th September. In the not-so-distant future, we'd like to be able to offer the Dream Drop Jackpots to select partner studios. This way, they'll be able to boost their portfolio of games with our life-changing progressive jackpot, which will be a significant next step for the future of the product.
If you have not checked out the Dream Drop Jackpot game, check out our article here that details what the jackpot is about and specific links to game reviews available.
If you are a fan of Jackpot Slot games, we recommend looking at the Dream Drop Jackpot on the available range of slot games. Aside from the games mentioned above where the jackpot paid out large amounts, a few more have yet to pay out. That does mean it is likelier, in our opinion, for them to pay out on the Dream Drop Slots that have yet to make a significant payout. These slot games include the TnT Tumble Dream Drop slot, Volatile Vikings 2 Dream Drop and Wild Chapo Dream Drop Slot.
They say to win big; you have to dream, could the Dream Drop slot series provide you with that dream? Only time will tell.