Top 5 Dark Horse Candidates to Win NFL MVP in 2022
Written by Phoebe
Published date · Aug. 13, 2022 | Last Updated · Dec. 14, 2022 | Read Time: 4 mins
The MVP title is always won by a big-name quarterback, right? Well, for the last nine years, you would be right in thinking this - but that doesn't mean that 2022 can't be the season that bucks this growing trend.
The last non-quarterback to win this award was Adrian Peterson in 2012, who returned from a season-ending torn ACL to rush for 2000 yards - so we know it is going to take something truly special to take this accolade away from any of the obvious signal callers. With this in mind, we thought it was worth taking a look at some of the dark horse candidates in the NFL who might be in the mix at some very rewarding sportsbook prices…
5. Micah Parsons - LB - Dallas Cowboys - 200/1
This is an ambitious pick, but after an incredible rookie season in 2021, everyone is talking about Dallas Cowboys' star linebacker, Micah Parsons. The unanimous Defensive Rookie of the Year tallied 13 sacks in his debut year - 12 in his first 13 games - so big things are expected from the 23-year-old heading into year 2.
The huge odds reflect the unlikelihood of Parsons walking away with this award, but there are a couple of things to bear in mind before writing him off. The last non-QB/RB to win this award came all the way back in 1986 when a pass-rushing linebacker from the NFC East won it - that player was Lawrence Taylor. In addition to this, Parsons plays for 'America's team', so you know he won't be short of primetime attention - and with the MVP award, sometimes the most important statistic is your amount of TV time.
4. Cooper Kupp - WR - LA Rams - 66/1
With the wide receivers putting up the numbers they have done recently, it's only a matter of time until one of them scoops this award. After his ridiculous season in 2021 - 145 catches, 1,947 yards, 16 touchdowns - Cooper Kupp has to be in the MVP conversation from week 1 this time round.
While those incredible numbers were richly rewarded with a new $80m contract and a Super Bowl ring, any sort of jump on those numbers could make those odds look a little silly. An improvement on a season like 2021 may be unrealistic to expect, but given Kupp and quarterback Matthew Stafford's obvious chemistry, if any wide receiver could walk away with this award, it's Cooper Douglas Kupp.
3. Derek Carr - QB - Las Vegas Raiders - 33/1
Derek Carr has never been the most fashionable name in NFL circles, but when you separate the stats from the name, you see a top-level quarterback who consistently delivers, season after season. The 31-year-old guided his team to the postseason with a 10-7 record in 2021 as he paired a career-high of 4,804 passing yards with a career-high of 14 interceptions. 
The simple fact is that if the Raiders quarterback is able to eliminate those mistakes, he could be an outside contender for this award. With his college BFF Davante Adams joining him in Sin City, there's no better time for this quarterback to go from mediocre (in some eyes) to MVP.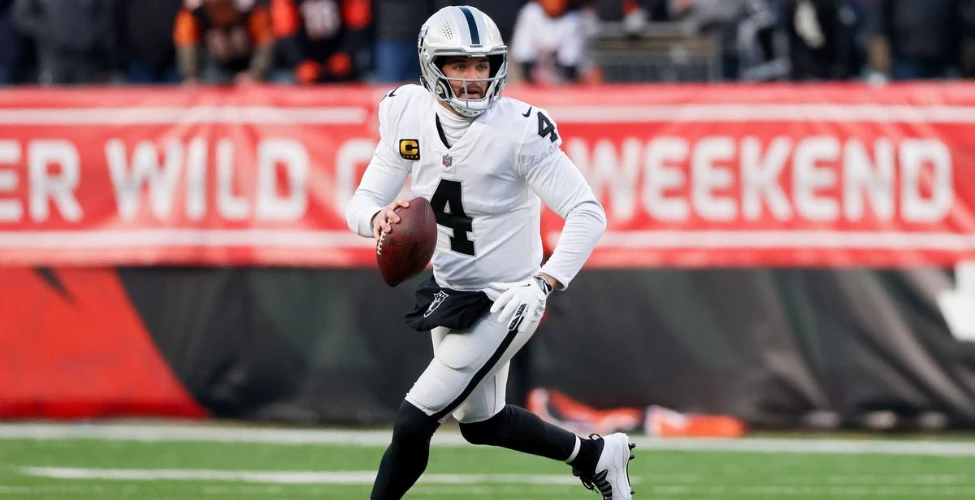 2. Jonathan Taylor - RB - Indianapolis Colts - 50/1
With this award exclusively shared between quarterbacks and running backs ever since 1986, tailback made sense as a good starting point when searching for a dark horse candidate.
Despite the change at quarterback, bringing in Matt Ryan to replace one-season wonder, Carson Wentz, the Colts are going to run the ball… a lot! Having rushed for 1,811 yards and 18 touchdowns last season, Jonathan Taylor looks the next obvious candidate to break that glass ceiling of 2,000 rushing yards, and in doing so, he could propel himself into the MVP conversation.
1. Joe Burrow - QB - Cincinnati Bengals - 14/1
Not the biggest odds compared to others on this list, but after taking his team all the way to the Super Bowl in 2021, it wouldn't be too much of a stretch to see Joe Burrow take another step and upgrade his Comeback Player of the Year award to League MVP.
With three wide receivers who could be a bona fide #1 target on other teams, Burrow is certainly going to air it out this coming season. A fast start to the season could see him blow last year's numbers out of the water, and they certainly weren't bad at all - 4,611 yards, 34 touchdowns, with a 70.4% completion rate. If he does this, he might well be your next NFL MVP, and at a double-figure price.
So Who Will It Be?
As previously mentioned, when it comes to the MVP award, it tends to revolve around a few obvious names - those being Green Bay Packers Aaron Rodgers, who has won the award the last two years; Patrick Mahomes, Tom Brady, Lamar Jackson, etc..… - but with the prices on offer, it could pay to cast the net a bit wider.
The one that really stands out on this list is Joe Burrow, who - at 14/1 - is double the price of the current favorite, Bills quarterback Josh Allen. Both are expected to have big seasons, but with Burrow coming off a Super Bowl season with an emerging Jamarr Chase to throw to, I would be more than happy to double my price and have a bet on the former LSU star.