New York Online Sports Betting Could Overlap Into New Jersey
Written by Ian
Published date · June 17, 2022 | Last Updated · Dec. 14, 2022 | Read Time: 4 mins
One of the biggest threats to New Jersey's online sports betting revenue isn't a new operator in the space, it's a whole state. Once New York went live with online sports betting at the beginning of 2022, it became very apparent that their success was instant with heavy staying power. Now, experts are saying that New Jersey should be concerned about New York's sports betting success as it could take away from New Jersey's revenue stream. For the first quarter of 2022, online sportsbooks in New York generated $425 million in total revenue from a total of $6.2 billion in bettor wagers.
Ralph Caputo, State Assemblyman of New York is also a former casino executive who has been a part of the New York legislature for the past 15 years. He believes that online sports betting operations in New York will take a chunk out of business in New Jersey. He's not quite sure how big of an impact there will be but no one expected the type of competition and revenue generation that New York has produced thus far. 
This isn't to say that there isn't a big enough pie for both of the tri-area states. For example, quarter one of 2022 saw New Jersey's handle for sports betting at $4.38 billion with 91% ($4.01 billion) coming from online betting. In 2021 alone, New Jersey had a handle of $9.5 billion for online sports bets, generating $815 million in revenue. Another example of this growth is the $1.67 billion in online sportsbook handle just in the month of January for New York. This broke the single-month handle record previously set in New Jersey.  With both states seeing wild success, only time will tell if either starts to encroach on one another's pockets. Currently, New Jersey provides their players with more betting options. Additionally, New York has stricter online betting rules compared to New Jersey. Should one or both of these points shift in favor of New York, there could also be a shift in revenue.
New Jersey Sports Betting Benefits
Where New Jersey currently outshines New York is in the options it provides for sports betting. There are 32 online sports betting sites that are connected to 8 casinos, a race car track, and 3 racetracks. In addition to several locations where gamblers can make their sports bets, there seem to be almost an unlimited number of sports and non-sports events that can be wagered on. From popular options like football and basketball to more international sports like rugby and cricket, and even non-sporting events such as the Nathan's Hot Dog Eating Contest, you can bet on numerous events in New Jersey. In New York, however, the options are a bit more limited. Currently, in New York, you can bet on the NBA, NFL, NHL, MLB, NCAAF, NCAAB, PGA, and NASCAR. However, you cannot wager on in-state schools. Additionally, you also can't wager on high school sports, the Oscars, and other categories. Another major factor that could impede New York from overreaching into New Jersey's revenue stream is a lack of prop bets. Ariel Epstein, also known as the "Prop Queen" says that what New Jersey offers sports bettors would surprise out-of-state sports bettors in terms of prop betting. A prop bet is a wager that involves an act happening or not happening during a game that does not have a direct impact on the final outcome of the game.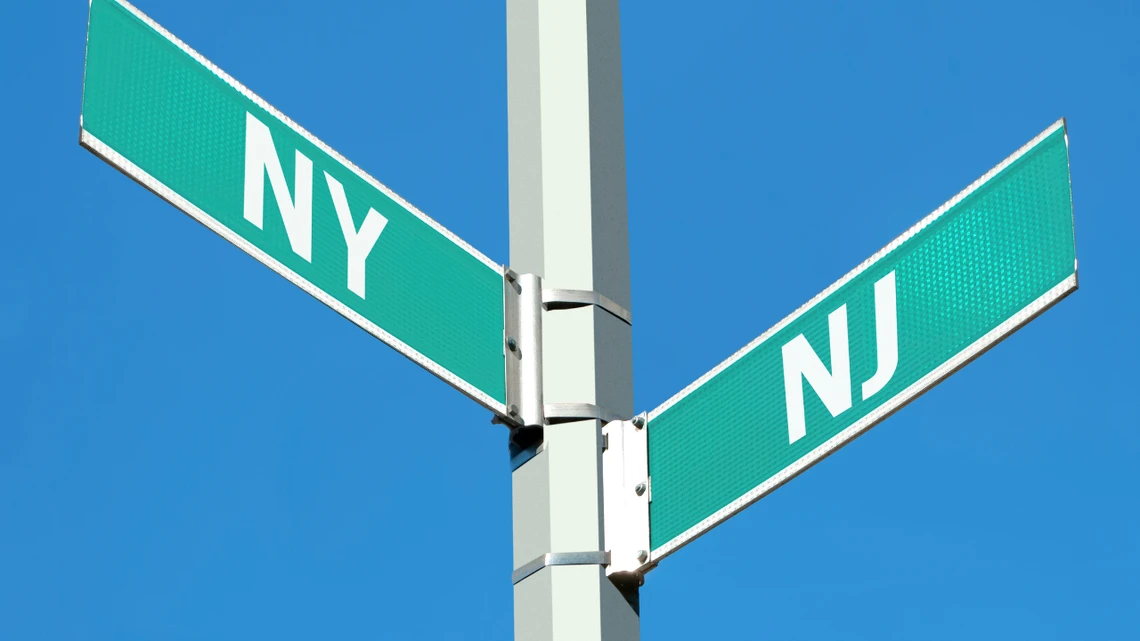 Epstein says that since New York has strict limits on what sports bettors can wager on, it forces residents to go across the border to New Jersey to make their bets at a New Jersey online sportsbook. For example, in New Jersey, you can wager on the NFL Draft or future bets like a Rookie of the Year winner. New York doesn't offer these types of bets nor do they allow sports bets like over/under passing yards in a game. Another example is the Super Bowl. The Super Bowl prop bets are always a fan favorite and have led to an increase in popularity for prop bets overall. When the latest Super Bowl took place, New Jersey online sports bettors were able to bet on numerous prop bets like "Will the coin land heads or tails?" or "What color will the Gatorade be?". In New York, however, you are not allowed to bet on those types of wagers. While Epstein believes that the gambling rules will start to be relaxed under Governor Kathy Hochul, according to Elite SportsNY, New York has no plans to go beyond the current rules of the approved online sports betting operators or change the tax rate for gambling.
New Jersey Stands Strong
New Jersey State Senator, Ray Lesniak, is one individual who is not afraid of New York's sports betting success. Lesniak has been a proponent of legal online betting in the state for the last 10 years. He does not believe that New York's rampant success will hurt New Jersey's future in online betting. He states that at the beginning of legal sports betting in the state of New Jersey, you would see more license plates from New York than you would from New Jersey. Will those who came across state lines to make a sports bet impact the overall revenue numbers? Yes, but in terms of an overall effect, it shouldn't have a major impact.
John Brennan, a legal gambling expansion writer, is also a proponent of the New Jersey side of the argument. He points to "syndicates" as the main factor as to why New Jersey online sportsbooks will be able to survive anything that New York throws at them. These syndicates are big-money gamblers who come together on big-money bets. They benefit by having a lower tax rate in New Jersey than they receive in New York for the online sportsbook operators. Brennan says that there's no reason for the syndicates to move over to New York because they already have a good thing going for them in New Jersey.
Sportsbook of the Month: Caesars